Netherlands-Asia Honours Summer School
| | |
| --- | --- |
| Date: | 24 September 2015 |
| Author: | Anna Krämer |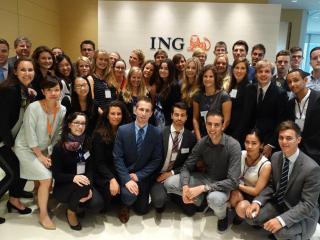 Last summer, I participated in the Netherlands-Asia Honours Summer School (NAHSS). It was a life changing experience!
As an International Relations and International Organization (IRIO) student, I have a special interest in the rise of China within Asia, especially from a political and diplomatic perspective. As well as IRIO, I study Philosophy and am enrolled in the RUG Honours Programme.
The NAHSS is a Dutch honours programme that offers 100 excellent students the opportunity to experience Asia through a summer school of six weeks that includes academic, business and cultural elements. These 100 students are separated over four cities where they spend the first five weeks: 40 students are going to Hong Kong, 20 to Taipei, 20 to Beijing and 20 to Shanghai. The last 10 days are spent in Shanghai, where a "business-week" is organized for all of the 100 students.
I participated in the 2014 edition and spent the first five weeks in Hong Kong. During these weeks I followed two courses at the International Summer School of the Chinese University of Hong Kong (CUHK): one on Chinese Politics & Government and one on Chinese Philosophy. The CUHK used a buddy-system in order to mix up the different nationalities and to make sure that students learned about each other's nationalities. The CUHK also organized several cultural trips to the highlights of Hong Kong. During our time in Hong Kong, we visited several companies, for example ING, FrieslandCampina and KPMG. We also worked on different projects in groups of ten. I worked on a project about "smart cities" for the Dutch Ministry of Infrastructure and Environment and TNO. The research results were presented during the closing ceremony at the Dutch Ministry of Foreign Affairs, after the summer school, and were received with much enthusiasm. After our adventure in Hong Kong, we spent ten days in Shanghai where we visited a number of Dutch and Chinese multinationals, for example Philips and Huawei, during the so called "business-week". This was a great opportunity to build up our (international) network. Besides the business and academic character of the NAHSS, there was also a very important social element. You got to know a lot of new people and many friendships started during the NAHSS. On our first day in Hong Kong we saw the Dutch soccer team win against Mexico in the middle of the night during the World Cup 2014. Furthermore, during one of our last days in Hong Kong we rented a big yacht to party and swim in beautiful bays of Hong Kong. In other words, next to the more serious part of the programme, there was enough space to have a great time with newly made friends.
The NAHSS is a fantastic and unique opportunity to obtain more knowledge about China and Asia and make contacts with both excellent students and businessmen and women!