Exchange programme at Tsinghua University, China
| | |
| --- | --- |
| Date: | 19 September 2016 |
| Author: | Jordi Zuur |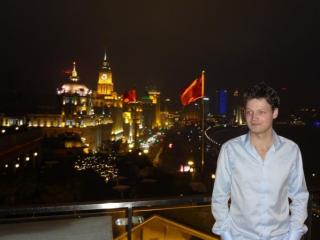 Much has been written about China's rise. Every day, there is some sort of article in the newspapers describing the marvel of its economic ascent, a feature of its increasing stature in global governance or, usually more negatively, its endeavors in the South China Sea. The East Asian Studies program at the University of Groningen does not only allow you to study these phenomena from multiple angles; it also offers the opportunity to experience them at hand, in China.
The second semester of my IR program I went on an exchange to China's leading Tsinghua University. The institution is situated in the northern parts of Beijing, right next to the grounds of the old Summer Palace. Its campus is magnificent, consisting of a variety of modern and classic Chinese architecture. It is easily as big as a medium-sized Dutch town. The lecturers, both Chinese and Western, are all leading scholars in their respective fields, usually trained at elite universities such as Harvard, Yale and Oxford. Nevertheless, information such as this can be accessed easily online through a simple google search. What is more interesting perhaps, is what I have 'done' during and 'gained' from my period in Beijing.
The most important word to describe the largest asset of my time in China is 'experience'. While the classes themselves were interesting, often featuring some combination of high level academics and exchanges between Chinese and Western students, the foremost advantage of the exchange lies beyond the realm of academics. It lies in 'experiencing' that what you have studied for many years. I have found that the best way to do this is through simple exploration, observation and interaction.
During the semester abroad you can ace at the complexities of China's society, its economics and its politics by engaging with Chinese students and professors. I have found they are all very open for discussion of features you would expect them to be 'closed' about. The students at Tsinghua are friendly and helpful, eager to improve their English and curious towards your ideas about China. What helps in establishing relationships with your Chinese counterparts is that as soon as you arrive you are being assigned a Chinese 'buddy' that helps you through the time-consuming bureaucracy of Chinese universities (which is very helpful, especially if you're not an avid Mandarin speaker).
If you play your cards right, you might find that your Chinese buddy invites you to join in on the dinners he has with his friends in one of the many dining halls at Tsinghua (where, as a student, you can literally eat for a dime the whole day through). Once 'integrated', you might find yourselves on cultural trips to local museums, institutions, restaurants or nightspots with your fellow Chinese students, all of which is both enjoyable and helps to build up good relationships. In the end, what this brought me are a number of good friends in China with whom I still discuss economics, politics and other IR phenomenon on a weekly basis. This greatly enhances my understanding about China, the Chinese people and China's rise. Along similar lines, observing the way the Chinese students behave in class, how they interact with each other and the professors can tell a great deal about Chinese society as well. The learning experience then lies in the 'small things'.
Of course, I have to devote some words to the academics and overall experience of being in Beijing. What is great about your time at Tsinghua is the variety of courses you can pick from, ranging from language, history and culture to politics, security studies or Chinese law. I selected courses useful for the progress of my thesis, which I wrote while in China. The professors are good, approachable and helpful and were of great help in providing comments to the drafts of my thesis, discussing multiple facets of the writing with them in their weekly walk-in sessions. At the end of the day, nothing is better than writing a thesis on China in China. Most classes involve some sort of practical side as trips to monasteries or a big Chinese firm are often part of the itinerary, enhancing the overall experience of your stay.
Considering practical issues, the living is easy, as Tsinghua provides low cost dorm rooms, sport facilities, dining services and everything you need to make your life in Beijing memorable. The opportunity to study at such an amazing institution is really one in a million, and I would gladly do it again. Nevertheless, I cannot stress enough that in order to really make the most of your time in China, look beyond the excellent academics of Tsinghua. Make Chinese friends, explore the city (or the country, providing funds), observe, interact, explore! The message I would give to the next student that goes to Beijing is: experience China!
Comments