MIRAI Program Japan 2015
| | |
| --- | --- |
| Date: | 17 February 2016 |
| Author: | Yi-han Wen (University of Groningen) and Douwe Meuldijk (Leiden University) |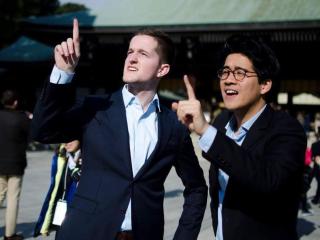 Last December, Yi-Han Wen (University of Groningen) and Douwe Meuldijk (University of Leiden) were selected by the Japanese Ministry of Foreign Affairs to act as the Dutch delegation in theMIRAI program (MIRAI means 'future' in Japanese). This program, which is completely organized and funded by the Japanese Ministry of Foreign Affairs, invites the best 150 students from Europe and Central Asia to visit Japan. Aiming at promoting mutual understanding, the program simultaneously attempts to enhance intellectual discussions and to build strong networks among future world leaders.
The short, but highly intensive program consisted of numerous events and activities wherein Yi-Han and Douwe had the possibility to explore Japanese politics, economy as well as local cultures and traditions. During the activities, the two students visited together with the other participants traditional museums, major Japanese multinationals and the main governmental institutions. Additionally, they enjoyed a series of special lectures at Keio University given by high profile speakers such as Mr Akihiko Tanaka, former President of JICA (Japan International Cooperation Agency) and Professor Tomohiko Taniguchi, special adviser and councillor of the Prime Minister's Office. At the university, fruitful discussions on global challenges such as democratization and global inequality were held between the participants and top students from Keio University.
In order to improve the participants' understanding of the Japanese culture, a homestay at a Japanese family was arranged. All participants shared the idea that the intercultural homestay showed the best of Japanese culture as all participants were treated with Japan's finest hospitality by the Japanese host families. The unforgettable MIRAI program was concluded with a highly interesting session at the Japanese Ministry of Foreign Affairs where participants had plenary discussions on the importance of international nuclear disarmament with Ms Miki Yamada, Parliamentary Vice-Minister for Foreign Affairs and other policy officers of the Japanese government.
The intensive program did not only provide Yi-Han and Douwe with a unique insight in the fascinating culture and society of Japan, it likewise laid a strong foundation for dialogue, cooperation, and exchange between Europe, Central Asia and Japan. Therefore, the Dutch delegation strongly encourages every student who is eager to take a leading role in their society to apply for theMIRAI program in 2016.