Experiencing Korean academia
| | |
| --- | --- |
| Date: | 16 November 2015 |
| Author: | David Shim |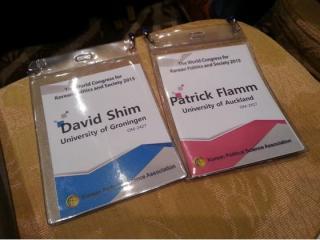 In late August this year, I attended The World Congress for Korean Politics and Society, which took place in Gyeongju, a history-laden city located in the Southeast of the Korean peninsula. It was the first time for me to present my work (on comics and geopolitics) at the biennial conference of the Korean Political Science Association (KPSA). I was also very lucky (and grateful) to get part of my travel funded by the KPSA.
For me, the conference was a good occasion to reach out to fellow political scientists and International Relations scholars who are mostly based in South Korea. During the conference, I learned not only about content-related issues (such as Korean IR theory or Korean unification), but observed things that I haven't seen before at international conferences.
For example, I found interesting that each panel had several discussants; in addition to the paper givers. I have seen this also at another Korea-based conference in October, where the presenter-discussant ratio was 1:1. I imagine, this reduces the reading load for each of the discussants.
A more interesting episode at the conference, at least for me, was an observation which might give an insight into the workings of Korean academia. After meeting my friend and colleague Patrick Flamm, with whom I published a piece on South Korea as rising power, I found that the name tags of the conference participants had two different colors (see picture).
To satisfy my curiosity, I spoke to the help desk of the organizing committee. I learned that the distinction was intentional and that blue stood for 'Professors/Doctors', while red was for 'graduate/PhD students'.
My first reaction was surprise as such a differentiation does not correspond with international practice in academia (at least concerning the international IR conferences that I regularly attend amongst which are the annual conventions of the International Studies Association); something which is perhaps all the more surprising given the omnipresent mantra in the country to globalize Korea.
Later I learned that the coloring was intended to help volunteers identify graduate students for an networking event that was cancelled in the end. Makes also sense. What do you think?