East Asian Studies at the University of Groningen
| | |
| --- | --- |
| Date: | 09 January 2017 |
| Author: | Boris Jansen (Master Ambassador East Asian Studies) |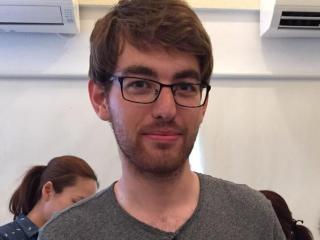 Why East Asian Studies?
I've been interested in East Asia for a long time. Since primary school I've been fascinated by Japan and in 2010 I participated in the International Geography Olympiad held in Taiwan, which sparked my academic interest in the entire region. When I got the opportunity to go to Japan for 6 months as an exchange student, during my third year studying Human Geography and Spatial Planning at the RUG, I gladly took it. I studied at Osaka University and experienced some of the most exciting and interesting months of my life studying various facets of Japan (its culture, history, language, policy and international standing amongst others) as well as meeting a lot of great people from around the world. After this I decided I wanted to focus on East Asia and Japan specifically, looking at several programs in the Netherlands and abroad before choosing the East Asian studies programme at the RUG, choosing to specialise in Japan.
Why should I choose East Asian Studies, what does it have to offer?
The East Asian Studies programme is very accessible due to an interesting and thorough pre-master programme for those not hailing from an IR background, which allows the master programme courses to build on a solid foundation of knowledge shared among all participants. This in turn gives the lecturers the opportunity to dive deep into issues both from a theoretical and practical point of view. The lecturers themselves come from a wide variety of backgrounds both researchers and practitioners in the field; historians, IR researchers, diplomats, (former) think-tank employees, economists and others, all with their various specializations, from grand theories, to practice, to specific research fields. All of them are amazingly knowledgeable and the variety of backgrounds makes sure every issue can be analysed from several different perspectives, granting a thorough and deep understanding of them to be obtained.
What I like most about it though is that the small scale of the study allows very personal contact with all the lecturers and gives it a high degree of flexibility. While there are certain courses that are mandatory, especially in the first semester, even within those the students guide what is studied for a large part. Research and writing papers are a large part of the courses and you yourself choose which topics to research and write about. The close contact with and variety of specialisations in the teaching staff also allows the courses to be flexible, adapting to the expertise of the lecturer, recent events and the students' interest. While the courses will give you a broad spectrum of knowledge about the entire region, it is up to the student to choose whether or not you want to specialise in a specific country or subject (through, for example, research subjects, courses, exchange or internship and thesis) or to keep building on the broad base build by the courses and be a generalist student of the region.
This flexibility is greatly increased in the second semester, in which students are encouraged to get an internship or do an exchange programme in East Asia. The teaching staff can be of great help here, having contacts for internships and having established relations with several universities in the region, such as Osaka University where I went for my second semester. Of course, if for whatever reason an internship or exchange programme doesn't suit you (or you're an international student and don't want to complicate your studies too much) then there are a variety of courses offered the second semester as well. The second semester is also when students write their thesis, which can be combined with an exchange or internship, but if this doesn't work it can also be postponed.
Going abroad
If at all possible I would advise students to do an exchange programme abroad. Aside from the immense amount of fun you'll have and life experience you'll gain, it'll also give you valuable local knowledge of and insight in a culture in the region, which will not only greatly increase your understanding of the subjects handled during the course on an academic level, but also on a personal level. Having lived in Japan (as others may have in China, South Korea, Taiwan or Mongolia) I appreciate everything that I've been taught a lot more. This may be old hat to anyone starting their master's degree, especially if you've been on exchange before yourself, but merits repeating all the same as it is especially true for a study focused on a region and IR like the East Asian Studies master programme is.
Why should I choose East Asian studies in a nutshell?
Do you like East Asia or are interested in one of the countries? Would you like the opportunity to study there or do an internship in or related to East Asia? Do you want to delve into the things you find interesting, supported by capable and approachable teaching staff? Would you like a small close-knit group that shares your interests to befriend and study with? Than East Asian Studies at the Rijksuniversiteit Groningen is the place for you.
Comments