한식 Hansik: Food for Thought (Exhibit at Korea Corner)
| | |
| --- | --- |
| Datum: | 15 juli 2015 |
| Auteur: | Tjalling Halbertsma |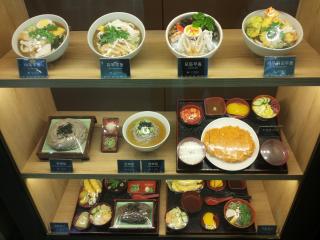 Plastic food replicas appear in the windows and display cases of restaurants and food stalls throughout Korea. Once made from wax, today they are usually made out of polyvinyl chloride plastic.
The plastic models are handmade and carefully sculpted to look like actual dishes. During the molding process, the imitation ingredients are often chopped up and combined in a manner similar to actual cooking.
The craftsmanship has been raised to an art form. Already in 1980 plastic food was acquired and exhibited at London's Victoria and Albert Museum. Regular competitions are held in making fake food dishes out of plastic and other materials. The plastic food manufacturers fiercely guard their trade secrets as business is lucrative. A single restaurant may order a complete menu of plastic items costing many thousands of Euros.
Items on display:
칠첩반상 Chilchup bansang: a term referring collectively to side dishes in Korean cuisine. Banchan are set in the middle of the table to be shared.
갈비탕 Galbitang : a variety of guk, or Korean soup, made primarily from beef short ribs along with stewing beef, onions, and other ingredients.
만두국 Manduguk : a variety of Korean soup, guk, made by boiling mandu (dumplings) in a beef broth.
비빔밥 Bibimbap: a popular and varied Korean dish, literally meaning "mixed rice".
잔치국수 Janchi guksu: wheat flour noodles in a light broth made from anchovy or dasima (kombu)
된장찌개 Doenjang Jigae: is a variety of jjigae or stew-like Korean traditional dishes, made with soybean paste and ingredients such as vegetables, mushrooms, seafood, or tofu.
동태탕 Dong tea tang : a signature Korean fish soup with spicy kimchi generally accompanied by bansang.
The food on display was crafted at the Mirage-Replica Company in Songdo, Korea. The Korea Corner is generously supported by the Embassy of the Republic of Korea, The Hague.
Related blogs:
Who wants to live forever: Eating gold in Korea
Plastic-Fantastic for CEASG's new Korea Corner