An unexpected East Asian experience in Groningen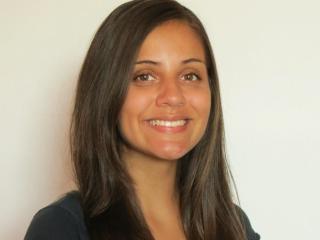 Silvia Cortés has won the MA Thesis Award East Asian Studies 2015 with her master's thesis "China's Public Diplomacy in Latin America". She was awarded because of the the quality of her research and writing and especially the contribution towards the much under researched analysis of China's rise in relation to Latin America. Read how Silvia Cortés ended up in the wrong class room to win the MA Thesis Award in East Asian Studies 2015 in her blog.
"Why did someone from Costa Rica come all the way up here to Groningen?" I was asked this question every time I said which country I was from during the University's introduction week. I got a scholarship from the European Commission for Latin American students to do a one-year Master's degree in Europe, choosing the International Relations and International Organization (IRIO) programme at the University of Groningen. I was very excited to start this new experience in a different country with a completely different culture than mine. I prepared myself to take the challenge to study and live by myself, far away from my family, friends, and everything I felt comfortable with. On the first week I found out there was a misunderstanding with my enrollment for my studies in Groningen. Instead of being enrolled in another research seminar I had chosen, I was enrolled by mistake in the class of History and Politics of East Asia, a seminar from the East Asian Studies specialization. I agreed to continue with the seminar because after all, my biggest goal in Groningen was to learn and enrich my knowledge and also, I happened to have a great interest in emerging world powers, with China being the one I studied the most while doing my Bachelor's degree. It had always caught my attention how China, after a rollercoaster of historical events, learned from its past and now it is even able to set agenda for a new political and economic world order under its own terms and conditions. However, I never had the chance to learn and study its history and importance as an international actor more into depth.
"Why is someone from Costa Rica taking this class?" That was then the general question from my lecturers and classmates when I introduced myself on the first day of the seminar. I remember saying it was important for me to learn about East Asia, and especially China, since its influence in Latin America was gaining a bigger relevance in both economic and political realms. My answer was not very convincing –even to me, since I could not specify the hows, the whys and the rest of particularities of Sino-Latin American relations, as well as its importance to present-day international politics. I took the class as a chance for me to respond to all the questions left in my head since day one, and decided to write my research paper on the reasons why China decided to "go out" and establish diplomatic and economic relations with many Latin American countries. I got a very good grade on my research paper and it encouraged me to think more seriously about the broad –but barely explored- subject of China and Latin America in a higher level, as a potential thesis topic, although I had contemplated others from a while ago. I attribute this enthusiasm to the fact that during the seminar I had all the inputs for me to be more interested in East Asia with each reading, each assignment and each lecture. It is somehow interesting and peculiar that I was enrolled in that seminar by mistake and it ended up being my favorite class throughout the Master's programme.
"How is China getting to Latin America?" That was my –informally formulated- central question. I wrote my Master's thesis about China's public diplomacy towards Latin America and the smart power mechanisms implemented to apply such diplomacy in this developing region. I must say I truly enjoyed doing it, because the topic allowed me to understand China in a better way and the means in which it has successfully approached Latin America –a resource-rich and geopolitically important region- enhancing China's goal of becoming a leading global economic power through many Realist elements.
Undoubtedly, without everything I learned from that research seminar and without the great supervision I had throughout the year I could not have written this thesis the way I did, and definitely, I could not have won the East Asian MA Thesis Award that was granted to me because of this research work.
I am more than thankful for everything the University of Groningen has given to me since I was first admitted to the programme. I always counted with the outstanding attention and inspiration from my lecturers and supervisors, who always demanded from me to go the extra mile and reach for academic excellence. In addition, I counted with all the resources needed for my academic development during the programme, such as those I had access to when writing my thesis about a relatively new East Asian topic. I can certainly say that the University of Groningen, and more specifically the IRIO Department, give equal opportunities to every student, whether they are from the Netherlands or from any other country. These opportunities, such as the East Asian MA Thesis Award I got the chance to win, reinforce students' research and analytical skills and make them go farther in their careers. This Award has encouraged me to rethink my academic goals and areas of interest, and to look for means to continue with my research on Chinese public diplomacy in Latin America.