East Meets West: Asian and European Students Seeking 21st Century Solutions
| | |
| --- | --- |
| Date: | 01 April 2015 |
| Author: | Lise Weerden |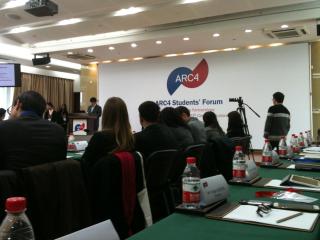 5440 Miles, 911 days, and a cultural difference apart from the third ASEM Rectors' Conference (ARC3) host city, the ARC4 Students' Forum took place in Hangzhou, China, on 23-24 March 2015. Hosted by Zhejiang University, ARC4 was co-organised by the Asia-Europe Foundation (ASEF), the Ministry of Foreign Affairs and the Ministry of Education of the People's Republic of China. As a consequence of the recognized need to integrate student participation into the Asia Europe Meeting (ASEM) Education Process during the Meeting of Ministers of Education in 2011, the University of Groningen became host to the very first Students' Forum on September 23, 2012. Ever since, the Forum has become an integrated aspect of the process – providing students the opportunity to actively engage in, and shape, policies that are of crucial concern to them.
ARC 4 students' forum
For the ARC4 Students' Forum, a delegate from each of the 51 ASEM member states was selected. As participant, I was in the position to not only represent the Netherlands, but also the host university of the previous conference. Under the overarching theme 'University-Business Partnerships: Asia and Europe Seeking 21st Century Solutions,' the Students' Forum ran parallel to the fourth Rectors' Conference and comprised three focus groups (FGs), with a respective focus on employability skills, entrepreneurship, and the creation of new learning environments through information and communication technologies. With a background in International Relations, I was slightly surprised to find myself being allocated to the third focus group. Yet I was soon to find out that it was exactly the remarkable mix of academic backgrounds that contributed to the depth and quality of the discussions and outcomes.
My seat - Located in between Norway and New Zealand on the one side and Mongolia and Myanmar on the other side
Starting with a welcoming dinner and a network event on Sunday evening, the Forum's programme comprised an interesting combination of both formal and informal elements. With the focus group discussions at its core, the forum aimed at formulating nine policy recommendations, to be delivered directly to the 5th ASEM Education Ministers' Meeting in Riga, Latvia in April 2015. Following several keynote speeches, I had the honour to kick-start the discussions with a rapid fire presentation during the plenary. The consequent focus group sessions entailed intense and constructive negotiations on several key notions. In the end, three priorities prevailed within FG3: the importance of training in the use of technology, the recognition of online learning as a complement to traditional education in universities, and the support by businesses and universities of national and international student initiatives in leveraging technology to create opportunities aimed at acquiring additional experiences and skills. In addition to the formal part of the Forum, we were also granted the opportunity to visit the Alibaba Group, to walk through Hangzhou Old Town, to experience a boat tour on West Lake (part of UNESCO World Heritage, with an immensely rich cultural history, on which I could elaborate on in at least ten more paragraphs) and engage in a cultural evening, that included inter alia traditional Chinese dance and music, as well as 'Barby Girl,' an on-the-spot devised rap and a cover of a Eurovision song. Of course not to forget the numerous selfies and not-to-miss cultural jokes that made the Forum to a memorable experience.
Duck tongue
This all took place within the unique context of a cooperation amongst people from 51 different national and cultural backgrounds, brought together in dynamic China. Having lived and studied in Hong Kong for a semester, it almost felt like coming home. In this regard, it was interesting to observe the cultural barriers that other – especially European – students experienced. As one of the most prevalent examples in which cultural differences are expressed, the food was subject to both amazement and curiosity. After all, one will not find jelly fish, chicken feet and duck tong on an everyday basis in your local supermarket or restaurant in any European state. Moreover, during one of the keynote speeches, the differential behaviour in terms of speaking up versus a more cautious attitude between Europeans and Asians was touched upon. Yet in this regard, change can be observed – and the merit of generalizations can be questioned in the first place. In any case, the interaction between people from 51 different cultures within one country made it able to grasp the essence of China and its people even more. Because after all, 近水知 鱼性 , 近山 识鸟音 (Near to rivers, we recognize fish, near to mountains, we recognize the songs of birds): It is very important to make on-the-spot investigations, and where to study Chinese culture better than in China?!
In conclusion, I am proud to bring back a personal 'Reward for Igniting the Spark [of the discussion],' with a thereto belonging prize of traditional Chinese hot sauce home. On another note, I feel blessed to have been granted the opportunity to participate in this Forum where we have not only come up with no less than nine key policy recommendations that can potentially make a difference, but where we have also been able to share knowledge, experiences and thoughts among 51 ambitious and great youngsters from all ASEM member states. It was not only East that met West, but most of all, it were motivated and ambitious students that met each other and shared their stories. I return home truly inspired by all that I have seen and learned. Credits and a big thank you to all the people that have made the ARC4 Students' Forum possible. I am convinced that we are able to make a difference, and with the call upon stakeholders to report on any progress made by the time of the next conference, I am looking forward to see and hear about any achievements made in this regard. Moreover, our task as students to actively engage in shaping our own education and future does not stop with the end of the Forum. It is only through continuous engagement and cooperation that we can truly make a difference. Finally, I am glad to see my home university acting on the forefront of the key topic of the ARC4 Forum: university-business partnerships. As the first mainland European university to establish a presence in North China, the University of Groningen has plans to engage in direct collaboration with businesses at the China Agricultural University (CAU) branch in Yantai.
NB: Have become curious after the final nine policy recommendations that the 51 students have come up with? Keep an eye on the website ( http://www.asef.org/projects/themes/education/3119-arc4 ). The official document will be published soon.