Juliëtte Eijkelkamp
Master Ambassador International Relations: East Asian Studies
Questions about East Asian Studies? Send Juliëtte an email: j.n.eijkelkamp@student.rug.nl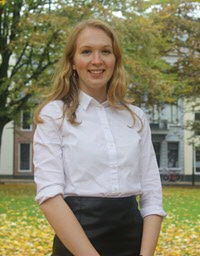 "Hi there! My name is Juliëtte Eijkelkamp and I am a master's student East Asian Studies at the University of Groningen. During my bachelor in International Relations at the same university, I started developing an interest in (East) Asia, especially China. What fascinates me most about this region, is that people tend to label their social and political habits as strange or incomprehensible. However, when you study this region and start to understand where these habits come from, it all of a sudden makes sense.
Within the master programme we study East Asia (so China, Korea and Japan) from a political, historical, economic and legal perspective. This multidisciplinary approach surely helps to grasp the dynamics in the region. In the first semester, I take two research seminars: 'History, Culture and Politics of East Asia' and 'Multinational Corporations'. Next to this I take the course 'Advanced Theories of International Relations.' This combination can be tough, but when you manage your time appropriately you will have time to do something next to your studies. For example, I am taking extra Chinese language courses next to the regular courses.
The master programme in Groningen
The East Asian Studies Master is one of the tracks of the Master in International Relations and International Organization. Within this track, you can choose for several research seminars related to East Asia. In the second semester you can opt for a study abroad period, (the University of Groningen can easily place you in Beijing, Shanghai, Osaka or Busan), an internship or an extra research seminar.
Next to the fact that Groningen is a great city for students, it is a good place to study East Asian studies. The Centre of East Asian Studies Groningen supports interdisciplinary teaching and research. Furthermore, the Groningen Confucius Institute organises language courses and activities related to China. Groningen provides an excellent opportunity to study East Asia from an International Relations perspective. Would you have any questions regarding the programme or Groningen, please do not hesitate to contact me!"
> Read here about Juliëtte's exchange in Jogjakarta, where she developed her interest in Asia.
| | |
| --- | --- |
| Last modified: | 19 September 2018 12.53 p.m. |