Centre for Isotope Research (CIO)
CIO is specialised in high-accuracy measurements of (variations in) the occurrence of natural, rare isotopes. For this purpose it has a wide range of modern instruments at its disposal (mass-spectrometers, amongst others a 2.5 MV accellerator-mass-spectrometer for carbon-14 and laser equipment). CIO carries out own research into improving of existing measuring instruments and methods, whilst also developing new technology in this field.
Applications of this type of analysis is mainly focused on two main research lines:
Studies of the global carbon-cycle
Palaeoclimate studies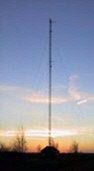 The atmospheric CO2 greenhouse gas isotopes, together with measurements of CO2 and O2 concentrations, make it possible to inventorise the natural global carbon-cycle and to determine how it is effected by human activities. This is not only important for the understanding of this cycle, but also in a practical sense for defining, maintaining and follow-up of the Kyoto agreements. CIO performs continuous measurements at its own remote automated stations in Lutjewad (photo) on the coast of the Wadden Sea and on the oil production platform F3, some 200 km offshore on the North sea. Much of this work is carried out in an EU framework who supply a large part of the funding. Also related to carbon-cycle issues is the application of carbon-14 in order to discriminate bio- and fossil fuel combustion, as well as the use of state-of-the-art atmospheric monitoring of possible leakage of CO2 on subsurface storage sites.
Nature has "archived" the history of Earth's past climate in a number of ways. The archives that the CIO is actively studying are the Greenland and Antarctica ice caps, a hundreds of thousand years old precipitation archive, in which the isotopes of water contain the information on the previous climate. Peat bogs from Europe and elsewhere form another archive, in which the plant debris provide information on the past climate and its age is determined with the so-called C-14 method. Finally, the calibration of carbon-14 is a constant topic of attention in CIO, since it is closely connected to climate-history, through the solar influence on both climate and the formation of carbon-14 itself.
Besides these two core activities isotope research is being employed in a variety of scientific fields, like archeology (dating), behavioral biology (energy balance of a subject under a range of environmental conditions), soil science (fertilizer use, soil depletion), hydrology (Dutch water management, drinking-water quality control), and oceanography (gulf streams, carbon cycle).
| | |
| --- | --- |
| Last modified: | 19 February 2018 4.11 p.m. |