Lezing Hauke Flores
Frozen dessert alive, het belang van biologisch leven onder Antarctische ijsschotsen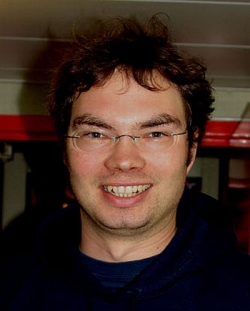 Op 1 mei 2009 promoveerde Hauke Flores in Groningen. Zijn proefschrift getiteld 'Frozen desert alive. The role of sea ice for pelagic macrofauna and its predators: implications for the Antarctic pack-ice food web' gaat in op de tot nu toe onbekende wereld die zich bevindt op het grensvlak tussen het drijvende Antarctische ijs en het zeewater eronder. In zijn lezing zal Hauke Flores ingaan op deze ijs-watergrens, waar organismen leven die van groot belang zijn voor Antarctische vogels en zeezoogdieren. De biologische productie vlak onder het zee-ijs lijkt cruciaal binnen het ecosysteem, maar bleek niet makkelijk te bestuderen met conventionele onderzoeksmethoden. Het onderzoeksinstituut IMARES ontwikkelde hiervoor op Texel een speciaal visnet, het 'Surface and Under Ice Trawl' (SUIT), waardoor het wél mogelijk werd onder het ijs monsters te nemen. Flores vertelt over het gebruik van SUIT en andere technieken, zoals vallen met aas en duikend onderzoek, om het leven te bestuderen in Antarctische diepzeegebieden en over de resultaten die dit opleverde.
Flores vond onder meer nieuwe aanwijzingen dat zee-ijs cruciaal is voor het ecosysteem in de Antarctische Seizoens IJszone (Antarctic Seasonal Sea Ice Zone, of SIZ). Dit is het deel van de oceaan rond Antarctica dat ieder jaar opnieuw bevriest over een gebied twee keer zo groot als Europa. Daarnaast toonde hij aan dat het traditionele beeld dat krill het middelpunt van het voedselweb vormt een te eenvoudige voorstelling van de werkelijkheid is. Het onderzoek van Flores draagt bij tot betere inzichten in de reactie van Antarctische mariene ecosystemen op veranderende kenmerken van het zee-ijs, veroorzaakt door de opwarming van de aarde. Dit is van belang voor de bescherming van de natuur en een verantwoord beheer van de visserij rond Antarctica.
Hauke Flores (Duitsland, 1974) studeerde biologie aan de universiteit van Hamburg. Zijn promotieonderzoek deed hij, betaald door NWO en gedetacheerd bij IMARES, aan de Rijksuniversiteit Groningen, bij het Centre for Ecological and Evolutionary Studies. Tegenwoordig werkt hij als junior scientist bij IMARES.
| | |
| --- | --- |
| Laatst gewijzigd: | 26 februari 2019 11:43 |