Climate Change

Climate change presents a very serious contemporary health threat to people all over the world. The World Health Organization (WHO) and the UN's Intergovernmental Panel on Climate Change (IPCC) list the health impacts of global climate change as "wide-ranging, diverse and overwhelmingly negative" . According to WHO estimates, climate change is already causing tens of thousands of deaths each year - e.g. from shifting patterns of disease; extreme weather events such as heat-waves and floods; or from the degradation of air quality, food and water supplies, and sanitation. Between 2030 and 2050, climate change is expected to cause approximately 250 000 additional deaths per year, from malnutrition, malaria, diarrhea and heat stress. A recent study suggests that even before the end of this century certain cities will experience wet bulb temperatures that makes human survival in those areas impossible.

While the concerns about climate change on food security, water security or migration seem often acknowledged, climate change also deserves to be viewed as a global health concern in its own right. Climate change negatively affects opportunities for health both directly - e.g. through increased exposure to heats, colds, floods, or altered disease patterns - and indirectly - by suddenly or slowly disrupting people's access to essential underlying determinants of health, such as food and nutrition, housing, access to safe and potable water and adequate sanitation, safe and healthy working conditions, and a healthy living environment (e.g. large scale disasters, desertification) . Adequate protection of human health requires effective and timely responses in terms of mitigation and adaptation, including as a matter of strong national and international legal protection and responses. Since the IPCC clearly warns about the physical limits to and dangers of focusing excessively on future adaptation strategies, mitigation seems a clear prime concern in meeting health concerns.
Under this topic, researchers of GCHL aim to explore and evaluate the legal regimes available for the protection of human health in the face of global climate change, including in particular, the international and regional human rights framework. However, also other (hard and soft) international legal instruments in this field are of prime importance, including the UN Framework Convention on Climate Change and the 2015 Paris Agreement, the Convention on Combatting Desertification, the Aarhus Convention on Access to Information, Public Participation and Access to Justice in Environmental Matters, or important international development agenda's such as the Sendai Framework for Disaster Risk Reduction, UN Habitat III's New Urban Agenda or the UN Sustainable Development Goals. Regionally, a range of instruments also merit closer attention for their relevance to protection of health and climate change, such as the African Union Convention for the Protection and Assistance of Internally Displaced Persons in Africa (Kampala Convention).

What rights and obligations for the protection of health already exist in the face of climate change, for various different actors, but also, what are identifiable challenges, short comings and opportunities for greater protection?
From Analysis to Action. Climate Change Litigation: A Guide for Public Health Practioners (November 2023) endorsed by the Global Network for Academic Public Health (GNAPH), the European Public Health Association (EUPHA), Lancet Countdown, the Association of Schools of Public Health in the European Region (ASPHER), the Global Consortium on Climate and Health Education (GCCHE) and the World Federation of Public Health Associations (WFPHA).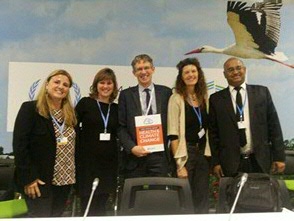 | | |
| --- | --- |
| Last modified: | 14 November 2023 09.26 a.m. |