Associate Lawyer - Marcu Florea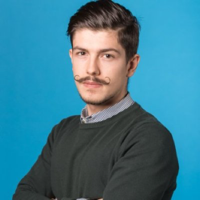 My name is Marcu Florea, I am 26 years old. I received a Bachelor in law from the University of Bucharest in 2013 and shortly after I started my studies at the RUG.
What programme/track did you take in our Faculty? Why did you choose this programme/track?
I studied for an LL.M. in International and Comparative Private Law. The reasons for choosing this programs are:
(i) the flexibility of the curriculum – the courses were all centred on commercial aspects of private law, but the high number of electives and the variety of topics approached offered a plethora of choice;

(ii) the international aspects of the courses and the comparative method used in many of them – I know that I wanted to pursue a career in a law firm serving international clients, so I was delighted to see how many courses presented legal systems in a comparative perspective offering different viewpoints on the legal institutions I have studies during my bachelor;
(iii) the different methods used in teaching – the program included both courses and seminars and these different type of teaching methods are aimed at developing diverse (legal) skills.
The possibility to study abroad as part of the LL.M. and the partner Universities were also an important argument for choosing this programme.
What have you done next to your programme? Which extracurricular activities did you participate in?
I had a wonderful time in Groningen. I was also involved in the activities of the Honours College where I attended the Masters Honours in Leadership. This program was excellent and it helped me broaden my interests and perspective. I would like to especially mention the lectures in Neurobiology of Leadership, Charisma and Leadership and the lab in Images of Leaders. I would recommend this program to any future student at the RUG.
Besides academic activities, I trained at the ACLO where I followed a course in horse riding, wind surfing and played squash with friends once in a while.
What does your current job entail? Which competences are most important to this job?
I am currently working in the commercial and corporate and M&A departments of Peli Filip, one of the most important law firms operating in Romania. My tasks involve drafting and reviewing contracts, drafting memos, conducting research on specific mattes, tracking correspondence and keeping up with the clients, participating in meetings and conference calls. These tasks are specific to very diverse filed of the law ranging from data protection and intellectual property to insurance, corporate matters and M&A.
On the competence side, writing skills are the first thing to mention. Apart from this, time management, soft skills both in relations with the colleagues and with the clients and, of course, legal skills. The LL.M. and the Honours programme helped in most of these areas: drafting term papers and the thesis helped for improving my writing skills and many of the courses in the honours master had a huge contribution on how I can handle the relations with working and business partners.
Marcu Florea is now working as a Legal Counsel privacy & security.
How did you end up in this job? What is/was your career path?
After finishing the summer term in Groningen I took the Bar exam. I was recruited by the firm before finishing by Bachelor degree, so I just started the work when I was don with the LL.M. In the future I am also considering pursuing an academic career.
Do you have any career tips for our students?
To learn as much as they can about as much as they can, you never know when you will need that knowledge. And to explore and enjoy, RUG has so much to offer.
| | |
| --- | --- |
| Last modified: | 26 August 2020 1.14 p.m. |