Corporate and Legal Affairs Adviser - Georgi Velev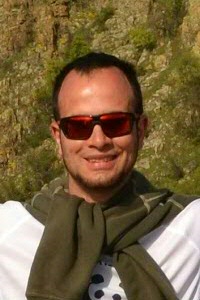 My name is Georgi Velev and I come from Bulgaria. I was born in Sofia, capital of the country but I have lived for a long time in the second biggest city and EU Culture Capital of 2019 - Plovdiv. My first Master's degree is in the field of Bulgarian law awarded by the University of Sofia in 2010. After a year and half spent working as a legal adviser for an agency at the Ministry of Environment and Water, I have applied at the University of Groningen and was not only accepted as a student but also awarded a partial Talent Grant Scholarship by the Faculty of Law. That was really a great surprise and an amazing opportunity to become a part of a university with long-lasting traditions and innovative teaching methods.
What programme/track did you take in our Faculty? Why did you choose this programme/track?
I have taken an Energy and Climate Law track which was still part of the European Law programme as of 2012/13 university year. My firsthand experience with Bulgarian environmental law, its positive aspects and deficiencies prompted me to search for a programme tailored for young professionals that possess a basis in EU law but lack specialised skills at European and international Energy and Environmental Law topics.

Furthermore, by the time of my application, I have decided to return to Bulgaria after programme's completion as the public sector and private companies were in a dire search of employees with a European background.
What have you done next to your programme? Which extracurricular activities did you participate in?
The number of extracurricular activities for a student enrolled at the University of Groningen is almost endless and most of the clubs and societies were neatly presented during the Introduction Week. I have chosen to become a member of ESN Groningen and of AEGEE Groningen during the second term. These interdisciplinary student associations organise a great number of trips, cultural events, social drinks and amazing parties that should not be missed. :)
Moreover, NEXUS Student Association is specialised at arranging borrels, lectures and academic events for law students in the fields of International and European Law, so becoming a part of this student union is a suitable way to meet with other law students and expand your views on current topics.
What does your current job entail? Which competences are most important to this job?
Part of my job is to draft, revise and finalise various contracts, deeds, letters, framework agreements and other day-to-day documents. Besides that, I was involved in several interdisciplinary projects such as implementing a programme for time management, group work efficiency and workflow improvement in pilot EVN teams, as well as designing a revised corporate image of EVN Bulgaria based on a innovative, community-centered corporate social responsibility initiatives.
Moreover, I am often charged with writing and editing analyses on topics such as energy markets liberalisation, renewable energy, sustainable electricity production and biodiversity protection.
As for competences: teamwork, sense of responsibility, task management and of course detailed knowledge of Bulgarian and EU energy, commercial and corporate law.
How did you end up in this job? What is/was your career path?
After I had returned to Bulgaria, I have worked for two more years for the Ministry of Environment and Water. Through my LinkedIn profile, I was contacted from two private sector companies and at the end, I chose EVN Bulgaria, a national division of the multinational electricity grid operator and supplier. As EVN is widely regarded as a high-profile employer, normally the selection process is very rigorous but I was headhunted by an external HR company and did not really compete with other candidates. My firm belief is that the LL.M. degree awarded by the University of Groningen combined with my public sector and non-governmental organisations experience helped me enormously to stand out amongst other potential employees.
Do you have any career tips for our students?
Find a work field that represents not only a good career choice but also something to devote your inner energy and passion. The results that would shortly follow will be better than expected.

Do not stop to ask questions and challenge legal paradigms while delving deeply into the subjects and topics that truly fascinate you.

More often than not empathy, positive thinking and team play would offer you the best case solutions in tough work situations.
| | |
| --- | --- |
| Last modified: | 25 September 2019 10.13 a.m. |