Ph.D. Student - Demola Okeowo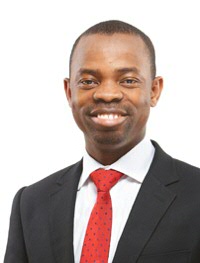 My name is Demola Okeowo.
What programme/track did you take in our Faculty? Why did you choose this programme/track?
I undertook an LL.M in International Law and the Law of International Organizations (specialization Human Rights).
This program embodies my areas of specialization in law. I want to be an international law expert. I would also love to work with or in an international organization like the United Nations sometime in the future. Above all, I consider myself to be a human rights activist and any endeavour that will enhance my knowledge of human rights in general will always have my attention and interest. The University of Groningen Faculty of Law was the only school to my knowledge offering this rare combination. So I had no hesitation in opting for it.

What have you done next to your programme? Which extracurricular activities did you participate in?
I sat on the Human Rights Curriculum Review Committee where I offered useful insights into ways by which the course could be improved to meet the needs of students. I also served as the Student Editor of the Review of European Administrative Law Journal under the management of Dr. Kars J. de Graaf of the Department of Administrative Law and Public Administration, University of Groningen.
What does your current job entail? Which competences are most important to this job?
I am currently completing my Ph.D program in Law at the University of British Columbia in Canada. This entails a high level of research – an insatiable desire for reading and writing at the highest level of academic commitments.
To succeed as a doctoral student in law, one requires a combination of reading, analytical, drafting and writing skills. All of these skills also must be balanced by a prodigious outpouring of self-motivation, perseverance and patience.
Demola Okeowo is now a Lawyer at MuritonRose Law.
How did you end up in this job? What is/was your career path?
I obtained an LL.B degree from the Olabisi Onabanjo University in Nigeria graduating as the overall best student. I also graduated from the Nigerian Law School with an impressive result and practised law briefly in Nigeria. I have two masters degrees in law from the University of Groningen, The Netherlands and Queen's University, Canada respectively. After completing my graduate program at Queen's, I had an opportunity of working with an energy company based in Ontario, Canada.
While at the Olabisi Onabanjo University, I was actively involved in student organizations and initiatives including being the President of the Law Students Society. I founded a group of highly focused law students known as the Legal Magnates and Company for the promotion of legal intelligence. I participated in several local and international mooting competitions including the Jessup Moots, the African Human Rights Moots and the 14th Inter-American Human Rights Moot Competition at the American University Washington College of Law, USA. I was a Student Editor of the Review of European Administrative Law Journal of the University of Groningen and an Associate Editor of the Queen's Law Journal. I am a recipient of several national and international awards including a partial scholarship from the University of Groningen, the Queen's Excellent Fund Award, and the Law Foundation of Ontario Award.
| | |
| --- | --- |
| Last modified: | 26 August 2020 1.21 p.m. |