Call for applications to publish first UG open textbook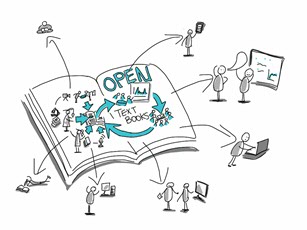 Are you interested in publishing your own open textbook that can be easily shared, reused and updated? Do you think your academic field is in need of an innovative learner-centered resource that should be openly and freely available to all students?
The University of Groningen Library (UB) and the University of Groningen Press (UGP) are looking for teachers willing to participate in a pilot initiative on publishing our University's first open textbook. Whether you want to convert already existing teaching materials into an open format or create an open textbook from scratch, work on your own or with a collective of authors, involve your students or colleagues from other institutions, our experts can guide you through every stage of the publication process and facilitate the publishing of your final product - a quality open textbook. Working alongside you on this initiative, our team will also develop the University's own best practice and set up an open textbook publishing infrastructure.
Interested in giving it a try together with UB and UGP experts and publishing your own open textbook? Please fill in this form or contact us at oer-library rug.nl before 15 November 2020 and let us hear your ideas for publishing the University's first open textbook.
About open textbooks
An open textbook is an openly licensed, dynamic educational resource that is made available online to be freely used by students, teachers, researchers and the general public. Usually, print-on-demand copies are also made available at cost. Switching to open textbooks is a rising tendency among faculty members across the world. This shift is particularly noticeable in academic fields with high textbook costs and in times of online-based teaching and learning.
Besides removing financial barriers to access to education, open textbooks often prove to be more convenient in use and offer the academic freedom necessary to be more innovative in the classroom. The dynamic nature of an open textbook allows its author to quicker incorporate peer and student feedback into the content and promptly react to new developments in the field. Depending on the type of a selected open license, open textbooks can be readily adapted by your peers from other disciplines, institutions and countries to meet local needs and broaden the outreach of the original publication.
More information
UB education specialists provide training, individually tailored advice and support in the areas of open educational resources, copyright and open licensing. They help UG educators redesign and enrich their courses with quality open materials and connect with experts in this area. More information: Open Educational Resources for Teachers.
| | |
| --- | --- |
| Last modified: | 20 October 2020 11.45 a.m. |