The metaverse: why are so many companies investing in this virtual world?
Facebook's announcement to change into 'Meta' in October 2021 indicates how important 'metaverse' 1 is for the future of the parent company. Since that name change, Facebook's share price has plummeted due to a global outage, privacy scandals, and a decline in active users, among other things. There is a lot at stake for Facebook to choose the right strategy. But how important will the metaverse be to us as users, and why are companies investing billions in the development of this VR world? In this article, associate professor Thijs Broekhuizen answers some questions about the appeal and future of metaverse.
Why do companies like Meta, Microsoft, NVIDIA, Epic Games, invest billions in developing a metaverse? Previously, it was thought that Second Live would be a great success, but that came to nothing. Why would this be a success?
"New, digital media that attract hordes of people always have a great attraction for companies. Facebook really seems to see it as a next step in connecting people (to advertisers) and it is a party to take seriously. It is the largest online platform with nearly 2.9 billion active monthly users. If you want to advertise as a company, you can hardly ignore it anymore. Of course, not every Facebook user will go to Metaverse (a metaverse is a network of 3D virtual worlds focused on social connection that can be experienced virtually with the help of AR and VR headsets), but from the demand side, it is an important platform to get in touch with (young) users who are tired of the current computer screen visualizations.
From the supply side, they want to bet on the winning horse. There are competitors, such as Microsoft, Google, NVIDIA (large software company), who also want to develop a similar metaverse. In addition, companies such as Nike are already actively working to reserve a place in the Metaverse. They bought fashion company RTFKT that focuses entirely on metaverse. New media platforms offer new opportunities. It is questionable whether multiple platforms can coexist. The winner in this type of platform battle (Blu-ray vs. HD-DVD, Netflix vs. Disney, TikTok vs. Instagram) often manages to get as many backers as possible early on. The user ultimately chooses the platform with the most attractive offer. And the more popular the platform becomes among users, the stronger the appeal to providers (e.g. advertisers). That's why platforms do everything they can to convince users that they are the winning platform of the future.
Second Life has indeed not been a great success. The medium has not become as big as many advertisers, including banks that opened virtual branches, had thought. But that is hindsight. I don't know if many people realized at an early stage how big WhatsApp was going to be."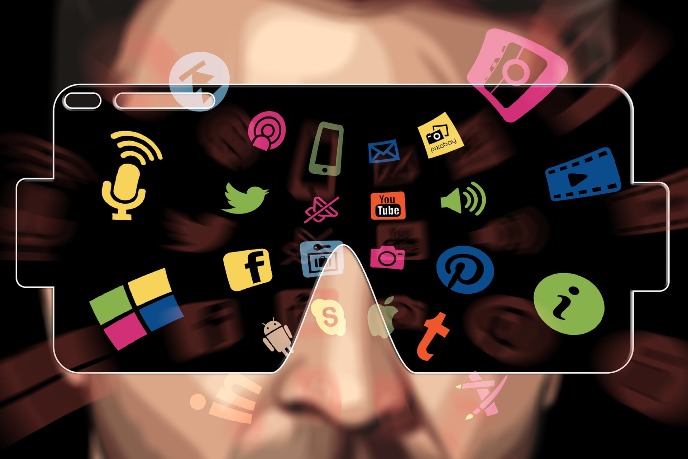 Does it make sense for companies to shift to the metaverse?
"If there is a fit with the younger target group, it can be highly attractive for advertisers. In addition, the new digital medium will probably offer additional possibilities that are not possible with ordinary internet (2.0). In the past, the mobile phone also made it possible to introduce geo-positioning advertising by communicating, for example, a hamburger promotion deal to people who just walk past a McDonald's franchise. Now, with the help of an advanced VR headset, you can see exactly what the user is looking at. With the collection of eye-tracking data you can earn a lot of money. In addition, the metaverse also offers online experiences, making it not only an advertising channel but also a sales channel. Marc Zuckerberg probably already has ideas on how to use the VR world and to commercialize 3D experiences and the sense of proximity."
Do you see a bright future for real estate in the metaverse?
"Special things happen on the internet. The rise of NFT (a digital ownership certificate of a digital work) also shows that the virtual world can have value. If metaverse is going to be a big success, and people are going to go through "streets" to destinations, then I can imagine that people will also invest in "virtual real estate", and that it pays to be here early before the housing madness breaks out there.
I see more opportunities in the field of tele-services. The development of tele-services (enjoying a service remotely) already takes place for example by a remote doctor who observes a lung photo in India and provides his evaluation to an American doctor and patient. Now, with the help of a robot and a 5G connection, the doctor can also operate safely from a remote location. This provides a more far-reaching opportunity to offer services for the whole world, ranging from tutoring to treatment for specific anxiety disorders. Co-located conferences could be replaced by virtual conferences that are hosted in "exotic" destinations, which would save the environment and reduce out carbon footprint. The question is of course what the role of authenticity (authenticity) will play in the new generation: is the virtual experience really a good replacement for the real experience?"
Are companies that invest in the metaverse not too far removed from reality? After all, for many consumers it is only a dream world...
"You can say that the developers of metaverses are very optimistic and progressive, but they were also the first to see the opportunities of the internet and social media. Today's social media have their limitations, and at some point their applications become "boring" as users get accustomed to the same timeline, photos and videos. Facebook, of course, tries to avoid this boredom, because otherwise the advertising revenue will take a dent. VR technology is developing rapidly and can be offered at relatively low costs: you can already get VR glasses for under 100 euros, a good one cost about 400 euros."
Does Meta throw billions over the bar?
"Meta is in a tricky situation. The investors demand that Meta grows. Recently, its stock price fell by 25% because, for the first time in its existence, it no longer grew in terms of number of active users. So, it has to come up with something new that competitors can hardly copy, and with which even more advertising and sales revenue can be realized. The advantage that Meta has is, that it has access to an immense number of existing users. From the platform literature, we know that it is easier to offer a new technology to an existing community (e.g. the introduction of Google Calendar for Gmail users) than to ask a community to adopt a new technology. Facebook's transition to Metaverse should run as smoothly as possible for the users to keep both the shareholders and the users happy. Will that work? We'll see. According to Nick Glegg, Vice-President for Global Affairs and Communications of Meta Platforms, we should not judge to early, as such a transition can take up to 15 years."
For more information, please contact Thijs Broekhuizen (t.l.j.broekhuizen rug.nl)
1 Metaverse is a simulated digital environment that uses augmented reality (AR), virtual reality (VR), and blockchain, along with concepts from social media, to create spaces for rich user interaction mimicking the real world.