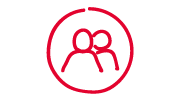 Every year our teachers deliver new talents to the corporate life. Read how these course participants experienced the Impactful Marketing Analyst course in Groningen.
---
'I interact much more with the client now'
"This training is very useful for any analyst who wants to increase his or her impact!"
"The biggest change since the training is that, during my data analysis, I interact much more with the client now. Where I used to lock myself up for three weeks when I had an assignment (as a figure of speech), I take care to keep on interacting now: 'Are these numbers helping you? Should we change the question?'
In each analysis, I also take care that I choose the role that suits me: am I an advisor or guardian, or can I provide ideas? I get positive feedback from my colleagues: they think the collaboration is very enjoyable and they appreciate that I execute the job more proactively. The course is a valuable combination of the hard and soft side of the profession: you will learn new statistical techniques and communication skills with which you will be able to do more in your organization."
Nicole Lakens
Data Analyst Business Market Natonale-Nederlanden
---
'Instead of looking back, we are looking forward now.'
"Why do we do the things like we do them? Thinking about that makes participating in this course very valuable."
"The beautiful combination of analytical skills with communication skills was the reason for us to offer this course to three of my employees. As analysts we were used to respond solely to questions from the organization and provide 'lists', but we are focusing more on analyzes and predications as now. Instead of looking back, we are looking forward now. To do that we need the latest analytical techniques that are scientifically developed and offered.
I noticed that our analysts
I noticed that our analysts learned a lot more than just applying the right techniques to the right issues. They have also become more aware of the personal role they can take. That combination works well and that's very special, because analysts are people who work structured with numbers while there are more roads which lead to Rome when communicating. It was clear that they had to get used to that during the course."
Jacko van den Bosch
Manager Business Analysis De Telefoongids
---
'I could apply a lot of new analytical techniques immediately for my work.'
"We as analysts now take greater opportunity to increase our impact on all levels."
"I've been working for Ahold for 38 years now and because of all my experience and insider knowledge, half a word is often enough for me to understand it. But for colleagues and clients, of curse, everything is not self-evident. I learned how I can advise more sharply. After my first new presentation, I received applause and I was expressly thanked for the clear approach: it works wel!

An important reason for following the course is that Ahold now plays a central role in our Consumer Business Insights department. We are in the organization right next to Finance. In this development were we focus more on the customer, it fits that we as analysts grab the opportunity to increase our impact at all levels in the organization. Through the program I have been able to futher develop myself in this field. I learned a lot of new analytical techniques like smart regression models and new churn analysis methods that I could immediately use for my work."
Cees Meijer
Analytical Expert Ahold Europe
---
| | |
| --- | --- |
| Laatst gewijzigd: | 22 juni 2017 14:40 |