International Student Associations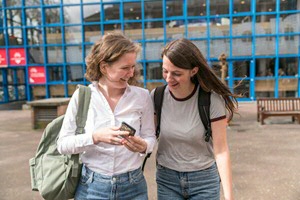 Our student community is incredibly diverse, with over 4,000 international students from over 120 countries. Find friends from a similar background or meet people from different cultures by joining one of our many international student associations
African Student Community
This organisation helps African students to integrate and encourages cultural exchanges between Africans and non-Africans. It organises symposiums, lectures and socials to promote awareness of certain issues within the community and hosts events to share an understanding of the culture.
AIESEC
AIESEC is a leadership movement and the largest youth-run organisation in the world. It encourages young students to reach their full potential through cross-cultural global internships and volunteer exchange projects around the world.
BEST, Board of European Students of Technology
BEST is a European wide association for students to participate in extra curricular knowledge and skills, while roaming Europe. It does this through its seasonal courses (similar to summer schools), engineering competitions and training network. There are currently 96 local groups and RUG has now got a BEST group since May 2017.
ELSA (European Law Students Association)
ELSA caters to students and recent graduates of the Law programme. It's a good association to join if you're seeking intercultural law opportunities and a host of academic and professional events.
With the motto of 'students helping students', this student network hosts an introductory week every semester to help introduce new students to the city and student life – it's a great way to get to know your fellow students. ESN-Groningen also organises 150 other events a year, ranging from pub quizzes to fancy dress parties and comedy nights.
Groningen Indian Students Association (GISA)
This association aims to bridge the gap between Indian- and other students, encouraging integration and spreading cultural awareness. It holds festivals such as Diwali and Holi and also organises other social events.
GUTSA (Groningen University Turkish Student Organization)
Turkish Student Organization) This Turkish-run student organisation regularly organises events and socials for Turkish students in Groningen and anyone else interested in learning more about Turkish culture.
HOST-IFES
HOST is an international student association based on Christian values but open to everyone. Our aim is to offer hospitality and a 'home away from home' to international students from all over the world.
IFMSA : International Federation of Medical Students' Associations
IFMSA offers cultural exchange programmes, training in leadership, presentation skills and group dynamics and projects relating to human rights, public health and European education and integration.
PPI represents all Indonesian students studying in Groningen.
Saudi Student Club in Groningen
This student organisation for Saudi students in Groningen and anyone else interested in learning more about Saudi culture hosts events such as Saudi National Day and Ramadan gatherings.
SIB-Groningen: the Dutch United Nations Student Association
SIB offer a range of social activities, such as an introduction camp, galas and parties, and trips to other countries. On Mondays, there are lectures on international topics with drinks afterwards.
Vietnamese Student Organization in Groningen
This student organisation focuses on past, current and future Vietnamese students in Groningen. It helps to settle Vietnamese students into student life and culture in Groningen and promotes a sense of community and cultural exchange.
| | |
| --- | --- |
| Last modified: | 14 February 2020 3.11 p.m. |