Scholarships for non-EU/EEA students
The University of Groningen/Campus Fryslân (CF) offers three grants to motivated students from outside the EU/EEA who apply to the BSc in Global Responsibility & Leadership (GRL) or MSc in Sustainable Entrepreneurship (SE), and show that they are committed to contributing to CF's vision and mission. The CF scholarship is a one year scholarship towards supporting living expenses during the first year of their studies (EUR 4 000). Students will be selected on the basis of academic performance, motivation letter, financial needs and relevance of CF's programmes for their future career.
Grant information & requirements
Grant amount: 4 000 euros
Grant award period: One year (1st year)
Eligible candidates: Non-EU/EEA residents who have applied to the BSc Global Responsibility & Leadership or the MSc Sustainable Entrepreneurship.
Deadline for application: 1 May 2020
Deadline extension: 1 June 2020
Application procedure
Interested candidates will need to send their scholarship application parallel to the BSc Global Responsibility & Leadership or MSc Sustainable Entrepreneurship application. Different committees will review the programme application and the scholarship application. Candidates submit a successful application by completing the following steps:
1.- Submit a completed application for admission to the BSc in Global Responsibility & Leadership or the MSc Sustainable Entrepreneurship before 1 June 2020.
2.- Parallel, work on your scholarship application to be submitted before 1 June 2020. Applications should be sent to the CF scholarship team via email to cf-scholarships@rug.nl (title: "CF Scholarship 2020 - application") with the following information:
A. Personal information in the email body (name, date of birth, gender & nationality).
B. Academic records (transcripts including GPA or equivalent accumulated).
C. Motivation statement/essay of max 500 words explaining the reason for choosing GRL or SE programmes, the relevance of the degree for your future career and why you are the ideal candidate for this scholarship, including reasons for financial need.
D. CV, including any relevant extra-curricular activities.
Timeline - academic year 2019-2020
Date
Step in procedure
1 November 2019

Call for applications opens. You can submit your application via email: cf-scholarships rug.nl

Note: applications received before November 1st will not be considered for the scholarship.

1 June 2020
Deadline for scholarship applications to be submitted to cf-scholarships@rug.nl
June 2020
Applications review by the Selection Committee
30 June 2020
Approval of the ranking list and award of the scholarships
1 July 2020
Notification to awarded candidates, waiting list candidates and rejected applicants
31 July 2020
Deadline for acceptance of scholarship by the awarded candidate
September 2020
Distribution of the scholarships*
*Please note that only admitted students to the programmes are eligible for this scholarship.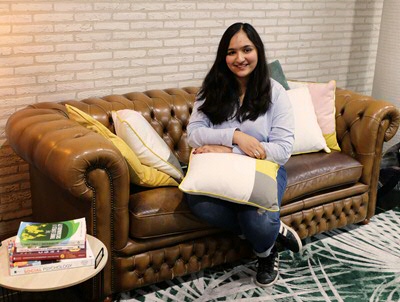 Testimonial Misha Haider
Hi! My name is Misha Haider and I am from Pakistan. Presently, I am enrolled in a bachelor programme (Global Responsibility & Leadership), at University of Groningen.
After finishing high school, my focus on what I wanted to achieve in life was crystal clear. I wanted to acquire the skillset necessary for a professional career geared towards achieving a cleaner environment, absolute tolerance for diversity of opinion, greater gender equality and eradicating poverty and hunger through advocacy for social and distributive justice. That was when I got to know about this new program starting at the university, which seemed really intriguing to me. Hence, today I am one happy and content student studying in what I believe.
The ambiance of the campus and the people involved in building it are all very helpful and sweet which made me feel right at home since the beginning. The scholarship I received to cover a part of the living expenses acted like an added cherry on top.
| | |
| --- | --- |
| Last modified: | 30 April 2020 1.24 p.m. |