What's it like to work in the field of Sustainable Entrepreneurship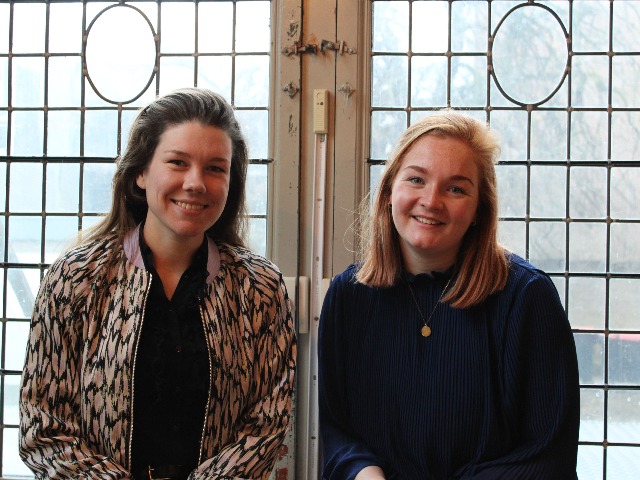 Marije de Boer and Eike van der Weele completed the MSc Sustainable Entrepreneurship at Campus Fryslân in respectively 2021 and 2022. By now both are working for Vereniging Circulair Friesland (VCF), an association of Frisian companies, local governments and knowledge institutes that collectively want to advance the circular economy in Friesland. They share their experiences of the SE programme; what they work on now and how they relate their studies with their work.
Can you tell us what you are working on currently?
Marije: I've been a project member at VCF since December 1. 2021. Currently I'm involved in a project concerning circular business parks, where we stimulate circularity at businessparks together with the Provincial government, municipalities and entrepreneurs of course. Furthermore, I'm working on sustainable development of the Waddensea area and realising the circular opportunities in that area. Lastly, I'm working on circular and sustainable entrepreneurship through a three day course called the CIRCO-method. My area is mostly related to entrepreneurs and how to help them to take a step towards circularity.
Eike: I'm also project member, but I've only been here for about 2 months now. Opposed to Marije, who is working a lot with entrepreneurs, I'm working a lot with the governments, as all Frisian governments are a member of the association including the Province, all municipalities and the Waterboards. Currently I'm working on a project relating to circular procurement and we are working on a plan on how to support the governments in their ambitions for the coming years. We're trying to create a general shared vision for all governments, so they can collaborate towards their shared ambitions. Furthermore, I'm working on the Week for the Circular Economy, as well as the 'Ambition-Table' for sustainable mobility.
How do you look back on your study at CF?
Marije: I think it is important to highlight that due to the COVID pandemic I only had 2 months of physical classes and everything else was online. Therefore, my year was quite different from a regular study year. Of course this really impacted my study, as there was not much contact with fellow students or guest lecturers, except for online classes. Despite all this, I really enjoyed my studies as it taught me so much about sustainability and sustainable entrepreneurship. Sometimes I even say that everything I learned during my bachelor in Business and management, I relearned during my one year at Campus Fryslân, because they teach you a whole different way of thinking and a more modern way of looking at how businesses operate and the challenges they now face. So in spite of the missed opportunities and the lack of company visits and direct contact with guest-lecturers, I still learned a lot.
Eike: Unlike the year before, I did have a lot of physical classes. What I liked most about the studies is that you learn a lot about theories in sustainability, strategy and transformation. But what I also like are the classes where I learned more about my personal leadership and my role in this process of making society more sustainable and you get some practical skills for this. What is nice about the physical classes is that you can discuss this with your peers and this makes you learn a lot as well. It is a very interactive study, where you learn a lot from your peers, professors and professionals. It really is a diverse community, from which you can learn a lot. All of them are really committed to sustainability, but in very different way. One is for example really interested in biodiversity while others more interested in culture and art. This all comes together in this community.
Marije: I can really relate to what you're saying, as a big part of the programme is about discussion and actually criticizing almost everything. This can also be annoying, but it's also challenging as it teaches you to look at the world in a different way. It shows you that not everything is black and white and there are advantages and disadvantages to every solution. It also really gives you freedom to develop yourself in the way you want. Of course you have to do your assignments, but you can really choose how much effort you want to put in. For example if you are really into culture and art, you can also focus on that because sustainability is so broad and covers so many topics. This is also really reflected in the students that come to study Sustainable Entrepreneurship.
How do you relate your current work with your study at CF?
Marije: The work field in which VCF is operating is of course a quite challenging one, because the sustainability and circularity sector is growing a lot and so is VCF itself. This means that there is a lot that needs to happen and it's always too late and we always want to do it better. Therefore sometimes there is a lot of pressure and it can sometimes seem a bit overwhelming, but the fact that it is so diverse really makes it fun as well. Furthermore, here at VCF you can have impact in so many ways, which in the end is also my goal: To make a positive impact and make the world a little bit better.
The fact that the SE programme encompasses so many different aspects, so not only on sustainable entrepreneurship strategy, but also something on for example policy and leadership, links very well with my work here at VCF. I really appreciate that these aspects were part of the programme as well, as you're going to need them at some point in your life and the fact that VCF is such a dynamic and diverse organisation with so many challenging aspects really matches well with each other. So the fact that I took all those courses and experienced those discussions helps me within this organisation. And it is also great that the guest lectures and companies brought us real life cases, as I by now work with some of these organisations that I encountered during my studies.
Eike: I really agree with that last part, as the network you meet during the studies is really important. Both in terms of the other students, but also the companies and business you get to meet and work with. This is also how I got to know about VCF, as I heard about them during my studies. I also learned a lot about the level of circular and sustainable ambitions of the region, as I didn't know about this. I just came here for my studies. It shows that the programme really has a connection to the real world. You also learn more skills than real theories, this was really nice. Sometimes you can use the theories, but the skills and the way of thinking and discussing you learn are the most valuable. There is a lot of complexity in sustainability, and you learn to deal with this.
Marije chiming in: That's actually a really nice way of describing it as there are so many complex problems when it comes to sustainability and the fact that you learn to evaluate and criticize these problems really helps with working in sustainability later in life. But actually these skills not only apply when working in sustainability, but also in general.
Eike: What you also learn is that the sustainability field is really difficult. When you come into a big business that wants to do something with sustainability, and you are a new employee and hired as a sustainability advisor: How do you make impact in such an organisation? From your studies you know that this is very difficult, but you know your support base, you know where you come from and what is important for you in the world. And then you can work towards that and you know that you are not alone in that endeavour. I think this is a really important lesson from the programme as well, as sometimes it might really look like that, you're all alone in your strive towards sustainability.
Marije: Yeah indeed a really nice thing of the programme is that, despite me having all my lecturers online, it gives you the tools to deal with the outside world. I really believe that the key in education is to learn how to perform a profession, and not just teach students all the theories and business models, but also how to apply them and connect them with what is happening in practice. The programme really succeeds well in this.
Eike: Completely agree!
Were you, based on your study background, able to bring in a new perspective into your company and how did your company react to that?
Eike: Everyone wants to do something with sustainability when you go and study SE, but is something different to actually know this by heart for yourself and also be able to explain why you do what you do and why it is important for you and for the world. This is something everybody learns in the programme. And of course, I didn't know Marije before she studied SE, but I really like how she is able to explain what she thinks about certain issues and why it is important to her and why it is important to the world. More specifically, I certainly recognized some of the business models that are used in the CIRCO-tracks from what we studied.
Marije: The CIRCO-track has certainly some influences from the SE programme. In the end the CIRCO-method is based on business models that I learned about during my studies, but applied in a simple and practical way that can really help entrepreneurs understand them and implement them in their business. Being able to help the entrepreneurs with that and seeing those results is really one of the best parts of my job, which really brings me a lot of joy. But it also really shows the importance of a personal touch.
And this also really shines through in the SE programme, because in my bachelor I studied business and management, which teaches you more of a classical perspective on business. And when looking for a master I really wanted to do something with entrepreneurship. While there is also a entrepreneurship focussed programme in Groningen at the Faculty of Economics and Business, I specifically chose for the SE programme because of the sustainable element and because in my opinion the FEB was simply too big and lacked the personal touch we have a Campus Fryslân.
But I also recognize this in Eike, because where I can really that see you studied SE, is in the way that you criticize and reflect on things. The programme triggers and trains you in a way to reflect on things that you just assume and to see things not black and white, but a lot more nuanced. What I see with you is that you don't just accept things as they are but ask why things are a certain way. I think that really stems from all the discussion you have during the classes.
Eike: The inspiration you take from other students is also really valuable.
Marije: What we both just mentioned is really about all the skills you learn. To learn how to criticize is a bit negatively loaded, but what you learn about is to not just take things for granted.
Eike: That's very important in sustainability, because we need to change things.
Marije: Yes it's a lot about continuous improvement. That is what sustainability is also about. If you've improved that's great, but you need to keep finding ways in which you can do better.
Eike: And it's also about trusting the process. You don't have to do everything at once, but just starting with the steps that you see and get further from there is also something you learn. When I started I was more hardcore sustainability side. Like the world is burning, why are there banks? I don't want this.
Marije: Yeah of course as a student you are a lot more focussed on actions, but then there is reality as well.
I also give guest lectures sometimes and what I love about that is that students ask very critical questions. Like why are we working with certain companies or organisations, where we know that they're not very sustainable. And maybe they are, but we also need to help them become more sustainable. Guest lectures really helped to understand this, like to understand what is going on in the minds of entrepreneurs and what visions do they have.
Do you have any tips for prospective or current students?

Marije: Really go into the programme open minded and try to open up yourself for everything you can learn, rather than to stick to things you already know. You can learn so much from the programme if you don't limit yourself by sticking to the way your used to. If you're looking to learn more than just the theories, this is a perfect study for you.
Eike: It's a really practical study. We always had projects with businesses. When you want to apply things you learn, this is a great programme. It was a really intense programme, and you can lose yourself a bit, but if you take a step back and look at what you're learning you can really shape the programme for yourself and give it your own spin. They give you the tools, but you have to use them.