What are your plans this summer?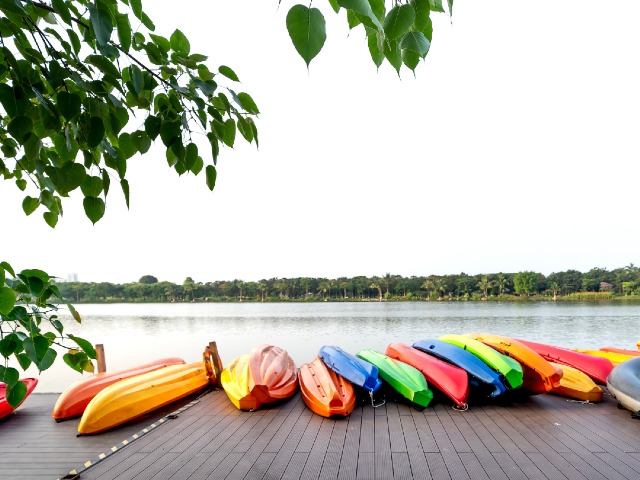 Whether you are just thinking about applying for a study programme or you are about to graduate, check some summer plans and ideas from current Master's students at Campus Fryslân. What will their summer look like? What didn't they have time for during their studies? And how can you best prepare if your Master's starts this September?
What's next for you after your studies?
Julia Kremer, MSc. Sustainable Entrepreneurship: I will travel a little bit in the Netherlands. We are so close to the seaside, so I started windsurfing in August last year before the programme started and I would like to catch up with that now. I'll also be back home, see some friends and have some visitors, and around August I will start with a Micromaster in Circular Economy, the topic I'm really interested in. Besides that, I plan to go interrailing through Italy, France, Spain and Portugal for two months. I will have a couple of days per city and visit some friends from the Erasmus exchange I did in my Bachelor's.

Janay Monen, MSc. Voice Technology: I will start a new job in July at Max Planck Institute for Psycholinguistics. I will work there as a research assistant, so there will be no real summer break for me.
Ayla Grotenboer, MSc. Tourism, Geography & Planning: First I'm going on a holiday for six weeks, and after that hopefully I am finding a job. I am really into sustainability topics, currently I am considering doing something with the Wadden Sea, or maybe teaching, we will see.
Julia Brink, MSc. Climate Adaptation Governance: I plan to find another internship for next year and I am currently working on applying for those. Now I am doing an internship in a governmental institution and I would love to complete it with another one in a non-governamental organization. So now I'm sending the applications to those. In my summer break I will also go on holiday with the study friends I made in my bachelor. You can call it a sustainable trip because we are going through some regions of Europe by train. I'm looking forward to that.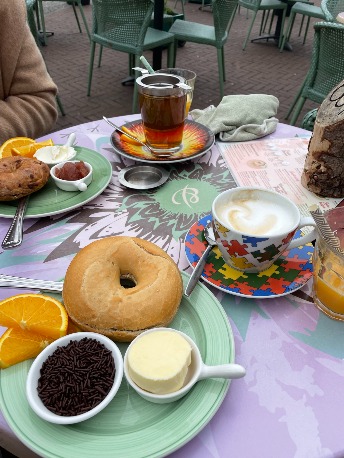 Is there something you didn't have enough time for during your studies and are now looking forward to catching up with?
Julia Kremer: I'm looking forward to reading books just for fun. It's not that I didn't have time to read, but after reading all those papers for my studies in the evening I just didn't want to read anything else anymore. Yeah, just grabbing a book and going to a park for the whole day without thinking much about it. I also can't wait to go for fun little weekend trips, as for now there have been too many chores on top of the studies, and a long pandemic didn't help either.
Janay: After my thesis is done I will definitely have more time to meet up with people, go to different places, and continue with my Korean, which I learn in my free time.
Ayla: There was enough free time during the year, but Master thesis is just a lot of work in the time span that you are given, so that's really about putting all the things aside. I also work besides my studies, and I really had to tone it down a notch, Same counts for the free-time activities. For example, when I watch a seriesI really need to watch it all, so now I'm not even starting a new one until my thesis is finished. Job hunting is also quite time consuming to combine with writing a Master's thesis.
Julia Brink: I felt like in this year the study pressure was okay,there was enough room I had time to do the things I wanted to do next to school as well. I always made sure to make time for that as well, so I don't feel like I missed out on specific things. But just, for example, sitting outside or taking a nice walk or meeting up with friends and not thinking that there's still something I have to finish will be nice.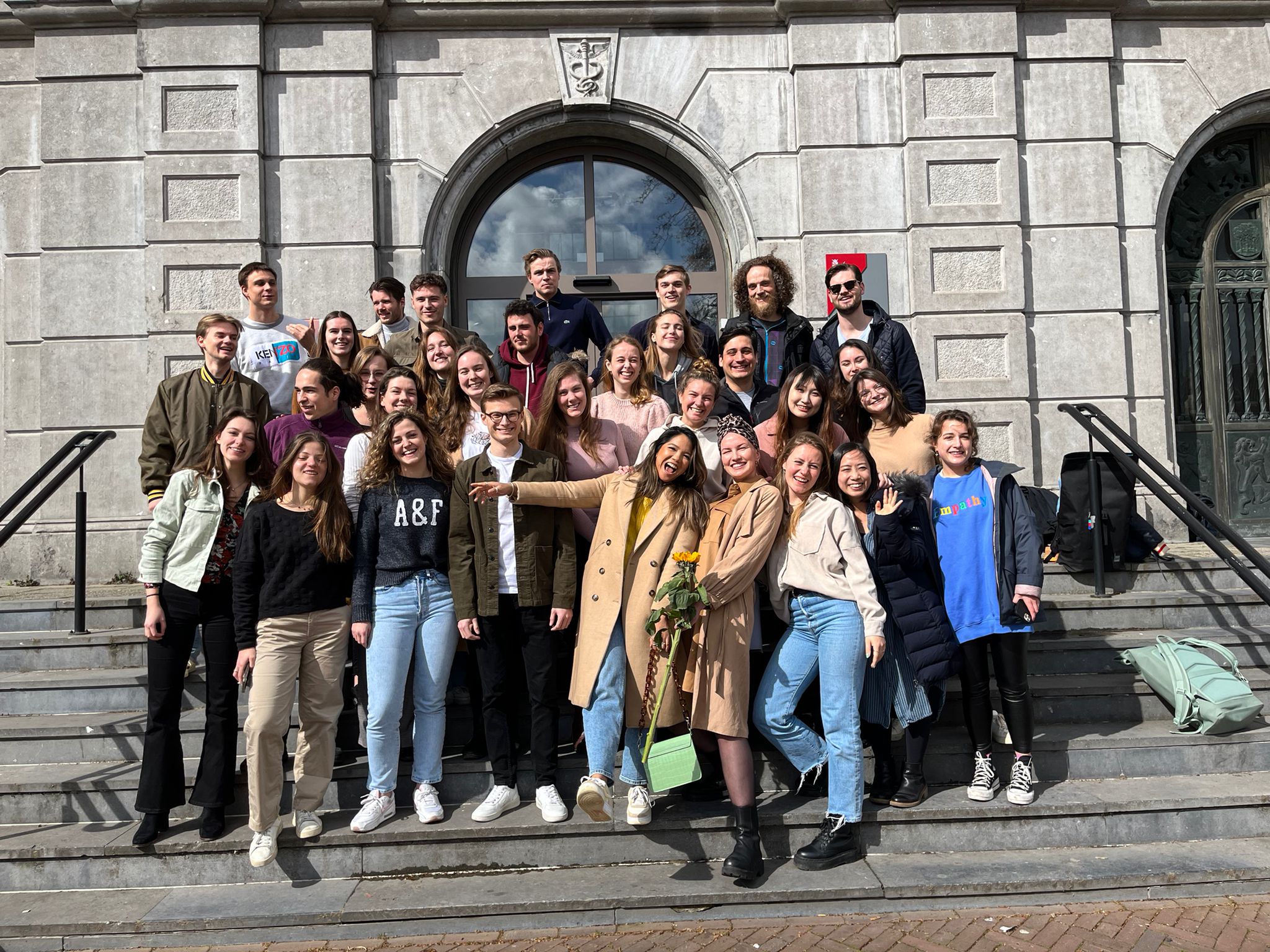 What is the best way to enjoy summer before "adult life" starts?
Julia Kremer: If you are an international student here and you are planning to leave after your studies I would advise you to enjoy the Netherlands a bit more. Also just fun stuff you may not have time for during your studies or upcoming professional life.
Janay: If you have time I would just really suggest you travel somewhere, hang out with friends, just do the things you really want to do. I think when you get a job there will be less time for everything, and more routine. For me I would prefer to just travel.
Ayla: I work in hospitality next to my studies, and normally during summer it's quite busy, which means full-time work for me. But this summer will be different. I always told my partner who already works full time that as soon as I finish my studies we will just take a nice long vacation and go backpacking together. And so this year after my Master's we are going to travel in South-East Asia for 1,5 months. In my case I can also connect the trip to what I've learnt during my studies, even to my specific Master's thesis topic - a western tourist traveling to the global south.
Julia Brink: Some tips would be to meet up with friends and to do smaller trips with friends, because now there's time. There is also time to work, which is also nice, but I always try to make sure not to work all of the time because it is a "break " for a reason and you are lucky as a student that you have such a long break. Therefore, I also want to enjoy it, especially considering that once your work life starts your summer holidays will be a lot shorter. Also, summer is definitely a good opportunity to stay outdoors more regularly.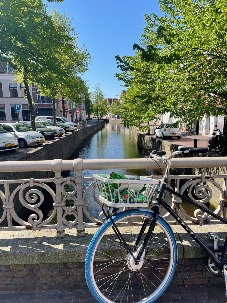 What would you advise prospective students to do this summer before their studies start?
Julia Kremer: Maybe already move here a little earlier, explore Leeuwarden, the little lovely towns around, not to forget the islands. If you are planning to study Sustainable Entrepreneurship and you already did an internship in a company it is a good idea to contact them already and ask if there's any specific sustainability problem that you could work on. The reason for that is that per subject you often get a task for example to interview someone, or for your thesis. Therefore, it is very useful to prepare in advance. It will save you a lot of work if you have a really good idea from the very beginning and can use it for a lot of projects. Maybe it is also something a prospective student could look into - do internships before starting the Master's just to get some networking and connections.
Janay: Once again have fun. Maybe also prepare yourself a little bit. We were told to prepare, although I would say that preparation should have been more extensive. If it is something like a new programme I would really look into the subject, follow some courses online, read yourself into it, manage your expectations a little bit, so you can go into the year a bit more confidently.
Ayla: I think it depends a bit on what you want to do. If you are a bit anxious about your upcoming studies and you feel insecure you can always take a course somewhere to build up that security. But I would just say - enjoy, just do your thing and then as soon as it hits the last week of August you can start becoming really serious (laughing). If you do have something like an introduction day - make sure to go there and meet your new peers already, it's always a good start.