The Dutch Dream - Everything you need to know about ice skating in the Netherlands
| | |
| --- | --- |
| Date: | 17 February 2021 |
| Author: | Campus Fryslân |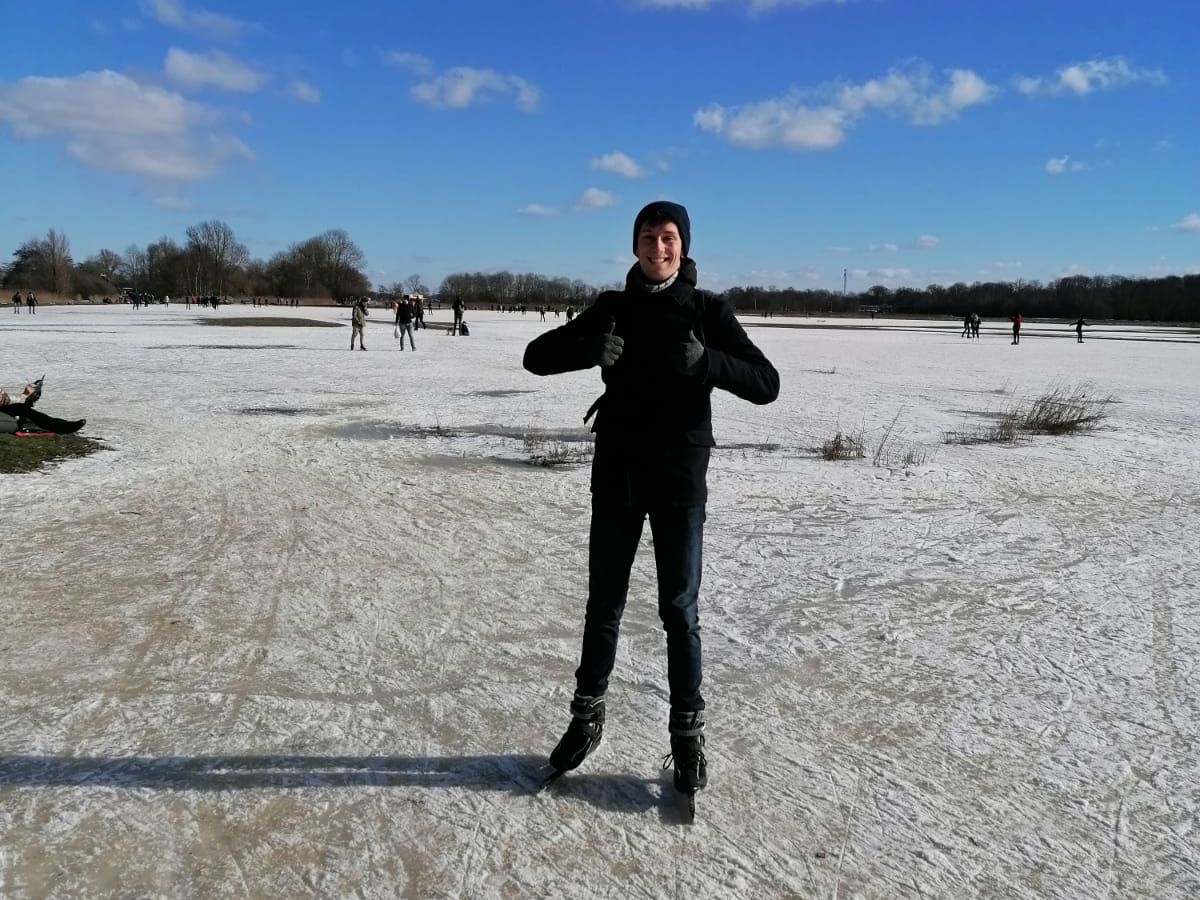 'King Winter' has arrived, that's what we heard all over the news in the past week in the Netherlands. Social media was full of snowy landscapes and snow divers. The entire country was covered in snow, which, in Dutch, we call 'a white blanket' (een witte deken). All of this is, of course, enough reason for happiness but there is one thing in particular that makes almost every Dutch heart beat a little faster: Ice. Let me tell you the story of the Dutch Dream.
I remember a week and a half ago someone sent a message in a WhatsApp group for work. It was a news item saying it was going to snow and freeze a lot. This caused a lot of excitement, especially with the Dutch people. After that message everyone was talking about it. Guess what people were most excited about? Ice skating! Two days later, when some colleagues and I were working on the Open day of uni, we had a conversation about ice skating. Someone asked 'Do all Dutch people have ice skates in the attic? 'Yes!' a few of the Dutch people replied enthusiastically. And if people didn't have them before the frost, they certainly did during. Everyone that could, got ice skates. My family and I took our ice skates from the attic as well. For three days in a row we enjoyed gliding across the ice in the sunshine.
Ice skating is an important piece of Dutch culture but an even more important piece of Frisian culture. (Recommended podcast in Dutch: Podcast and recommended book: ijsvogels, Bas van Oort ) That has everything to do with the legendary Elfstedentocht ice skating tour (see below). But that is not all of it. Dutch people just love to skate on natural ice, more so because it is rather rare to skate on natural ice these days. Nevertheless, many children get (in-door) ice skating classes in primary school. Especially now in the midst of a lockdown, the ice provided the perfect way of forgetting about your worries for a while. We got to skate on natural ice. We'll have to dream a little longer for an Elfstedentocht.
To round up, here are some of the most important words you need to know for ice skating in the Netherlands:
Natuurijs
Natural ice
Klunen
The act of moving on land with your ice skates on your feet. This is usually necessary at some bridges, because the ice gets less thick under them.
Schaatsen/reedriden
These are the Dutch (1) and Frisian (2) names for ice skating.
Schaatskoorts
Ice skating fever. The urgent need to skate on natural ice as soon as soon as there is any frost. This fever increases as the temperature decreases. Oddly, (almost) every Dutch person knows this word but it still has no place in the Dutch dictionary (Dikke Van Dale).
Koek en zopie
Koek stands for a variety of traditional Dutch cookies such as stroopwafels and gevulde koek. Zopie stands for a drink, traditionally this is an alcoholic drink but nowadays it's mostly associated with hot chocolate, however it can be another hot drink as well.
Elfstedentocht, de tocht der tochten
The eleven city tour, the tours of all tours. This is an important ice skating tour that takes place wheneverthe ice is thick enough. Some people go as far as to say you have not lived if you haven't seen an Elfstedentocht. This is both a Frisian and Dutch tradition. The last official tour was in 1997, that is why the tour has gotten an almost 'legendary' status. Interestingly, the tour was ridden this year by two determined Frisian!
By Hendrik Willemsen, 2nd year student BSc Global Responsibility & Leadership