Spyretta Leivaditi: Everything I've been looking for is right here in just one programme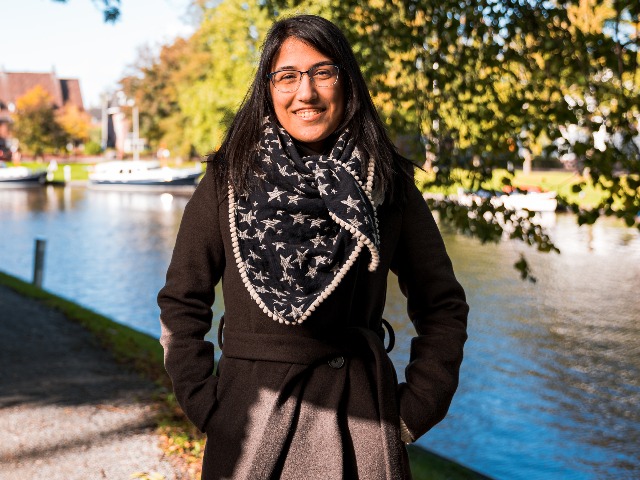 Some years ago MSc. Voice Technology student Spyretta Leivaditi was thinking it would be nice to make Google Translate sound smoother. Since then she gained her first master degree in Linguistics and work experience in the industry, but the idea to dive deeper into speech technology has remained. So once she came across MSc. Voice Technology she couldn't resist applying. All you wanted to know about the Voice Technology programme and linguists with programming skills - in the interview.
First interest in speech technology
I was always trying to find a way to make use of what I'm learning and get involved with something that will make an impact. During my bachelor in Greek Philology, when I worked with Google Translate, it was the first time when the voice button appeared there. It produced a rather unnatural Greek, and I was already thinking that I would like to make it sound more natural in this type of application.


Building up the missing skills
Through my previous masters in Theoretical and Applied Linguistics I gained a lot of experience, but unfortunately when I graduated it was very difficult for me to find a job in speech technology. People kept telling me that I needed more programming skills or more knowledge around language models and natural language processing, which sounded like a foreign language to me at that point. I worked on feedback from the interviews and got my first job as an annotator and later another one in natural language processing. This is how I started building up all the missing skills. And when I saw a Voice Technology master at Campus Fryslân I just thought "huh, finally!" Everything I've been looking for is right here in just one programme!


"Content wise the programme is amazing"
Content wise the programme is amazing, all the assignments that I have done I am super happy with. Even more theoretical ones, good-practice oriented, like how to choose a corpus, what is GDPR and so on. Before that I treated GDPR as a monster I don't know and will never know, while now I feel I know how to make people feel secure when I am asking them for their data.
One of the classes in the first block was Introduction to Voice Technology and I thought it would be one of those classes where I will sit down and listen to stories. But it wasn't. Actually each week we had a new person, usually from the industry, coming and talking to us about their applications and how we can use our knowledge to create solutions. You are exposed to so many topics you can later choose to go more in depth with. But it is also a great networking opportunity.
Programming course
The programming course within the programme is a good breakthrough for someone who has never done it before, but you need to be determined. It is not about becoming the best programmer in two months, nobody can do that. But you will start losing that fear of failure when you get an error on your laptop screen and that is a big step. When I started to program some years ago it took me 3-4 months to get to that stage. It is also a good class for someone with experience, like myself. There were things I knew and those I didn't, it was well-balanced. For others with no preliminary experience it may be stressful, but if you are determined and don't give up you will survive. Besides, they were pairing technical and non-technical people to help out each other, and my group has totally succeeded in the exam.
I want to stress that out - always ask the instructor. If you don't ask, you will never know. When I started programming 6 years ago I was totally alone and that was hard. You start questioning yourself. But in the programme you will do it in the group and will have a supportive instructor who is there for you. You are going to get frustrated at times, but you will receive so much help if you request it.
The right place to be
For everyone really interested and passionate about voice technology this is the right place to be. The classes and assignments, everything is targeted at that. Even if you don't have programming experience but you are hard-working you will manage, and gain a lot more confidence. And in your first job everything will seem more doable.
Start your application for the Msc Voice Technology!