Sjors Weggeman: First of all determine who you are, where you want to go, and what you want to do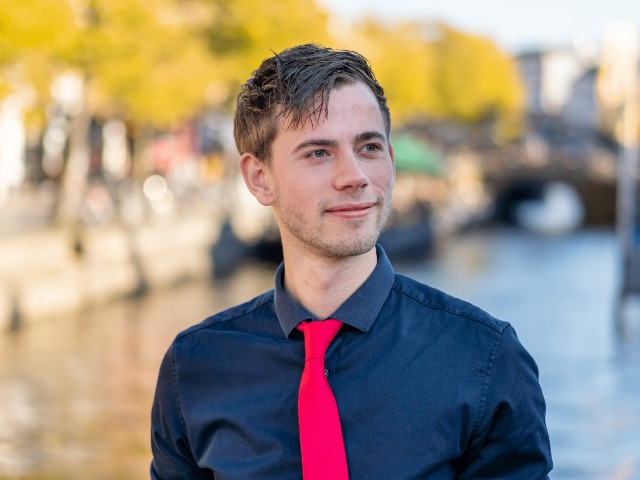 Sjors is a Msc. Voice Technology student with a background in Artificial intelligence and an interest in psychology. In the interview, learn how Sjors is combining the two in his thesis, why he finds it interesting to cooperate with a company and what other career-oriented aspects are offered within his Master's programme.
What motivated you to start with the Voice Technology Master's?
I did a Bachelor's in AI and at some point during that Bachelor's I took a gap year at the Vrije Hogeschool in Zeist. It is a very unique gap year during which you determine who you are, where you want to go, and what you want to do. So basically a school of life. What I've learned there is a way of reflecting on life and the things you want. While choosing this Master's I've actually really utilised that technique. I did not want to continue in AI, because I wasn't completely happy there: it was too much focused on computers and had little room for creativity. I decided to look further, and checked all the universities in the Netherlands that had aMaster's in AI, and then checked what else they had that was somewhat related. That's how I found the MSc. Voice Technology and thought it was the perfect crossroad between human and technology. So the technology component is still there for me, which I think is inevitable because we are in an ever more digitalized world, but the human aspect is also very strong because the most natural form of communicating is through voice. Then I contacted Matt Coler, programme director of the MSc. Voice Technology, and asked him some very specific questions about the programme and its content and based on his answers I knew that I wanted to do this.
Tell a little about your thesis project, what is it about and how did you come up with the idea to cooperate with the ReadSpeaker?
One of the aspects that really intrigues me is human psychology, especially emotion. In voice technology you have two aspects - speech recognition and speech synthesis. And I feel like in speech recognition there is already a lot that has been done and many people are working on it already. Whereas speech synthesis is newer and more formable. And although emotions have my interest, we don't really know a lot about its functioning. Hence, it is really hard to put it into parameters to tell the computer how to synthesise it. Therefore I wanted to focus on something similar that is a little bit more tangible and yet under researched. This is where I discovered the idea of synthesis of paralanguage, which is basically the non-verbal part of speech. A large part of meaning in voice is not conveyed through what we say but how we say it. This includes fillers, laughs, giggles and sighs, and taking a moment to breathe in or out, those kinds of things. I am focusing now on the synthesis of laughter because… well, it is fun. I asked the company ReadSpeaker whether they wanted to supervise my thesis. I reached out to them after one of the guest lectures because I thought that they could provide me with the workfield and knowledge expertise that I'm looking for. I am also considering that I would maybe like to work for them later and then it's nice to have had an introduction because they already know me and what skills I have.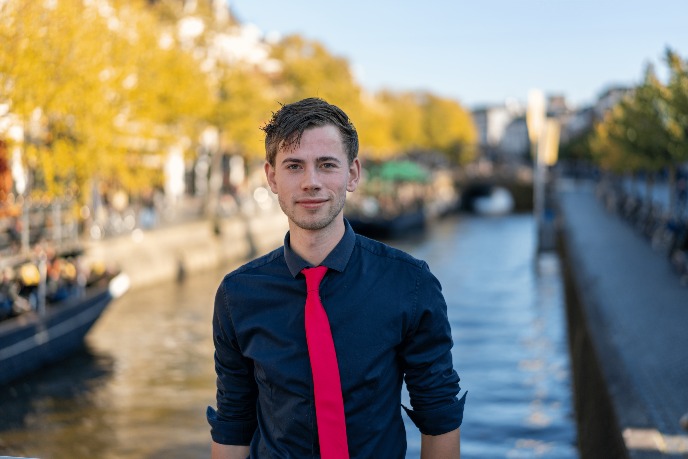 Give some examples of how your Master's programme gives you insights into the professional world and prepares you for your future career.
I'm going to make it very subject specific. So in the first block we had programming, which is in general a very valuable skill even if you hardly use it. It teaches you a certain way of solution-oriented thinking and besides that, if you need to do something a hundred or a thousand times, then it is easier to do it with programming than manually. The same goes for the later courses, like machine learning, which is quickly gaining relevance in almost every field. Studying machine learning within artificial intelligence courses you would be going deeply in the process of learning how to improve it. Whereas in voice technology it is more about practically applying it as a tool. You will still have to understand it to some extent but mostly you will be looking at the data and learning how to process it optimally. And then there are also speech sounds and speech synthesis, in which you go more into where the data comes from, what the data actually looks like, and why certain machine learning techniques work better for certain types of data.
Overall, the programme is dealing with the topics that you will be working with professionally in the future. We regularly had guest lectures and were introduced to various companies and their projects, from a wide variety. It's nice and inspiring to have these insights into what other people do in the field and what the problems are that still need to be tackled in the field.
Maybe there are some tips you would like to share with others regarding getting a job?
I would say there are three things you need to do. First of all you need to figure out which area you want to work in. When it comes to the students of voice technology, it can be more towards programming/machine learning, speech recognition, or speech synthesis. Once you have that clear you can start searching for companies suitable for your desired profile. It is also important to have a strong Linkedin profile, where you should state where your interests lie and what you are looking for, so potential recruiters can find you. Besides that in the Voice Technology programme you can let the lecturers know about the ideas you have because they are happy to introduce you to the right person. Finally, be enthusiastic and proactive while networking.