Reflecting on My First Block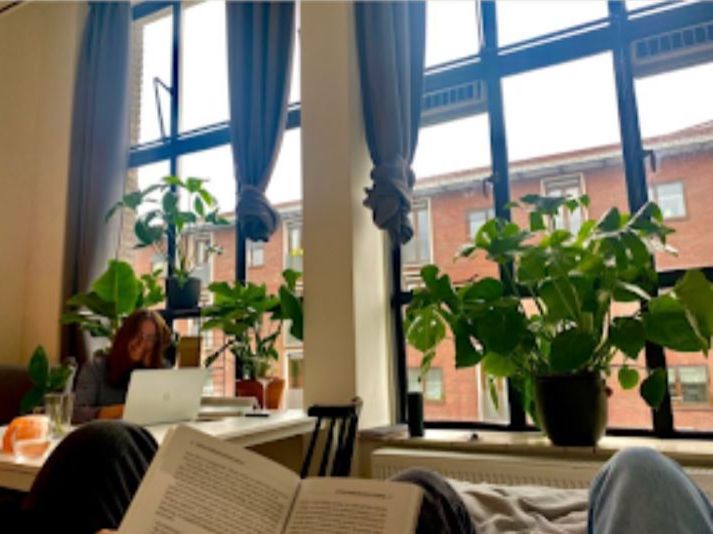 By Leonie Christel
If somebody had told me at the beginning of the year that there is still a lot going to happen during a Global Pandemic, I would have laughed in disbelief. With the Covid-19 crisis knocking at our front door, a normal life seemed unimaginable, giving me not all so high hopes on the first term at university… Well, let me tell you, I was wrong!
From waking up early, sitting at university until the security lady told me it was closing time, making new friends, having the highest consumption of caffeine in my life, to socialising even more than during my travels or even being desperately involved in figuring out what lecturers want from me - this past term has been exactly what we were told, an all-inclusive program!
Coming back from months of travelling, it was quite intimidating to be back in an academic environment again. Luckily we have the hybrid model of education, and even though it was a small challenge to always stay concentrated, our lectures and the topics we discussed helped me to let go of the feeling of insecurity.
My sister always used to tell me that university is like a full-time job, and I'm now very sorry for not supporting her on this statement, because it definitely is true. What I learned in the past weeks is that once you feel like you managed everything and deserve a time off, there's more input coming.
Adapting to this new way of living was not only doable because of the very interesting things we learned, but also because of the setting in which we first year students live. Calling Kanaalstraat my home is something really special and rare at the same time. Since you get to know the people through living together instead of only lectures, it's a whole new, intense, interesting and fun experience. I moved in around the middle of August and can honestly say that it feels not only like I belong here because of my own four walls, but because I'm surrounded by so many, heart-warming people. People who each carry their own vision and ideas through our daily life.
Writing about this also made me realise again how lucky we are, having the best start one can imagine in this situation. I don't want to exchange what we have and are offered by our faculty with anybody else starting university in these times. Our campus team made it possible for us to not only go to physical lectures, but also to be able to socialise and actually indulge in the (almost) full experience of Campus Fryslân Life.
This leads also to another thing I experienced in the past weeks. The main thing I forgot, and let me tell you I wasn't alone in this, was taking enough time for myself to process everything - my new home town and the people that it brings with it. In the beginning, every single one of us wanted to explore, wanted to see as much as possible, with the maximum amount of people, and many of us felt like missing out if we weren't always there. Truth is: it is actually very important to sit back and take a deep breath, to process what happened, what's ahead and to also notice that everything's under control even though it did not feel like that sometimes.
Stress is definitely a part of life, but, quoting something of a conversion I had with somebody here, it is also "nuts, compared to everything that will follow in life". Even though that might sound a bit harsh at first, sometimes I really had to remind myself that this one essay will not influence my life on a big scale, but more the outcome and what I, myself, take out of it.
Additionally, that thriving for a better future is definitely a huge step towards adaption, towards creating new routines, and also about learning who you are. Global responsibility & Leadership always states that you will be a part of a unique community, that you will grow into a self-reflected person and yes, I definitely do agree!
It's actually quite interesting when you go back to visit your home town and you already notice the changes in your way of thinking, in the way you start and have conversations and I could not complain about that at all.
I did not think that only one term could enhance my way of thinking in a very distinctive way, but that definitely happened.
The past weeks definitely had uncertainty in a lot of situations, but the main thing that I learned is that also those "rollercoaster" times will pass and as a part of a strong community, you're never facing those thoughts and feelings alone. What connects us are similar beliefs and that is something that we can actually thrive from.
I'm sure that the next months will include some unexpected plot twists as well, but looking back to the beginning of August, I can say that they actually no longer scare me but that I'm grateful for what will come because I'm in a place surrounded by people motivating me to be a better person and I'm excited to what places this shaping journey will take me.