Nobis Cura Futuri: CF's study association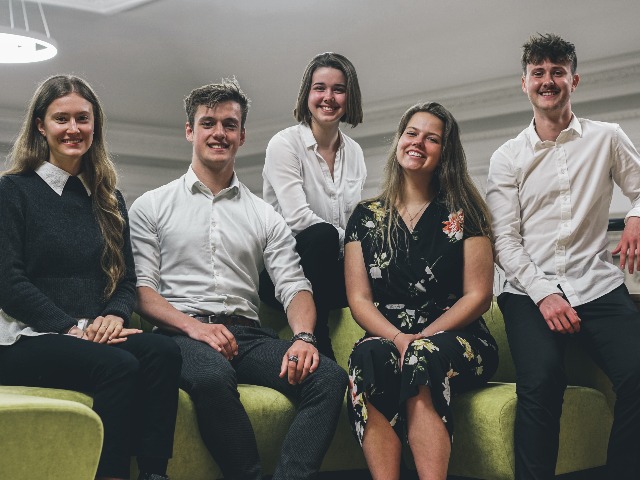 Are you excited about your student life? Get excited about NCF!
NCF, short for Nobis Cura Futuri, is Campus Fryslan's study association and brings your student life to the next level.
But what exactly is a study association, you wonder?
In the Netherlands most Faculties or Study Programmes have their own study association, an organization that is led by the students for the students and is dedicated to organize social events, fun activities or academic and career related offers. A study association consists of a board, its members and most importantly committees. Committees are the heart of every association and what brings a community to live.
More concretely, they are small working groups within the association that bring together like-minded people who work on creating events or engage in activities. So basically, a study association designs your life outside of your hard work for university. And the best thing is that you are able to shape it to your liking by joining or creating a committee yourself!
For this purpose, NCF was founded a year ago in September 2020 as the embodiment of Campus Fryslan's student community. In line with our name Nobis Cura Futuri, meaning 'The care of the future is ours', it is built on the principles of sustainability and inclusiveness and aims to create a better future for everyone, within your student life, the community and the environment. During the first year more than 10 different committees have been formed and NCF has started networking with other study associations in and around Leeuwarden as well as other student bodies such as Leeuwarden Student City to provide you with more opportunities with regards to entertaining activities, discounts on events or products as well as academic and professional support. And more exciting things are about to come: NCF is about to join an association network that connects all university colleges in the Netherlands, offering yearly events all over the Netherlands that you can take part in.
Despite Corona, we managed to make this year as fun and interactive as possible, connecting with each other online through pub quizzes, guest lectures, game nights, drinking nights, photo competitions or movie screenings, to name just a few. Stay tuned for the next blog posts, in which our committees will tell you more about who they are and what they do themselves!
For the coming year, we hope to welcome you to NCF, starting off with a great introduction week planned by our 'First-Years Committee'. We are optimistic that during the next year, we will all be able to meet again at the Campus, have on-site activities and develop NCF further.
Get to know NCF better by checking out our website (www.sa-ncf.com) and stay up to date by following us on instagram (nobiscurafuturi).