Master's thesis series: The feeling of accomplishment you have while handing in the thesis makes it all worth it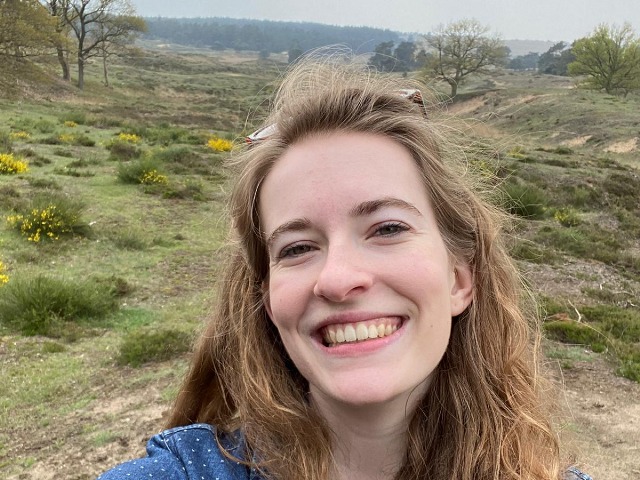 Choosing a topic, putting data together and writing your thesis is an exciting but also somewhat worrying process. In Campus Fryslân Master's thesis series learn what is good and what is challenging, and simply get to know a variety of exciting thesis ideas.
Ysabella Goedhart from Climate Adaptation Governance programme is writing about the role of boundary spanners in Adaptive Delta Management. Learn more about it!
Topic: The role of boundary spanners in Adaptive Delta Management
Favourite snack: Avocado on toast with everyday bagel seasoning or sriracha mayonnaise.
Playlist: I am the type of person that cannot think properly while listening to music. I would love tovsay some nice classical tunes or lo-fi hits, but I would be lying.
Place: I enjoy writing in cafes. You can sip great coffee and people watch. Probably not the most productive place to be at, but it makes the writing process more fun.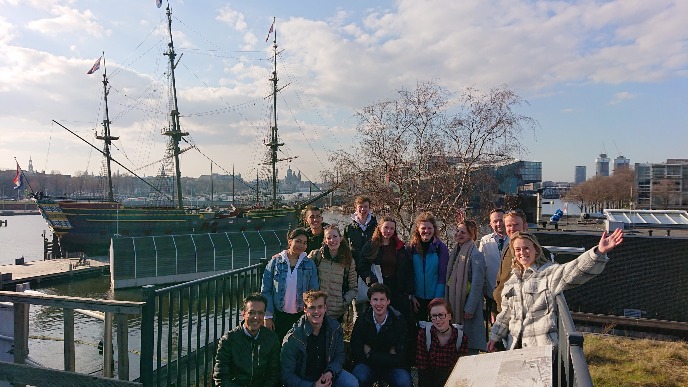 What is your thesis about?
My thesis was to investigate the role of boundary spanners in Adaptive Delta Management. In the past few centuries, cities around the world have relied on flood control measures to protect populations from risks of flooding. Unfortunately, climate change is causing these measures to become increasingly ineffective, causing delta regions to be vulnerable. As a result, cities around the world are considering alternative policies to mitigate flood risks and turning to expertise from other delta regions. The Netherlands can be considered the frontrunner in adaptive delta management due to the long-standing history of land reclamation and dealing with flood threats from both the sea and rivers. Over the years, Dutch experts have created a knowledge base on adaptive delta management that they can export to more vulnerable regions through policy transfer. An example where this occurred was between the Dutch government and New York City. After Hurricane Sandy struck New York numerous stakeholders came together and helped design resilient plans during a competition called Rebuild by Design. However, this was not without its challenges. Complex planning processes can face complications when stakeholders cannot reach an agreement, have contested interpretations, or different preferences in communicative practice. To overcome this, boundary spanning is seen as a coping mechanism to consolidate collaboration among stakeholders and alleviate challenges.
What motivated you to choose this topic?
I took a course called "Going Dutch: America Rethinks" where stakeholders involved with the Rebuild by Design competition gave a few lectures about the topic, which inspired me further delve into this as a case study.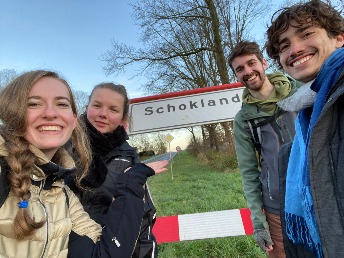 Some tips on how to choose your thesis topic

The best advice I can give is to keep a list of potential thesis topics throughout your studies so that when it comes time to choose a Master's thesis topic, you already have an idea on what field you would like to focus on. Additionally, think back to the assignments you previously worked on and found interesting and see if you can expand on it as a thesis idea.

What is the hardest part about the whole process?
The hardest part was finding participants for my research. I wanted to conduct in-depth semistructured interviews with key stakeholders, however 90% of the emails I sent would be left unanswered. This was extremely demotivating. However, it does make you appreciate the people who do make the time and effort to talk to you. Luckily qualitative research is about the quality and not the quantity.

What is the best part about writing a thesis?
The coolest part for me was finding an opportunity to conduct my Master's thesis abroad. During my Bachelor'sI was unable to do fieldwork due to the covid-19 pandemic. I thought this was a missed opportunity because I really wanted to gain practical knowledge on large scale adaptation projects outside the Netherlands. Fortunately, I was able to regain this experience by writing about a topic that allowed me to visit New York for two weeks.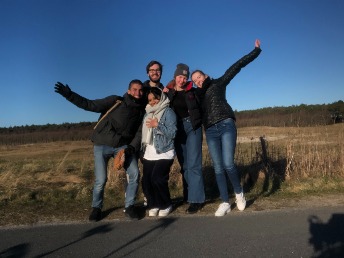 What curious facts, notions or findings did you come across while writing?
In my thesis is was found that listening and being vulnerable are key skills that enable effective collaboration amongst stakeholders. Listening allows for the building of trust, legitimacy, understanding and common ground. Furthermore, appearing vulnerable by being transparent, asking questions and being honest stimulates better communication and decision making. I hope that I can apply this knowledge in the future by continuously being a good listener and acknowledging that asking for feedback or help does not show weakness.

Share your overall experience writing a thesis
Overall, I enjoyed the research process and although there were ups and downs, the feeling of accomplishment you have while handing in the thesis makes it all worth it. Writing a Master's thesis is very similar to writing a Bachelor's thesis. The only real difference is that you are expected to be more independent. That means you schedule your own supervisor meetings, you don't have weekly lectures to check up on your progress, and you are the one that asks for feedback. This gives a lot of freedom and responsibility. However, there is also the trap of procrastination. Personally, I thought it was useful to step away from the thesis and focus on other things, once in a while. This created an opportunity to look at my thesis with new eyes, generating new perspectives. However, you need to find a good balance. I do not recommend procrastinating until there is only two days left before the deadline.