Interview with admissions officer Maria Magas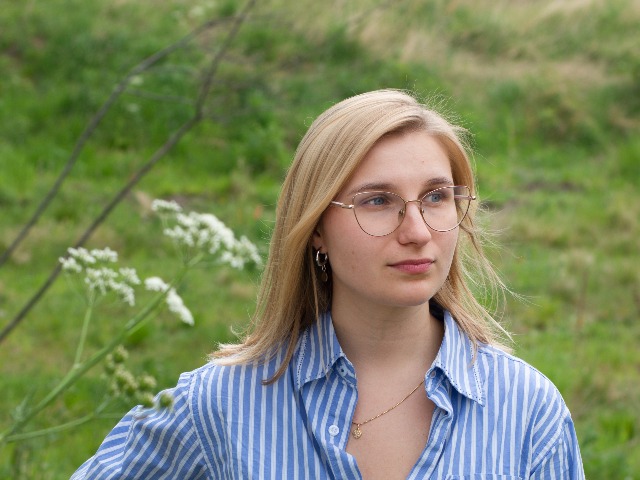 Do you know what to think about when you're applying for your new bachelor's programme? Meet Maria, admissions officer at Campus Fryslân, focussed on the bachelor's programmes. An art and design enthusiast, who surprisingly enjoys administrative tasks.
Maria: ''I live in Groningen, but on weekends I visit my friends all over the Netherlands. I enjoy reading, cooking new recipes and learning new skills and crafts. My newest picked-up hobby is hand embroidery.
So, what is your role at Campus Fryslân?
In Campus Fryslân, my role is an Admissions Officer - Bachelor Programmes. That means that I oversee the new applications and admissions procedures, making sure that candidates know about all the necessary documents and practicalities. As an applicant, you can even book a one-on-one conversation with me, where we will discuss any matters that may concern you as a future CF student.
How is it working at CF?
I love working closely with colleagues and prospective students. Since our faculty is small, it's easy for everyone to integrate and feel welcome. I enjoy the collective effort from professional and academic staff to work together towards creating the best study programmes. We are also working in a beautiful building with lots of amazing architectural elements, so everyday you notice something new about the old and modern structures.
What kind of problems/questions you see, you get?
A lot of applicants ask questions about the selection process of Global Responsibility & Leadership. They are curious about what they should write in their motivational letter, how long the motivational video should be or what hobbies to include in their CV. I always say that these documents should really represent who you are as a person and how choosing our study links to your goals. We, as CF and UCF team, are very curious and are excited to get to know every applicant!
Message to students/tips:
Please, read all the information thoroughly. Especially about your missing documents, additional certificates or financial matters. There's a lot of details, documents and deadlines that you have to pay attention to, so why not print it all out, or put the dates in your calendar? It always helps me to create to-do lists and check off all the items once completed. A great source is also our rug.nl/cf website, where you can find all the information about admission related insights, but also future events, webinars and other activities!