How to engage with data science outside the classroom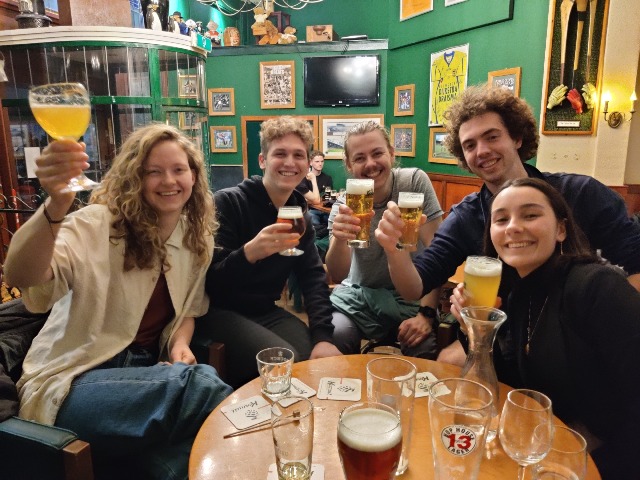 Next to your studies, there are loads of extracurricular activities you can engage in. There are loads of committees and many activities for you to join in. There is even a committee that focuses on all topics surrounding data, named the Technology Optimization and Data Observation (ToDo) committee. Check the interview with Tabio Romanski and Quinten Harskamp to learn how students can focus on data outside of the classroom.
Tell something about yourself
Tabio: I am Tabio, 22 years old and about to finish my bachelor programme called Global Responsibility and Leadership this semester. During my studies I've become interested in data science initially through the mandatory introductory courses and later on thanks to our lecturer Daniel Feitosa. Since I am one of the founding members and the chair from day one onwards, I am not sure if you could speak of "joining" the committee. What I can say is that I wanted to engage with data science even more and encourage others who may not be as interested (yet) to learn more about this highly relevant, diverse and fascinating field!
Quinten: I am Quinten and I am 19 years old. I always had an interest in computers and technology, so that really fits a part of what the To-Do committee does. Also visualizing data is something that is easy to me and I like doing it. Finally, programming is something I like doing as well, you can create everything you want!
How do you implement Data Science at Campus Fryslân ?
Tabio: In the GRL programme, we are free to choose from a broad variety of courses. Thus, I try to squeeze in as many technology related, data science, programming and statistics courses. Additionally, I did a minor in AI and data science at another Dutch university.
Quinten: I am in my first year, so we did not yet cover it that much, but we did make plots during statistics for example. For the rest, a lot of graphs are used during all the courses, so it is a very important part of our education I would say. It is also interesting to see the choices of the creators of some data visualizations, because I can see quite a lot of improvements that could be done to them.
What is your favorite activity at the ToDo committee?
Tabio: This question is really hard. There are many great aspects: the people are amazing and it's great to reach new audiences through events. However, this committee is a product of a software project, therefore, I am inclined to tell you that I am still in love with coding also as part of my activities with the committee.
Quinten: I cannot really choose one activity in specific, we also did not have that many activities yet. I am really looking forward to this month's activities. Data drinks, a socializing event, which I think is going to be really fun! I hope more people are going to join our committee when they realize it suits them! Also the batavierenrace upcoming will be a lot of fun; sporting and a party afterwards!
What data questions/topics keep you up at night?
Tabio: I have two intertwined questions: how can we use data science for good and how can I direct my own learning so that I will be able to contribute to this ambitious aim? Secondly, I do believe that we won't see less data science, therefore, how do we get everyone in society ready for the future?
Quinten: I am currently busy learning web development and I sometimes am thinking of some design I could make: how could I make it, would that work out or is some other idea/code better to use. I would say the main question covering the field of data science I always question myself is how I could make something easier/using less effort.
Do you think data will be a part of your future career?
Tabio: I am almost certain - at least I do my best to make it part of my career, aligned with my goals and topics mentioned above.
Quinten: I definitely think that data science will be part of my future. My interest is definitely in science, so I will most likely use it in the future. And science itself is offering quite a promising future when having knowledge on it. So yes I definitely think it is going to be part of my future career.