Get to know a UCF Alumni: Tabio Romanski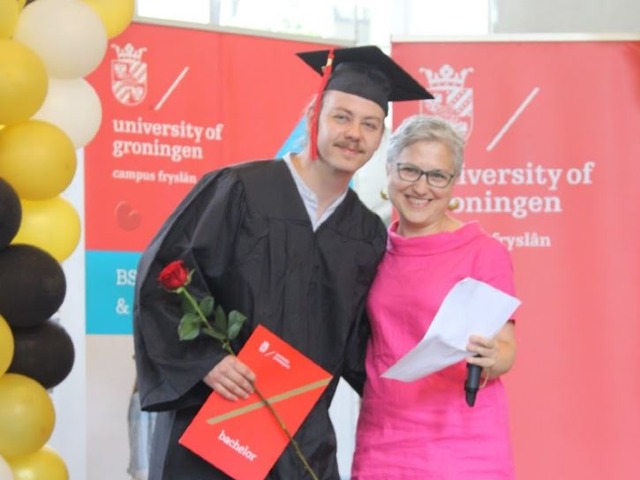 Tabio Romanski is a German student who graduated from the GRL bachelor together with the rest of his cohort on the first of July. The ceremony took place in the Grote of Jacobijnerkerk with a keynote speech from Diederik Samsom. Not only did Tabio graduate, during the ceremony it was also announced he is the proud winner of the GUF-100 prize. This prize is awarded to excellent students of all faculties each year. Every faculty nominates three candidates, of which the GUF jury chooses one winner.
What made you decide for UCF's Global Responsibility & Leadership programme?
GRL offers a broad exposure to various disciplines which was particularly appealing for me as I had varied interests. On top of that, sustainability will remain and become increasingly relevant.

Can you describe the past three years at University College Fryslân?
The past three years were quite adventurous. I started very excited and curious but without a real idea or plan for the coming three years. Soon I had become familiar with academia and scientific rigour. Additionally, I have developed further passion for my core topics. Unfortunately, I could not embrace the freedom of student life as much as I would like to due to the Covid-19 pandemic.

What was your Capstone thesis about? How was the experience of writing a bachelor thesis?
In my Capstone thesis I tried to combine my love for data science and new methods with social scientific questions. Eventually, I wrote about the idea that diverse groups outperform groups of experts using computational modelling to create my own dataset and derive insights from that.
My capstone thesis experience was extremely positive. I am really happy with my topic and the computational modelling approach allowed me to spend quite some time programming the simulation as well as analysing the dataset. Hence, my activities were diversified which prevented any kind of boredom. Additionally, my supervisor provided excellent and friendly guidance whenever necessary. Also, the idea that I might be contributing to the academic debate surrounding my topic made the experience much more exciting than the traditional bachelor thesis.

What did you like most about UCF?
The best part about UCF is the community. Many of the fellow students share interests making it easy to engage in fruitful discussions. It also makes finding friends extremely easy.

What is special about the Global Responsibility & Leadership programme for you?
GRL gives you a lot of freedom to choose your courses and to choose the topics you would like to deepen throughout a certain topic always with sustainability in mind in some way. That provides excellent opportunities to actively shape your interests and passion, and develop expertise in a field of your choice without having to establish it before the start of the programme.

Congratulations on winning the GUF-100 award! Did you expect to win? How was the process? Do you have any tips for UCF students?
Thank you very much! I was honestly quite surprised. First, I got nominated by one of my professors and chosen by a selection committee at CF to be among the three finalists of the faculty. Then, I had to give a pitch and some sort of short selection interview with the UG jury. After that, I was quite surprised when they announced the winner since I felt that my "competitors" did an outstanding job too. However, the jury was particularly enthusiastic about my ideas expressed in the interactive part. There I explained my passion for the usage of data science in the social sciences. Therefore, I can recommend anyone to use the three years of
the programme to find your passion and develop it further. It will eventually be recognised and rewarded if you are true to yourself.

What will be your future plans now that you have graduated?
I am following up with a master's degree in data science to deepen my technical and theoretical understanding of the cutting-edge technologies I want to use throughout my envisioned career. This opportunity excites me as I have generally enjoyed every single course in that direction and I anticipate a very steep but also rewarding learning curve, which will hopefully be an important stepping stone for me.

Anything else you would like to share?
I am grateful for the three years in Leeuwarden, the people I have met, the experiences I have made and the knowledge I have gained. Thanks to everyone who was part of this journey in one way or another!