From master's thesis to publication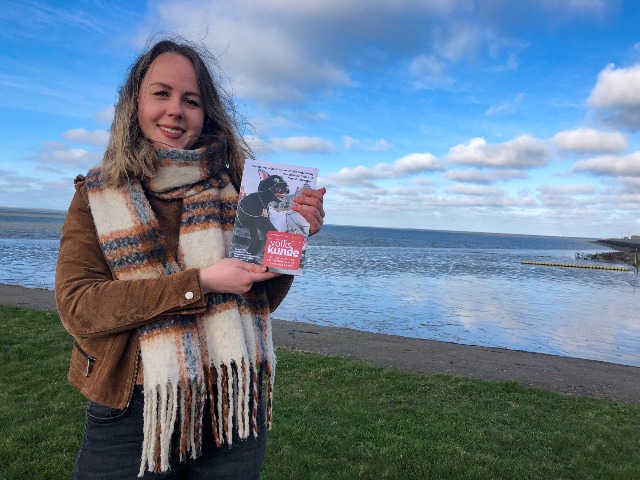 Anne-Baukje Coster (MSc Sustainable Entrepreneurship alumnus), together with Dr Maaike de Jong, Alexander Grit and Sander Vroom, wrote the article "Sustainable future for Frisian Folklore", which was published in Volkskunde. In this blog, Anne-Baukje shares her experiences.
"I was born in Fryslân and grew up in a small village close to the Waddenzee, after my bachelor in European Languages and Cultures I decided I wanted to add a sustainability dimension to my studies, out of interest as well as with an eye on future employment and obviously the planet. Last summer I graduated from the masters programme 'Sustainable Entrepreneurship' at Campus Fryslân. In the middle of the corona pandemic it did not feel as festive as it otherwise might have, but we still managed to get a lovely graduation ceremony to finish our studies in Leeuwarden. Last month this moment was topped when I finally received the publication of my master thesis as a scientific article in Volkskunde! Currently I work at the service department of a large financial company, but I am still orientating on what it is I want to contribute to in the future. I would love to combine my passion for heritage and culture, as well as researching, with a sustainability aim.
For my Master thesis, I decided together with my thesis supervisor Maaike de Jong and in cooperation with Albert van de Zeijden, from the Dutch centre for Intangible Sustainable Heritage, on my research titled: 'A Sustainable Future for Frisian Folklore: opportunities and challenges for the sustainable safeguarding of intangible cultural heritage and tourism in Friesland'. The process of writing and researching had to be done from home as Covid-19 just made its entrance in the Netherlands. Together with Albert van der Zeijden, Maaike de Jong, Alexander Grit and Sander Vroom we did several online peer review- and brainstorming sessions that really helped structuring the argument and overall concept of the research, but also made the whole writing process in lockdown a bit more fun and social. It was through connections of Albert van der Zeijden the opportunity to publish the master thesis as a scientific article in a special tourism and heritage edition of Volkskunde was introduced. Obviously I was very excited! The first step was handing in the finalized thesis for an independent peer review. During this time there was also a short, tense moment during which we had to wait and see if the article could be published in English or if we had to translate the whole thing to Dutch. Luckily, it was the first! During the peer review process, I had great help again from Maaike de Jong, Alexander Grit and Sander Vroom, who helped formulate the argument more concisely and integrate the feedback we received from the independent peer reviewers. Thereafter we had to wait for the second peer review after which we heard the article was approved! We just had to add some pictures for the overall look and understanding of the article, but those were minor details. After that, the long wait began for the final printing and publishing. We started the blind peer review in August last year and the online version of the journal was published in February this year.
What struck me most during the process of getting the article published was the amount of time it takes before you can hold the final result. Ensuring all articles in a journal are sound, well-structured and an actual contribution to the theme of the journal, as well as making sure the overall lay-out looks good and matches everything else, is a job that easily takes up a couple of months. What I really enjoyed in the process was making connections and learning from people who have published before. For example I noticed a difference in writing style when it comes to writing research for a master thesis and writing and actually 'selling' research to an audience. Personally I like to write a little on the theatrical side so I really enjoyed observing and participating in this process. However, the real thrill for me was of course finally holding the physical copy of Volkskunde and reading my thesis in an actual journal alongside other scientific articles. As they would say in Dutch: 'Smaakt naar meer!'."
Anne-Baukje Coster