From Leeuwarden to Vienna - What matters is to always think critically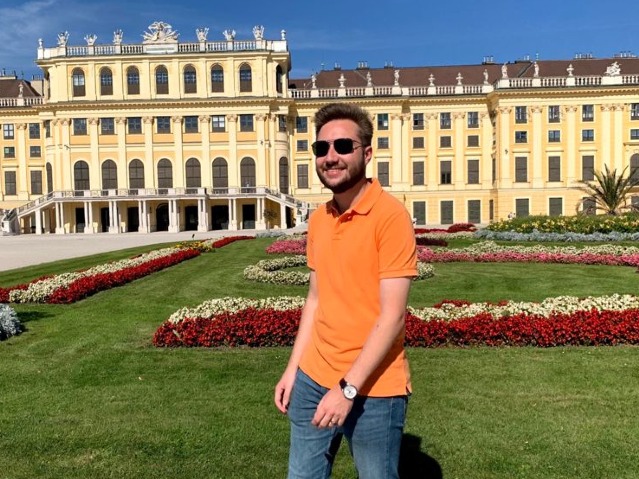 What's it like to persue your studies in another country, after finishing your Bachelor at Campus Fryslân? Marc Flessa compares studying in Vienna with his time in Leeuwarden: "What matters is to always think critically"
This September, after my graduation at University College Fryslân (UCF), I began a Master in International Relations at the Central European University (CEU). Therefore, I moved from Leeuwarden to Vienna. From the capital of Frylân to the capital of Austria and from a city of about 110 thousand to a city of almost 1.9 million. Despite Leeuwarden's undoubtable charme, there are very few cities which can compare to the rich culture and history of the capital of the former Habsburg empire. However, Vienna is also a very liveable city with beautiful cafés and parks. In the most positive sense, the city doesn't feel as big as it is. What makes Vienna especially appealing as a place for political studies is its role as an official UN city and diplomatic hotspot, just think of the current negotiations over Iran' nuclear program.
UCF's interdisciplinary approach allowed me to always know at least a bit, about a lot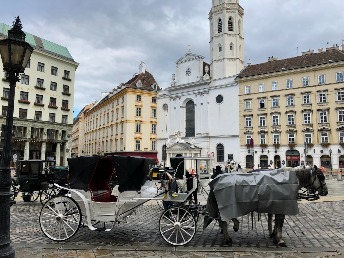 Fortunately, I soon started to feel very comfortable in Vienna. However, the reason why I moved there was the specific Master program and the specific University. Naturally, I was quite nervous about starting my Master and many questions filled my brain. How would the other students and Professors be? How would the classes and assignments be? How well would I be prepared?
Luckily, I re-discovered several of the elements which made my study time at UCF so inspiring. The students and staff form a strong and even more international community. Although studying the same program somewhat implies largely shared areas of interest, everybody has so many unique viewpoints and specific interests that one can always learn from each other. Also the relation between students and staff is very open. To my delight, I only have seminars, or in other words, all classes are small-sized and highly interactive. Similar to classes at UCF, it is about critically engaging with the readings and about learning and discussing together. The same accounts for the assignments. I am happy to once more find myself confronted with a variety of different assessment methods, from presentations and essays to comment papers and take-home essay exams.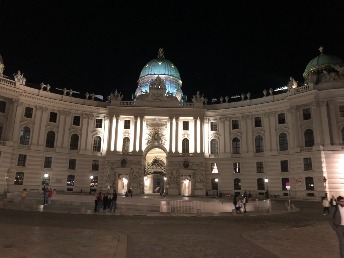 To be fair, the fact that my new Master program resembles several of the community and teaching elements of my beloved study time at UCF is not really a coincidence. I chose this university and program specifically for this reason. I wanted to continue to study with and within an international and interactive program and community.
Although I cannot speak for other programs at different Universities and in different fields, I feel that my study time at UCF prepared me very well for a Master program. Considering the largely similar class and course structures, I understood well what was expected of me, how I could contribute to classes and discussions and how to approach my professors. Moreover, I felt well prepared to handle the high workload and cope with the stress. I can't generalize the level of content-related preparedness, as it depends on the classes one took throughout one's undergraduate studies and the minor. However, UCF's interdisciplinary approach allowed me to always know at least a bit, about a lot. This is a great pre-condition to more deeply dive into specific topics and of utmost importance in an increasingly complex world.
I believe that critical thinking makes us who we are, global citizens and potential future leaders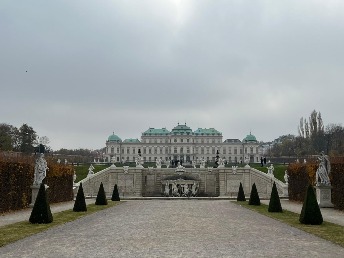 However, what matters even more is the toolbox of academic skills, which my study time at UCF helped me to fill. This accounts to 'technical' skills, such as proper academic writing, holding presentations, understanding and applying diverse research methods etc, and to softer skills such as debating and discussing complex issues, and most importantly, to thinking critically and holistically. It is about going beyond textbooks and articles, about forming own opinions and about staying open and curious. In essence, I hold this to be a universal skill, which accounts if one discusses policy options on how to accelerate the circular economy, data privacy in healthcare systems, feminist perspectives in International Relations theory or the international law of outer space. I believe that critical thinking makes us who we are, global citizens and potential future leaders. It is the precondition for personal growth.
Overall, it was a big step to go from a Bachelor at UCF in Leeuwarden to a Master at the CEU in Vienna. Despite certain challenges which are inherent to such a step and an important part of the game, I felt well prepared. I am excited for my future paths ahead, but will always remain grateful for, and think back to my study time at UCF, all the wonderful people and to what I have learnt. I am not exaggerating if I call it home, and if I say I miss it.
I wish all of you, your families and loved-ones a happy new year full of good luck, joy, success, wonderful experiences and encounters and best health! I can't wait to see all of you again, hopefully very soon! But whatever happens and wherever you are: Keep on thinking critically!