Coping with Covid-19: The Rebirth of Climate Activism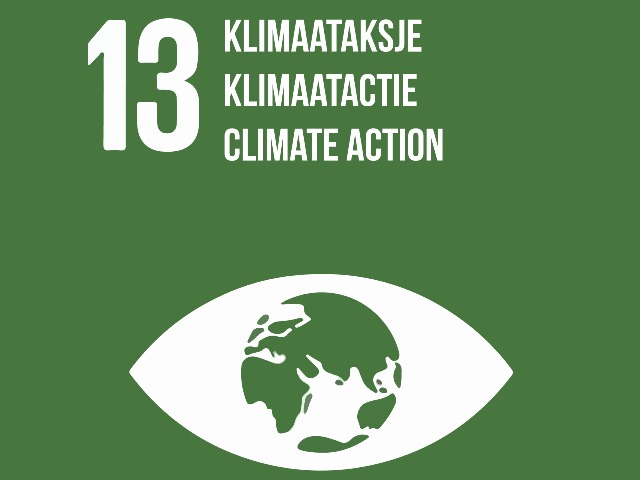 From the Books to the Streets: Putting our Studies to Good Use
How much time of your daily life do you devote to acting on SDG 13? Our campus is probably one of the best places to do so, as the community is very environmentally oriented not only with regard to our studies, but also with everyday habits. I cannot think of another campus with such a high percentage of vegans and vegetarians, can you? Don't you ever feel the need for doing something local to help the planet? Perhaps, some of us are already working or will soon work in domains that make our world a better place, but what about acting now? How can we make a change while studying?
One manner of achieving climate awareness and letting your voice be heard is through Fridays for Future (FFF) Leeuwarden: a student-lead environmentalist movement in Leeuwarden that gives youth the chance to engage in climate action! Joining FFF Leeuwarden actions is a great opportunity to feel empowered and engaged within the local community and to advocate for environmental rights. Climate change is a crisis affecting life everywhere on Earth, yet using the motto we are familiar with at our campus, "think global, act local", we are focusing on action right here at our doorstep: on the streets of Leeuwarden.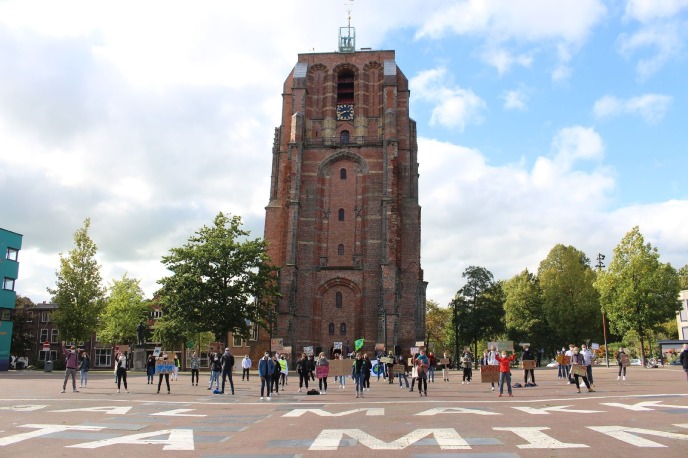 Fridays For Future: From Sweden to Leeuwarden
The global youth climate movement known as Fridays for Future was initially started by Greta Thunberg, in 2018 when she began sitting outside the Swedish Parliament every Friday to protest climate change. How did it get to Leeuwarden? Two students from a local college were both interested in starting a local faction of Fridays for Future, and so Fridays for Future made its way to Leeuwarden, Friesland! This is also a clear example of how we as students, activists and humans in general need one another to make real change happen! They soon found many helpful hands and support from our peers at Campus Fryslân.
Students at our campus are often spending their time helping by painting banners, advertising events, delivering empowering speeches and, of course, joining the demonstrations!
Recently, we became a part of a bigger network, with many Fridays for Future groups in the Netherlands as well as globally. While preparing for big demonstrations, such as the recent Klimaatalarm, we were lucky to have them provide us with support such as regular check-ins and helpful resources. Most importantly, they do not tell us what to do. Instead, we are encouraged to try our own unique actions and to choose how we grow and develop as a group.
Last year, we had frequent meetings with a big spoonful of socialising! After a short pause to mentally adjust and cope with the onset of the COVID-19 pandemic, we decided to continue despite the adversity of the circumstances. It is natural that the main focus is on the COVID-19 crisis, however, a strong reaction to one crisis should not make us back out of acting on another! After all, they are connected more than we even realise because with the effects of climate change, more pandemic-like scenarios are likely to occur more frequently. The time for action is now! This year we were challenged to adapt to the circumstances and COVID-19 measures, but we still had several successful demonstrations. Turns out enthusiasm and passion is something even a pandemic cannot stop! :)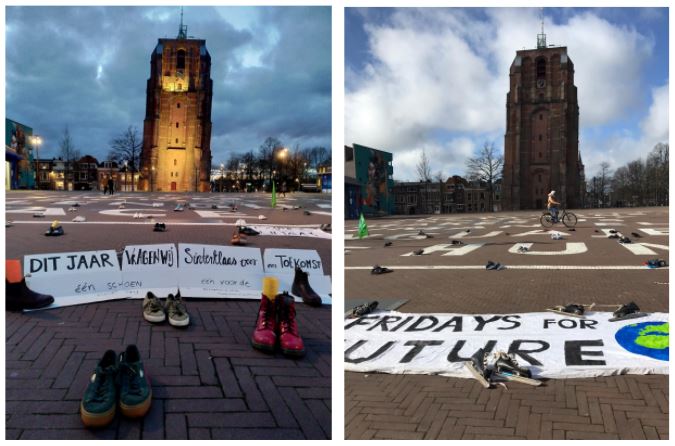 During the winter months in lockdown, some of our symbolic ideas came to life. First, on the 4th of December, we organized a Sinterklaas-themed demonstration (picture on the left). In this way, people did not have to physically attend the strike but could participate by lending their shoes. We placed nearly 100 pairs in a central place in Leeuwarden to represent people who demand climate action. Since children traditionally set their shoes out for Sinterklaas to fill with presents and candy, we put our shoes in front of the Oldehove for Sinterklaas to fill our shoes with climate justice.
Second, on the 26th of February, the same date that Friesland had their latest-in-the-season Elfstedentocht (in 1986), we organised a similar action. This time it was ice skates that were bringing attention to the climate crisis (picture on the right). They symbolised future generations, who might not be able to experience the beauty of ice-skating through the canals in Leeuwarden, as well as in the entire Netherlands. If no serious action is taken to save our planet, ice-skating through the Dutch cities could soon be a great loss of Dutch culture.
The Klimaatalarm on March 14th 2021
Similar to starting a new group project, a frequent occurrence at Campus Fryslân, we started the Klimaatcoaltie Fryslân at the end of 2020. Our first project as a climate coalition was to organize a public climate strike, the "Klimaatalarm" on the 14th of March, which would be happening at the same time as other climate alarms around the Netherlands. Directed at the Dutch elections, the central theme focused on choosing climate when casting your vote. Despite having people join the strike in-person this time, we also had a big stage where various artists performed climate-related songs and activists held personal speeches. The action ended with a countdown to the Klimaatalarm, after which everyone made as much noise as possible to bring attention to the fact that now is the time for climate action. Over 34,000 people participated in 44 cities across the Netherlands and online. This is what the Klimaatalarm looked like here in Leeuwarden: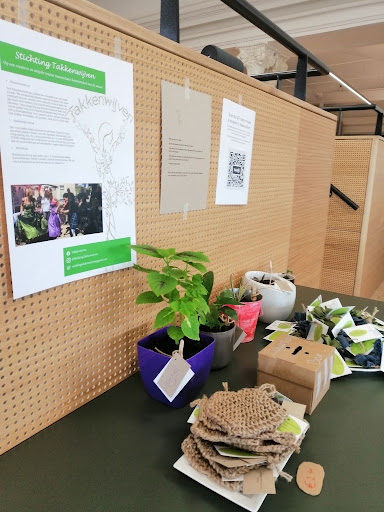 We keep going!
We witnessed that the COVID-19 pandemic was a moment where countries collaborated in a swift fashion and did not ignore the urgency of reality. This pandemic has shown that international cooperation in a time of crisis is indeed possible. We demand the same, or an even better, global cooperation among leaders for the climate crisis! It is time to convince the world that every crisis needs to be treated as a crisis! You can be a part of this change too.
Our individual voices are strong, but together we have the power to be much louder.
Out of something very painful, you can form a community to empower each other.
Engaging with our fellow citizens in the climate debate can result in change.
Interested?
Please follow us on social media for more updates and following actions @fridaysforfutureleeuwarden
Best,
Lotte & Līna
The Green Office, Campus Fryslân
Fridays for Future Leeuwarden