A Delicious "See you soon!" from the Green Office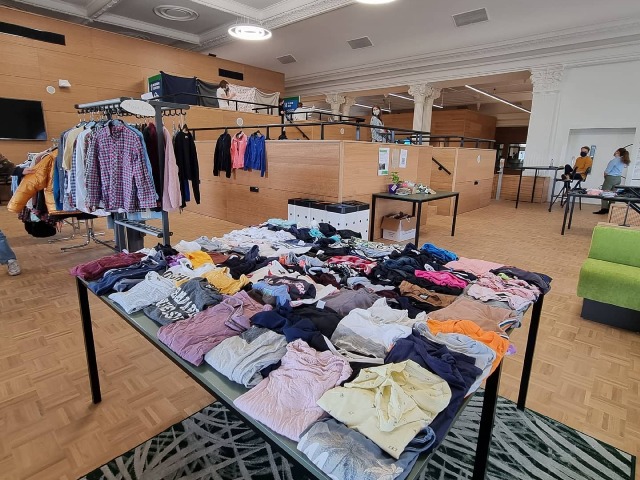 The Green Office Campus Fryslân is excited for the new year to begin! If you are interested in joining the Committee, please contact us via greenofficeCF rug.nl and we hope to see everyone at the events this year! We cannot wait to keep up the fun from last year and we would like to take this moment to welcome new students!
To returning students, many thanks for many fun and engaging occasions, despite last year's Google meet meetings and adapted activities. As a reward for everyone's hard work, please keep reading to hear about a tasty update!
Did you know that the Campus Fryslân Recipe book is already in the making? It will be unveiled soon by the Foodways group! In this blog, we will share a sneak peak of how delicious some of the recipes will be. It is expected to be released to the Campus Fryslân community soon, and our mouths are already watering upon hearing rumours of the lasagna, fresh curry and bakwan jagung recipes that will be included.

Thank you for Supporting a Local Cause
During the Clothing Swap last year we raised €132 euros for Stichting Takkenwijven, a social and environmental organization. Take a look at all the great things they do locally here: https://www.stichtingdegroeneapotheek.nl/stichting-takkenwijven/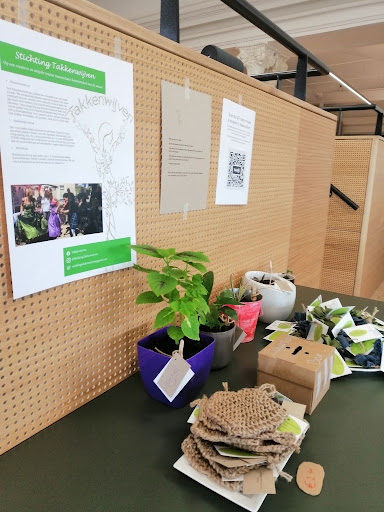 Let's Start Baking!
As many of us have now become master chefs, either in our own kitchen or in the Thuisbezorgd app, we are happily taking this blog as an opportunity to share this amazing vegan recipe, below. You probably tasted or wished you had tasted these cookies at the Clothing Swap!This recipe was gathered, perfected and baked for the Clothing Swap by our own UCF students Brook and Naomi.
Vegan Chocolate and Pecan Nut Cookies:
Originally from: https://www.noracooks.com/vegan-caramel/ and https://iamafoodblog.com/vegan-chocolate-chip-cookies-recipe/
Perfected by Brook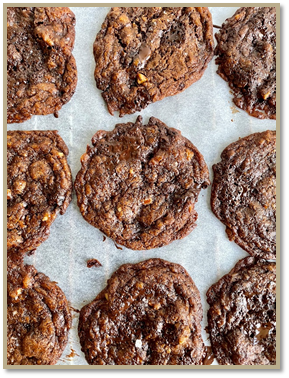 Ingredients:
For the caramel pecan nuts:
1 cup coconut cream
¾ cup brown sugar
1 tablespoon corn-starch
¾ cups pecan nuts
pinch of salt
For the cookie dough:
2 ¼ cups all-purpose flour
2 tbsp cocoa powder
1 ½ tsp baking powder
½ tsp baking soda
1 tsp sea salt
½ cup coconut oil, melted
1 cup hazelnut butter (can swap for other nut butters, or tahini)
6 tbsp water
2 tsp pure vanilla extract
1 ¼ cups tightly packed dark brown sugar
1 ⅔ cups 70% vegan chocolate, chopped
Flaky sea salt to top (Maldon brand recommended)
Instructions:
For the caramel pecan nuts:
In a small pan or pot, add the coconut cream, brown sugar and corn-starch. Heat over medium-high heat, stirring constantly while the coconut cream melts. The mixture will get bubbly and almost foamy. Lower the heat to a simmer and stir constantly for about 5 minutes. If you want salted caramel, add a pinch of salt.
Remove from the heat.
Pour enough caramel over pecans to fully cover, then pour the rest into a sealable and heat proof container to use as a sauce for the week. Place caramel covered pecans into the fridge for at least 2 hours.
For the cookies:
In a large bowl, whisk together the flour, cocoa powder, baking powder, baking soda, and salt.
In another bowl, whisk together the coconut oil, nut butter, water, and vanilla until smooth. Add the sugar and whisk until combined.
Stir in the dry ingredients until combined, then stir in the chocolate and caramel pecans.
Place the mix into the fridge for at least an hour, ideally overnight.
Heat the oven to 180°C (160°C for fan assisted ovens) and line two baking sheets with parchment paper.
Portion the dough into 3-tablespoon balls (around 60g) and place on the tray. Flatten the top slightly with the back of a spoon and sprinkle some flaky sea salt on top.
Bake, one pan at a time for 10-12 minutes, until the edges have set but the centres are gooey. Cool on the pan on a wire rack for 20 minutes, or until the edges and bottoms are firm to the touch. Enjoy warm or at room temperature!
Thanks for reading and best wishes for this year!
Lotte & Līna The Green Office, Campus Fryslân