A day in the life of a DSS student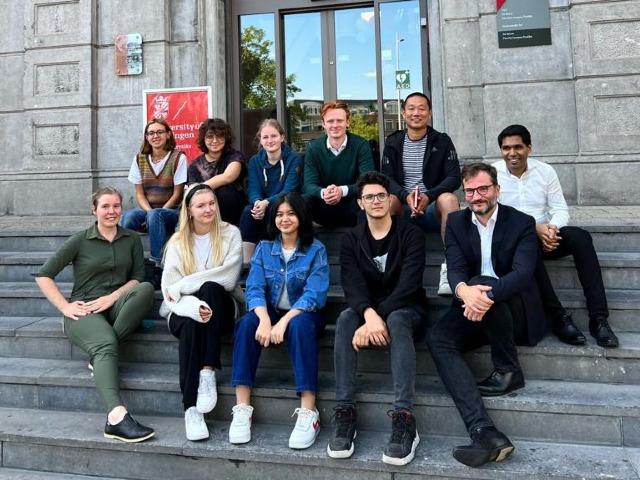 Gain insights into student life in Leeuwarden from the perspective of Campus Fryslân students. What do they do in the city in their free time? How do they like the faculty? And what are their favourite places?
Hi! I am Tessa, a first year Data Science and Society (DSS) student. Today, I will show you a typical Friday of a DSS student.
09:00 - Wake up and get ready to start the day
10:30 - Go to The Beurs
I am fortunate to live just a few minutes away from the Beurs, the building of Campus Fryslân. Most DSS students live in Leeuwarden, and some of my friends from DSS and Global Responsibility and Leadership (the other bachelor at Campus Fryslân) even live in the same building! That is why I often run into my peers on my way to the Beurs.
10:45 - Human Rights in the Digital Age lecture
This day we start off with the societal aspect of Data Science and Society. In this class we discuss issues such as a lack of digital privacy and mass surveillance that are prominent in our present-day society. Our lecturer and programme director Oskar Gstrein makes sure this class is both engaging and informative, by having many interactive discussions.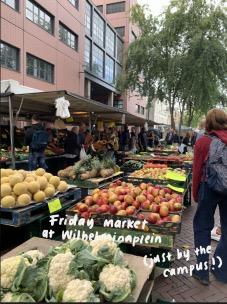 12:30 - Lunch Break
During our lunch break we often go to the Friday only farmers' market that is on the square right behind the Beurs. Among other things, fresh bread and vegetables are sold here.
13:15 - Databases and Data Sources lecture
Generally, there are three courses with two classes each week. The second, more technical course of the day, addresses databases and data sources. Here we learn about database design and SQL queries. The class is taught by Noman Haleem, who is very good at connecting abstract topics to real-world problems.
15:00 - End of the day
After the courses we often stick around the Beurs a bit longer to work on some course-work such as essays and presentations. After that, I sometimes take the train to go home to my family for the weekend. Other days, I meet up with friends to have dinner together or go out. For instance, today I am going to a pub quiz with some of my peers.