A day in my life as a Campus Fryslân Master student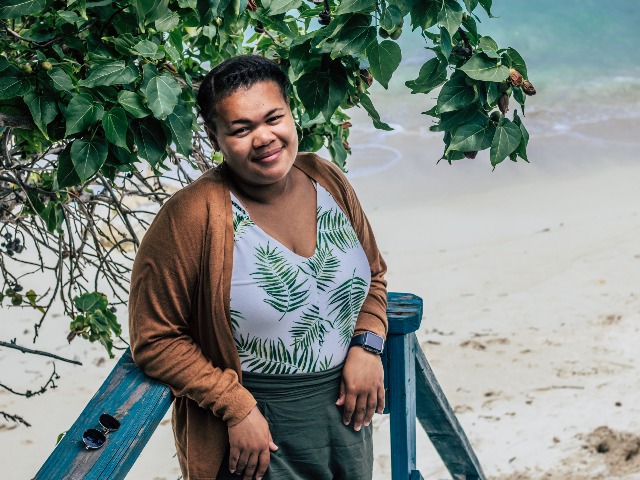 Hi there! My name is Aïshyta Sichtman, and I am 25 years old. I am Surinamese, Chinese, and Aruban. I was born in the Netherlands but had the fortune of living on Aruba for 12 years until I was 19.
After obtaining my AD and then BBA in Hospitality Management, I took two gap years and worked in the hotel industry in Europe as well as the Middle East. I experienced a lot of ''green Washing'' (pretending to be more sustainable than you are) but also a lack of sustainability overall in the industry. I knew I wanted to make a difference somehow. After a lot of thinking and consulting with friends and family, I finally decided to pursue my Masters in Sustainable Entrepreneurship.
The masters degree in Sustainable Entrepreneurship (SE) focuses on sustainability challenges from a variety of viewpoints, including those of a startup entrepreneur who is just starting out, a large organization that is well-established in its field, and a policy advisor who is working on the rules for various levels of government. In SE, your ability to connect businesses and institutions on the path to sustainability will be bolstered by your leadership and alliance-building abilities. If you want to know what a day in the life of an SE student looks like, please continue reading!
Wednesday 8:00 - waking up
My typical Wednesday begins with me waking up around 8:00 and getting ready for school. I usually take my time by making my lunch if I haven't prepared it the night before and tidying up my place, or at least my bed. Tip: Make your bed every morning to accomplish the first task of the day (McRaven, 2017). I usually have breakfast on the train on my way to school, as I always procrastinate at home, and I want to make sure I don't miss my train.
10:45 - start classes
Just like many of my fellow students in SE, I also live in Groningen, which means that I have to commute by train to Leeuwarden. If I have classes at 10:45, I have to leave my house by 9:20 at the latest and cycle to Groningen station, which is about 10 minutes from my house. I park my bike in the stalls and take a mental picture so that I don't forget where I left it when I come back in the evening. I often take the 9:39 fast train that takes 36 minutes to get to Leeuwarden. I arrive in Leeuwarden around 10:15, and the station is only 5 minutes away from campus, so by 10:20 I am upstairs by the cafeteria getting myself a 'havercappu', which is just a cappuccino with oat milk instead of cow's milk. Side note about our campus cafeteria: it has a great variety of food catering to vegans and vegetarians!
12:30 - (lunch) break
I usually find my classmates after that and have a little chat before heading to class, which could either be a lab or a guest lecture. I enjoy that the lecturers sometimes bring in professionals from the industry to talk about their experiences with or challenges within sustainability. After class ends around 12:30, I head up and find some classmates. We sit above the cafeteria and enjoy a chat, make some jokes, or discuss some school work before going back to second class. Sometimes we also grab lunch outside of campus at Fellini's or Lazy Lemon.
The second class of the day starts at 13:15 and usually finishes at 15:00, then I usually chat or plan some school work before catching the 15.17 fast train back to Groningen.
16:00 - back in Groningen
On a day like today, when I arrive in Groningen before 16:00, I plan to go swimming with a former classmate who is now a good friend of mine at 17:00. So I quickly head home, have a quick bite, get changed, and cycle to the swimming pool near Paddepoel. We usually swim two times per week for 45 minutes. We decided to start swimming last year around November so we could stay active while doing a sport we both love.
18:00 - making dinner
Around 18:00, I am back at home and in the kitchen, cooking a meal and already preparing my lunch and breakfast for the next day, as I start school at 8:45, meaning that I have to wake up at 6:30! By the time I finish cooking and eating, it's already 19:30. I briefly go through my coursework that I have prepared on my study day, the day before. Before I can unwind before going to bed, I pack my bag and put my laptop and other materials away. I usually unwind by watching some series or YouTube videos, and other times I grab a book or listen to a podcast.
References
McRaven, W. H. (2017, June 13). Make Your Bed. In Little Things That Can Change Your Life and Maybe the World.