5 things to do to quickly feel at home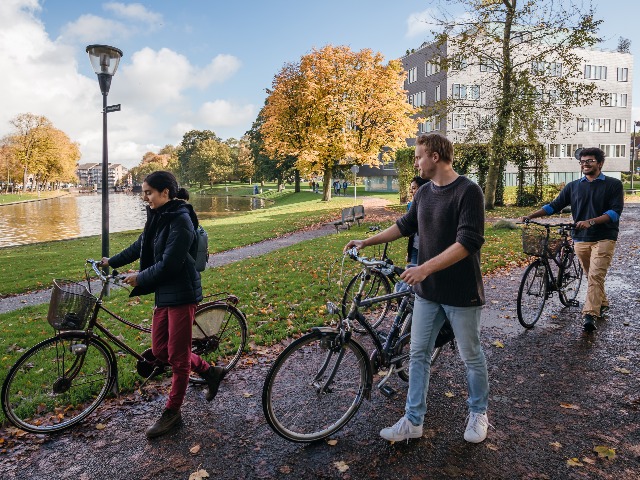 After moving to Leeuwarden, you probably wonder what to do and where to go if you want to meet new people or explore the city. Maybe your comfort is pets, but you can't have one? Don't worry: we've made a list of things you can do.
1 Join fun activities via the app Amigos
Amigos, a new app designed by a dutch Business located in the city Utrecht, is created to make it easier to organize spontaneous activities. With the app you can find people for visiting a museum, having a talk, eating, watching a movie, going to a soccer game and even for walks. If you are above 18 you can download the app on your phone. You can set up the Amigo app to your personal preferences (what age the person needs to have and in which area you want to see them) and you can also plan your own activity.
2 Sport on a budget at Studentsport
You like sports, but you don't feel like spending too much money? For €85 per year you can get a student sports card at Leeuwarde Student City. With this card you can participate in various sporting activities in Leeuwarden. Take a look, clear your mind, and meet some new friends at the same time!
3 Become a member of a student association
Leeuwarden has a few student associations outside university or school, that allow you to get to know fellow students from other places in Leeuwarden. Some of the associations are Dutch, others are international:
4 Walk a dog through Leeuwarden via hondjeuitlaten.nl
Did you have to leave your dog when moving to Leeuwarden, or have you always wanted to take care of one? You can walk dogs in Leeuwarden via hondjeuitlaten.nl! Here you can sign up as a non-dog owner, who's open to the possibility of being a dog sitter or a dog buddy who can go for a walk every now and then. The website is used by people from all places in the Netherlands, but if you register your location, the website will find dogs in your neighbourhood.
5 Join other tours in Leeuwarden
If you just want to get to know the city in a special way, we have listed some tours you can take to really get to know your new hometown.
Frisian food tour
If you are a foodie or just want to try some of our frisian food while exploring Leeuwarden then the Frisian food tour from WEareGRUTSK is something to try. For €16,50 p.p you get to try 6 frisian foods in 6 different places. (F.Y.I the tour is not vegetarian and vegan proof)
Free Leeuwarden tour on saturday
Every Saturday there is a free tour through Leeuwarden. The idea is to see Leeuwarden through the eyes of a local. You will hear funny historical stories and see the beautiful things Leeuwarden has to offer. Every Saturday at 12 pm there is an English tour and every Saturday at 2 pm you can take the German version of the tour.
Rent a green joy boat
Next to the Beurs is a Green Joy boat rental. These are electric boats that are super easy to rent. You can choose between a few routes you can take to see Leeuwarden in a cool way, from the canals. In one boat you can fit up to 8 persons so this is also a fun activity to do with some friends.
Rent a bike and buy a map or book a tour to see the city in the most Dutch way possible
Dutchies are famous because of our bikes. You can rent a bike in a few places in Leeuwarden, for example an ov-fiets at the station if you have an ov-chipcard. On the internet you can find a lot of fun bike routes, not only in Leeuwarden but also to the places around Leeuwarden. This way you can see Leeuwarden and it's beautiful surroundings in a special and Dutch way.