Tracking migratory shorebirds
Just like the Wadden Sea, the Yellow Sea (China) feeds many people and animals. It is an important foraging and resting area for migratory shorebirds. Birds that migrate between Australia and Siberia regain their strength here after a non-stop flight of about 10,000 kilometers. However, due to the industrialization and reclamation of this area, the birds cannot find enough food during these essential stopovers. Theunis Piersma, professor Global Flyway Ecology, investigates the routes, behavior and numbers of migratory birds and shows that some species are threatened.
The population of migratory shorebirds is dropping and this is just one of the outcomes of a much bigger problem. Professor Theunis Piersma shows that the disappearance of tidal areas has negative consequences for the entire biodiversity. In cooperation with many parties, including NIOZ, WWF, Vogelbescherming and BirdLife International, Piersma and his team bring facts to the table about the population of the migratory birds, their births and deaths and the corresponding places and times, all over the world. This is essential information for conservationists to change policies. However, this research is very costly as it requires efforts from researchers and other experts all over the world and advanced technology. That is why the Ubbo Emmius Fund looks for support for various projects of the international research group the Global Flyway Network, headed by Piersma.
Migratory birds in the Bohai Bay (Yellow Sea, China)
UG PhD student Ying-Chi Chan, from Hong Kong, examines the migration routes and behavior of two species of birds, the Great Knot and Bar-tailed Godwit, under the guidance of Prof. Piersma. She equips these birds with small transmitters and follows their routes between Australia and Siberia; on the East Asian Flyway. Her main research question is: how do migratory wading birds adapt to habitat loss in the Bohai Bay?

Groningen alumni in Hong Kong support this research and with their donations Ying-Chi Chan had been appointed at the University of Groningen and has been doing great work.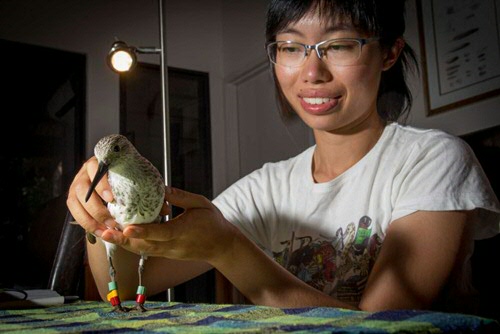 | | |
| --- | --- |
| Last modified: | 11 July 2019 1.08 p.m. |