The Dead Sea Scrolls: Treasures from the Caves of Qumran
The University of Groningen researches one of the most important archeological findings ever: the Dead Sea Scrolls. The story of their discovery reads like a Dan Brown thriller, but the scrolls are even more exciting because they are real. Last century, the more than two-thousand-years-old manuscripts were discovered in caves close to Qumran, near the Dead Sea. With this discovery, we got the chance to study the origins and evolution of one of the roots of western society, the Bible. Mladen Popović, director of the Qumran Institute of the University of Groningen, is a leading expert on the ancient scrolls. He wants to offer young, talented scientists in this field the chance to join him in his research.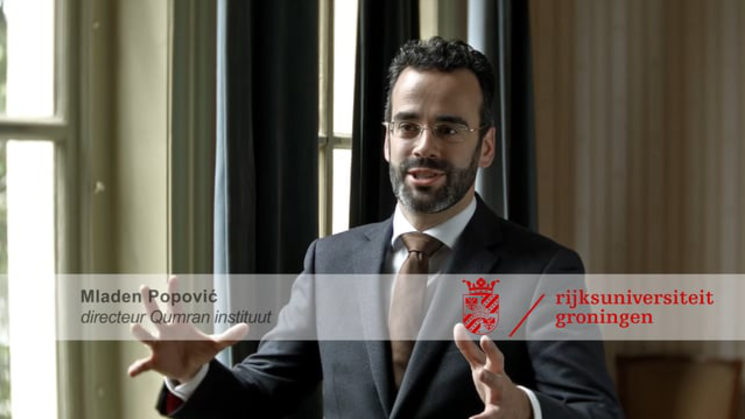 Theme Chapter Dead Sea Scrolls
The theme chapter Dead Sea Scrolls is a network of interested alumni, but also others, who support the research of the Groningen Qumran Institute. The chapter has the ambition to make this research widely accessible. Thereby, fundraising for the institute plays an leading role. The chapter wants to create extra research positions for young, talented scientists in his field to get the opportunity to come to Groningen and research a specific subtopic of their interest - for one or two years. The idea for the chapter came from the regional - and international - alumni chapters of the University of Groningen which also support UG research projects.
Each year the Ubbo Emmius Fund (UEF) and the theme chapter organise an event on the Dead Sea Scrolls research. If you are interested and/or would like to receive the theme chapter newsletter, then register at the UEF trough e-mail (uef@rug.nl) or telephone (0031503637595).
Backgroud information
The Dead Sea Scrolls are like a time machine that shows us what people read, thought and felt centuries ago. They date back to the third century BC to the first century AD. The manuscripts were discovered between 1947 and 1956 in 11 caves close to the ancient site of Qumran, near the Dead Sea. They - almost a thousand of them! - are amongst the oldest known religious texts concerning Judaism, Christianity and the Bible.
Since its establishment in 1961, the Groningen Qumran Institute has been researching the Dead Sea Scrolls. The institute is unique in the Netherlands. It is the only center where all research evolves around ancient Judaism and the Dead Sea Scrolls. Internationally, the institute plays a leading role.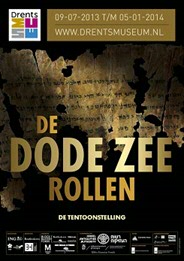 In 2013 Prof. Popović accomplished something no one else had done before. He succeeded in bringing a dozen original Dead Sea Scrolls - that are preserved by the Israel Antiquities Authority - to the Netherlands for an unique exhibition in the Drents Museum. Popović acted as curator and the exhibition attracted 140.000 visitors. The young director also received a prestigious European grant to research the writers of the manuscripts. Who wrote and copied the Dead Sea Scrolls? An interdisciplinary project, together with artificial intelligence, where 'the humanities meet science'.
Recently in the media (in Dutch)
| | |
| --- | --- |
| Last modified: | 04 January 2022 4.19 p.m. |