Bicyclists' behaviour
Research on cyclists' behaviour focusses on interaction with other traffic participants, Infrastructure and multitasking while cycling.
Interaction with other participants
In 2015 CRUISer project started. Focus is on supporting the older cyclist interacting with other traffic. In the same year the Horizon 2020 EU project XCycle started, XCycle also focuses on the interaction cyclict-other (motorised) traffic. More information can be found on the XCycle website.
Infrastructure
From 2013-2015 the project "A forgiving cyclepath" (in Dutch: Het Vergevingsgezinde Fietspad) was run in which we participated amongst others with a Naturalistic Cycling study.
Bicycle infrastructure with a focus on expectancy and visibility of bicycles. A clear example is the in the Netherlands quite common two directional cycle paths. Many car drivers, when turning right, only look left as they do not expect cyclists from the right. A warning display improves looking behaviour here.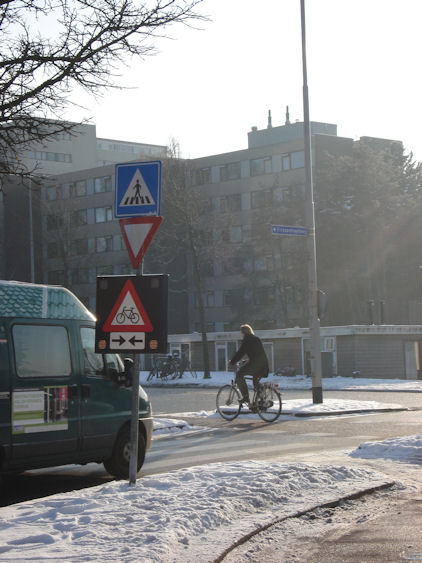 More about this study (in Dutch).
Visibility of infrastructure for cyclists. Bollards, kerbs, and cycle path markings/shoulders are the most critical visual elements in the road infrastructure. In particular relevant for the older cyclist, who has decreased contrast sensitivity. The visual field and contrast sensitivity of participants was artificially decreased, and participants had to cycle (on a closed circuit) over a track that contained visually problematic situations. Whether bollards are always required very often can be questioned.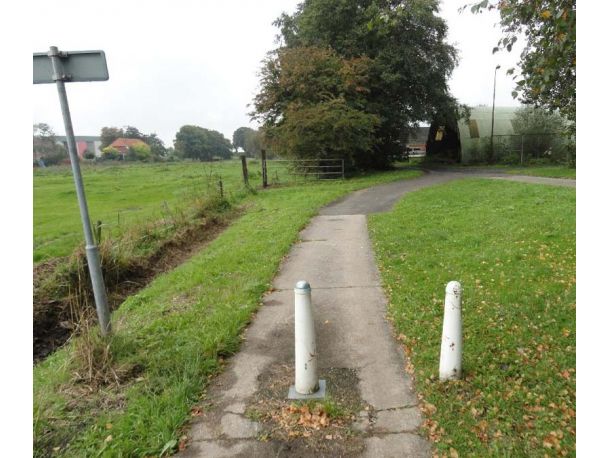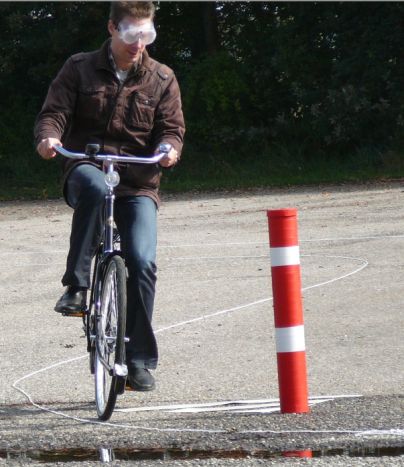 publication: Fabriek, E., de Waard, D. & Schepers, J.P. (2012). Improving the visibility of bicycle infrastructure, the International Journal of Human Factors and Ergonomics, 1, 98–115
Mental workload/multi tasking
It is quite common (in the Netherlands) to operate your mobile while cycling, to send text messages, or to listen to music. These activities are not without risk as we found out. We studied these effect and found that in particular texting affects cycle control to a large extent. Listening to music with in-earbuds dramatically affects reaction to a stop signal. We just completed an experiment in which cyclist handled touch-screen phones, as these are the standard nowadays.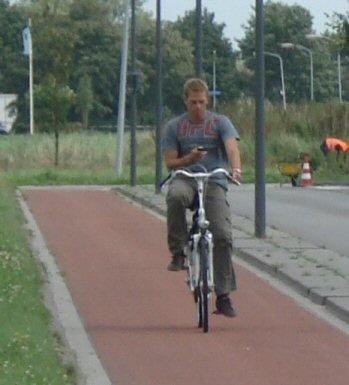 | | |
| --- | --- |
| Last modified: | 25 August 2020 3.21 p.m. |