Health and Life Sciences
Apply now | Digital UCG brochure | What makes us special? | Projects
The scope of this specialisation ranges from cell biology to human physiology, immunology, microbiology, neurobiology and other important areas in human biology, and their relevance for health and disease. Non-medical/biological perspectives on these topics are important to UCG, which encourages multidisciplinary approaches to problem solving, and these perspectives are part of the specialisation whenever appropriate. Students study the topics in this specialisation through small group lectures, working groups, journal clubs, laboratory practicals and self-study.
In the second year, the programme explores the key concepts in human and medical biology and on health sciences. In the third year, courses are elective and have the purpose of providing more in-depth knowledge. Currently, they focus on neurobiology and oncology. However, there is flexibility in the design of the contents of these elective courses and student preferences will be taken into account.
This specialisation is particularly aimed at UCG students who wish to pursue research masters in the biomedical field or health sciences. During the programme, the tutors at UCG and the other faculties can offer information and guidance with respect to the choices for research master programmes and provide information on the various admission criteria for these masters. This information is also important when choosing particular elective courses within or outside of UCG and when choosing a bachelor thesis topic.
You can view the presentation on Health and Life Sciences here.
The coordinator for Health and Life Sciences is Prof. Dr. N.A. Bos.
This is what a specialisation in Health and Life Sciences looks like year to year: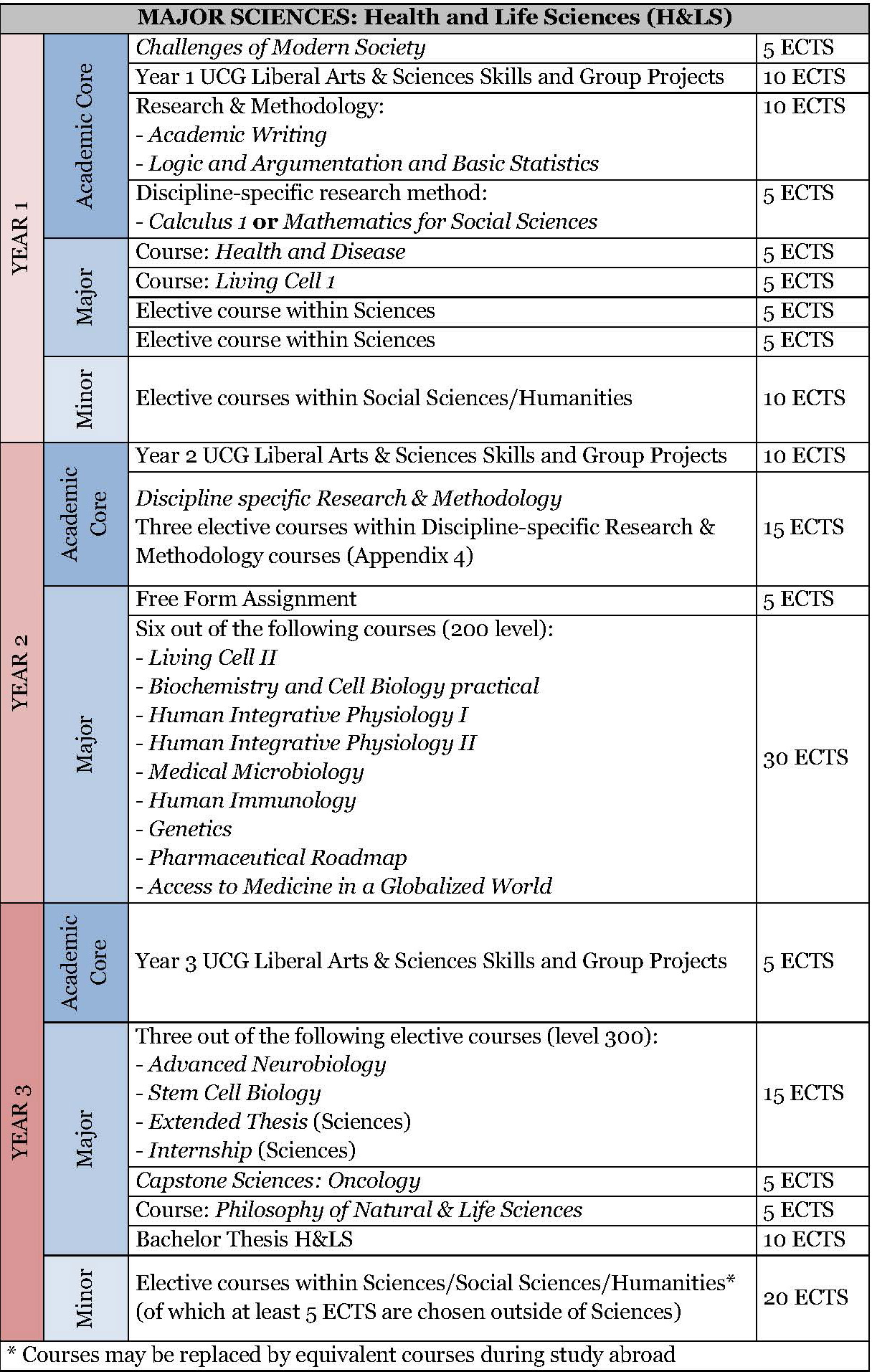 Do you want to be informed about the latest updates on our majors and the courses that we offer? Sign up for our monthly newsletter!
| | |
| --- | --- |
| Last modified: | 12 March 2020 10.13 p.m. |