Brain, Behaviour and Culture
Apply now | Digital UCG brochure | What makes us special? | Projects
Brain, Behavior and Culture is a specialisation in the Social Sciences major. It covers an exciting and rapidly developing field of science. At its heart lies understanding the human mind: cognition, neuroscience, and behaviour. But at UCG we do not just study the minds of isolated individuals. The human mind definitely has a broad social dimension: it allows us to communicate, to have moral convictions, to develop cultures, and to form societies. So, at UCG we study the human mind in connection with the social environment that shapes it, that it responds to and that itself is shaped by the behaviour of many individuals.
Understanding the complexities of cognition and behaviour is an essential part of most of today's major challenges. Whether we study issues at the level of individuals (such as racial and gender achievement gaps, stereotype threats, anxiety and burn out) or society as a whole (such as environmental challenges, the global rise in obesity, large-scale migration or international conflict), understanding the psychology of humans and bringing about behavioural change is necessary to improve and sustain a healthy society. UCG will equip you to address these challenges from more than one angle. Within UCG, we will guide you towards a master programme that serves as a good entry into a future career.
The job prospects for a UCG graduate are to work as a behavioural expert for corporations (e.g., in marketing or HR, or as a senior corporate strategist), for government at local, national or international level (e.g., policy making, development of interventions for sustainability, quality of life, health etc.) or for a research institute (e.g., R&D in industry, research institutes/companies and consultancy, or university).
Please watch the major presentation on Brain, Behaviour and Culture for more information.
The coordinator of the BBC major is Prof. dr. Karel Brookhuis
This is what a specialisation in BBC looks like this year: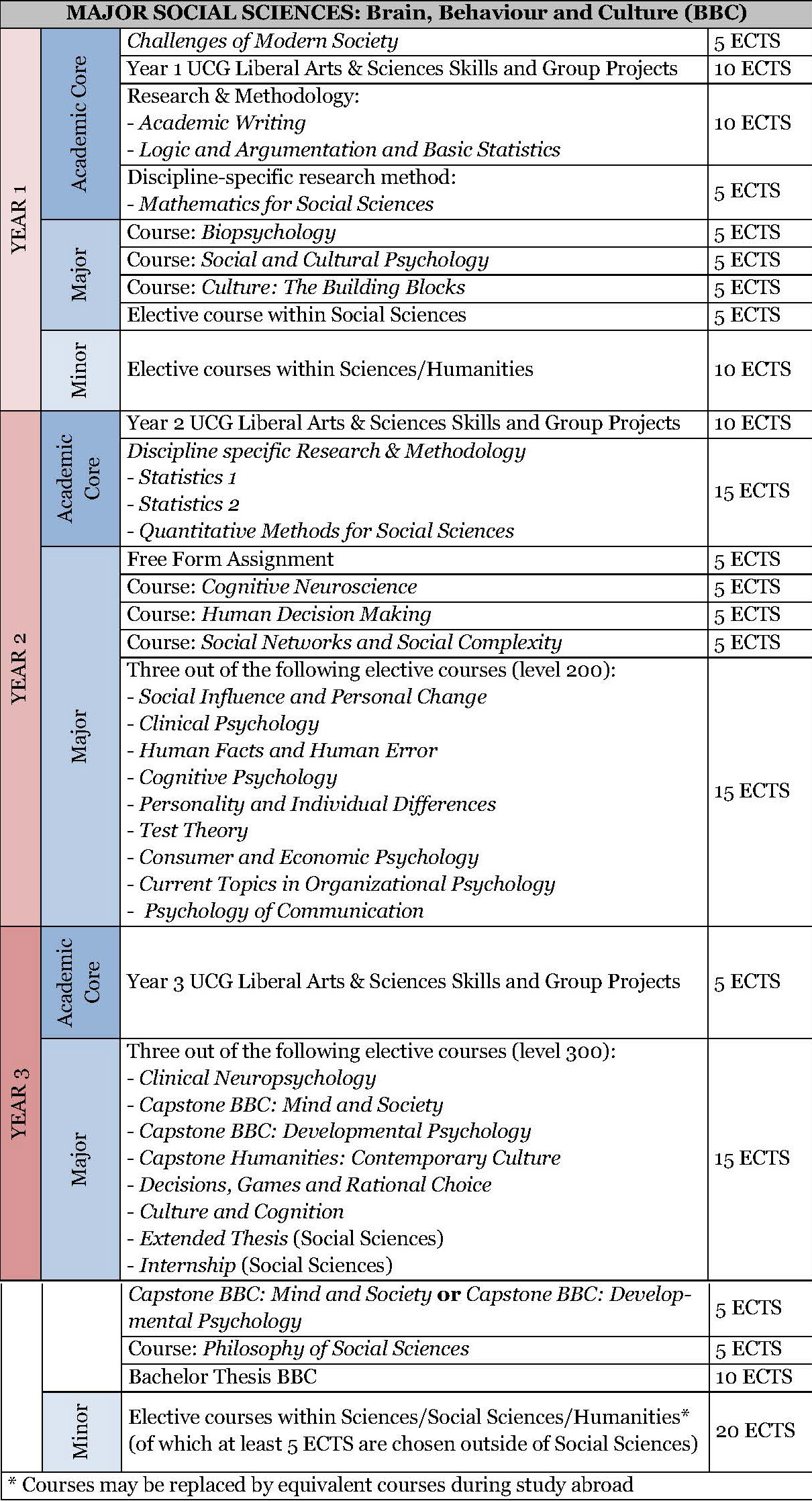 Do you want to be informed about the latest updates on our majors and the courses that we offer? Sign up for our monthly newsletter!
| | |
| --- | --- |
| Last modified: | 12 March 2020 10.14 p.m. |