Spinoza Prize
The NWO Spinoza Prize is one of the highest academic awards in the Netherlands. It is bestowed annually on in total four researchers who, in international terms, have reached the very top.
Pauline Kleingeld - Second UG-philosopher to win Spinoza Prize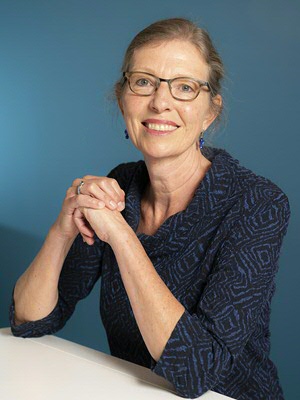 Pauline Kleingeld (1962) is professor of Ethics and its history. In her younger years, Pauline Kleingeld was curious about the backgrounds of the many religious communities in her village. Now she is one of the world's foremost researchers of Kant's philosophy. She has published on topics such as the freedom of the will, the role of emotions, and cosmopolitanism in the past and present. Kleingeld has been able to build an important bridge between developments in the behavioural sciences and in ethics.
Read more...
Amina Helmi - Star of the Milky Way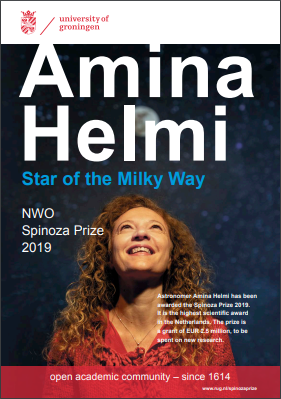 Amina Helmi (1970) is Professor of Dynamics, Structure and Formation of the Milky Way. Helmi is searching for separate galaxies ('fossils') and is using the information from star fossils to reconstruct the formation of the Milky Way.She has been awarded the Spinoza Prize 2019, which is a provisional jewel in the crown of a highly successful academic career that has generated much global attention. In 2018, Helmi published an article in Nature proving that the Milky Way as we know it today had once merged with another large galaxy. Read more »
Take a look at the Spinoza newspaper of the UG with Amina Helmi.
Other Spinoza Prize winners
Spinoza Prizes and the UG
The Spinoza Prize was introduced in 1995 by the Netherlands Organisation for Scientific Research, a national organization that funds and stimulates academic research in the Netherlands. As such, it invests hundreds of millions of euros in academic research each year in the form of indirect government funding. With the Spinoza Prize, NWO aims to increase the visibility of excellent academics.
A maximum of four prizes are awarded annually. The winning academics receive EUR 2.5 million for research, and are given complete freedom to choose their research subject and involve other, mostly young, researchers. Thus, the prize is part recognition for accomplished researchers and part stimulus to conduct further research.
Last year, UG Professor of Astronomy Amina Helmi was awarded the Spinoza Prize. The first Groningen researcher to be awarded the prize was George Sawatzky (Professor of Physics), in 1996. Another 5 UG-professors received the award prior to Amina Helmi and 2020 winner Pauline Kleingeld.
Baruch Spinoza
The prize is named after Baruch Spinoza (1632–1677). Spinoza was an internationally renowned Dutch scientist and a clear example of freedom in research.
| | |
| --- | --- |
| Last modified: | 13 December 2022 2.37 p.m. |