UG Poet-in-residence
In 2000, the University of Groningen became the first university in the Netherlands to appoint a poet-in-residence. No other higher education institution in the Netherlands at that time had a comparable honorary position. In the two decades since then, many universities have followed Groningen's example.
Activities of the Poet-in-residence
Every student at the University of Groningen can apply for the position of poet-in-residence by submitting five poems and a letter of motivation. A professional jury selects the poet-in-residence each year. The poet-in-residence then starts off their year by reading the winning poem aloud during the opening of the academic year. During the academic year, the poet-in-residence writes a poem a month that is published on the University website. Students of the Academy of Arts, Minerva make an animation with each poem. The poet-in-residence also performs on numerous occasions. At the end of the year, the poet-in-residence says farewell with a final project and naturally a collection of the poetic results of the year.
Poet-in-residence 2022-2023: Yfke Bethlehem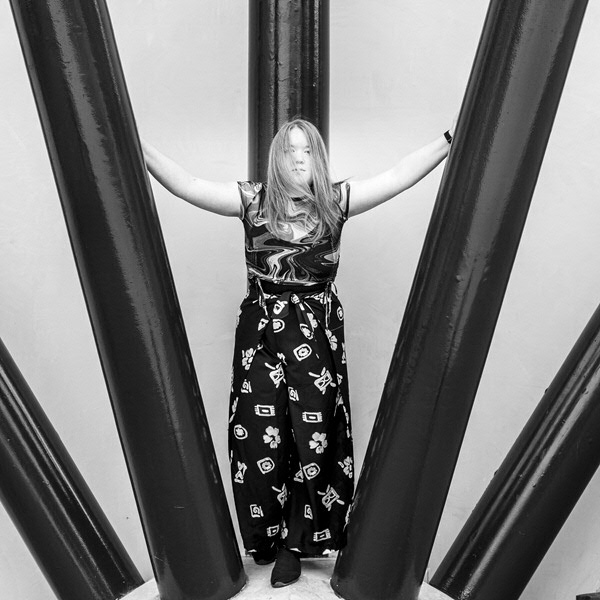 Astronomy student Yfke Bethlehem (22) is the new University of Groningen poet-in-residence for the academic year 2022-2023. She impressed the jury with her signature and her motivation to become poet-in-residence: 'Yfke is a serious poet with her own voice: her poems clearly demonstrate talent and profoundness.' Yfke Bethlehem is the 23rd UG poet-in-residence, succeeding Laura van Meijeren. You can find her monthly poems in the menu on the left. Note: the poems are in Dutch.
Her poems often spring from a single line of text or a simple image: 'When I go for a walk to give my thoughts free rein, I often see images or scenes that contain the seed of a poem. I then sculpt the rest of the poem around this. The initial thought itself may not even always be the purpose of the poem, but it is the start.' This was also how the poem 'Honger' [Hunger] came into being: during her first-year lectures she often thought about students who brought entire loaves of bread into the lecture hall to make their sandwiches. The rest of the poem grew around this idea 'with a bit of pruning and cutting'. As poet-in-residence, Yfke wants to encourage readers to start writing their own poems, and to give budding poets a platform where they can make mistakes and learn from them.
Yfke also draws inspiration from her degree programme in Astronomy: 'It is all about perspective – you are big, you are small, and everything in between. You study all there is to see in the universe, on scales that can hardly be imagined.' All these perspectives help her as a poet. 'When I look back in time, I can see all the things that I have learnt – things that I will never forget, even though it was a difficult process at the time.' Yfke hopes that by sharing her perspectives through her poems, other will show her their perspectives [IK1] . 'This way we can all learn from each other.'
List of previous poets-in-residence and collections
2021-2022: Laura van Meijeren, poems
2020-2021: Olivier van Eijk, poems
2019-2020: Willem Wierbos, poems
2018-2019: Sofia Manouki, poems
2017-2018: Rachel Raezter, Boven in de boom: poems
2016-2017: Esmé van den Boom, poems
2015-2016: Philip Rozema, Te Ruime Ruimte
2014-2015: Jeptha de Visser, Verschijnselen
2013-2014: Lilian Zielstra, Specimen
2012-2013: Pauline Sparreboom, Oceaankorrels
2011-2012: Jet Langerak, Roes
2010-2011: Joost Oomen, Vliegenierswonden
2009-2010: Sacha Landkroon, IKS
2008-2009: Machteld Brands, Drift
2007-2008: Menno de Block, Zoetwaterwoorden
2006-2007: Ruth Koops van 't Jagt, Juttersgeluk
2005-2006: Jurre van den Berg, Avondkikkers
2004-2005: Veerle Vroon, Kortsluiting
2003-2004: Annelieke van Mens, S1005049
2002-2003: Guido van der Wolk, Klinkende Klanken
2001-2002: Gertjan Laan, Badans
2000-2001: Daniel Dee en Petra Else Jekel, Dubbelblind
| | |
| --- | --- |
| Last modified: | 24 January 2023 11.57 a.m. |