UG Poet-in-residence
In 2000, the University of Groningen became the first university in the Netherlands to appoint a poet-in-residence. No other higher education institution in the Netherlands at that time had a comparable honorary position. In the two decades since then, many universities have followed Groningen's example.
Activities of the Poet-in-residence
Every student at the University of Groningen can apply for the position of poet-in-residence by submitting five poems and a letter of motivation. A professional jury selects the poet-in-residence each year. The poet-in-residence then starts off their year by reading the winning poem aloud during the opening of the academic year. During the academic year, the poet-in-residence writes a poem a month that is published on the University website. Students of the Academy of Arts, Minerva make an animation with each poem. The poet-in-residence also performs on numerous occasions. At the end of the year, the poet-in-residence says farewell with a final project and naturally a collection of the poetic results of the year.
Poet-in-residence 2021-2022: Yfke Bethlehem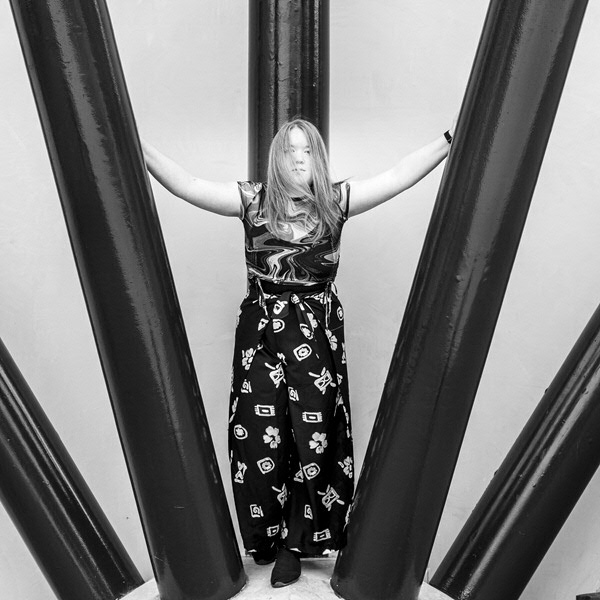 Yfke Bethlehem (22), student Sterrenkunde, is de nieuwe huisdichter van de Rijksuniversiteit Groningen voor het studiejaar 2022-2023. Yfke maakte indruk op de jury met haar signatuur en haar motivatie voor het huisdichterschap: 'Yfke is een serieuze dichter met een eigen stem: er zit duidelijk talent en diepte in haar gedichten.' Yfke Bethlehem is de 23e huisdichter van de RUG en volgt Laura van Meijeren op.
Haar gedichten ontspringen vaak uit een enkele regel tekst of een simpel beeld: 'Als ik wandel om mijn gedachten los te maken, zie ik vaak beelden of scènes die het beginnende zaadje zijn van het gedicht. Daar beeldhouw ik de rest van het gedicht omheen, terwijl dat zaadje soms niet het doel van het gedicht is. Maar het is wel het begin.' Zo kwam ook het gedicht 'Honger' bij haar tot stand, omdat ze bij het volgen van colleges in haar eerste jaar vaak dacht aan studenten die een hele zak brood meenamen om in de collegezaal hun brood te smeren. De rest van het gedicht groeide daar 'met wat gesnoei en geknip' omheen. Als huisdichter wil Yfke lezers activeren om zelf gedichten te schrijven en beginnende dichters een platform geven waar ze mogen vallen en opstaan.
Yfke haalt haar kracht ook uit haar studie Sterrenkunde: 'Alles draait om perspectief, je bent groot, je bent klein, en alles daartussen in. Je bestudeert alles wat te zien is in het universum, op schalen die nauwelijks voor te stellen zijn.' Al die perspectieven helpen haar in het dichten. 'Als ik terug de tijd in kijk, zie ik de dingen die ik geleerd heb. Die verleer ik niet meer, ook al was het een moeizaam proces toen.' Ze hoopt door haar perspectief te delen via haar gedichten, de perspectieven van vele anderen terug te krijgen. 'Zo kunnen we van elkaar leren.'
List of previous poets-in-residence and collections
2021-2022: Laura van Meijeren, poems
2020-2021: Olivier van Eijk, poems
2019-2020: Willem Wierbos, poems
2018-2019: Sofia Manouki, poems
2017-2018: Rachel Raezter, Boven in de boom: poems
2016-2017: Esmé van den Boom, poems
2015-2016: Philip Rozema, Te Ruime Ruimte
2014-2015: Jeptha de Visser, Verschijnselen
2013-2014: Lilian Zielstra, Specimen
2012-2013: Pauline Sparreboom, Oceaankorrels
2011-2012: Jet Langerak, Roes
2010-2011: Joost Oomen, Vliegenierswonden
2009-2010: Sacha Landkroon, IKS
2008-2009: Machteld Brands, Drift
2007-2008: Menno de Block, Zoetwaterwoorden
2006-2007: Ruth Koops van 't Jagt, Juttersgeluk
2005-2006: Jurre van den Berg, Avondkikkers
2004-2005: Veerle Vroon, Kortsluiting
2003-2004: Annelieke van Mens, S1005049
2002-2003: Guido van der Wolk, Klinkende Klanken
2001-2002: Gertjan Laan, Badans
2000-2001: Daniel Dee en Petra Else Jekel, Dubbelblind
| | |
| --- | --- |
| Last modified: | 29 September 2022 11.47 a.m. |