Plastic-Free Week 2021 (17-22 May)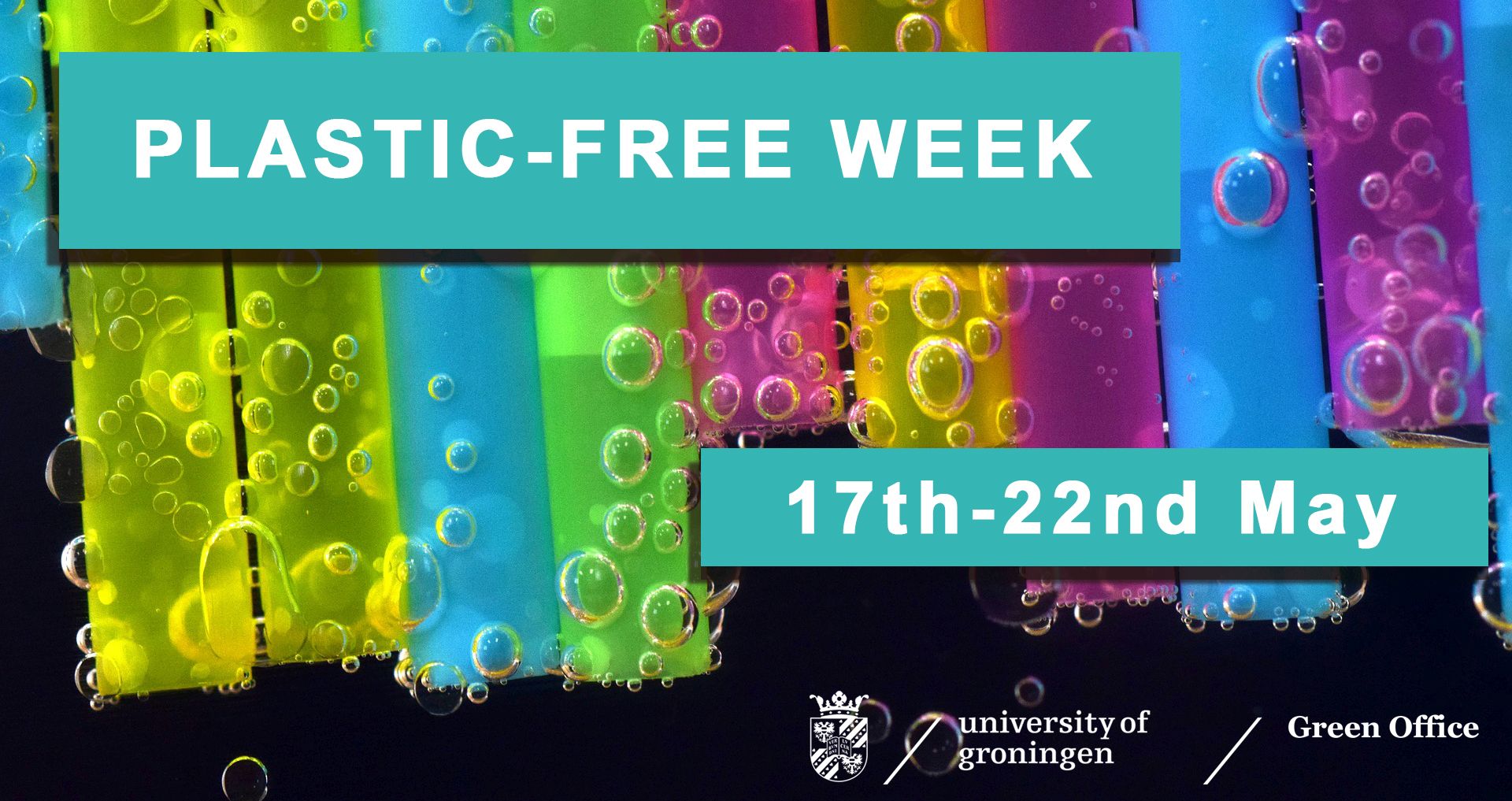 Our annual Plastic-Free Wee is coming! The Green Office is organizing several events for you from the 17th to the 22rd of May. During this week you can learn about the impact of Microplastics, discover which creative solutions can be deployed to tackle the plastic problem and what can you do regarding (micro)plastic. You can also participate in our Instagram Challenge!
Instagram Plastic-Free Challenge
Monday 17 -Friday 21 May
By Green Office FEB and FSS Embassies
For the Plastic-Free Week the GO Embassy of FEB/FSS wants to raise more awareness about the use of plastics in our day-to-day lives. There are many situations in which we often don't even think about the plastics that we buy and where it will end up after we are done using it! We want to make people more aware of what they can do and how they can get involved in lowering their impact on our environment. Therefore, we have come up with one challenge for every day from Monday through Friday, in which people can participate. Anyone can take part in it, share their experiences, and can even win a prize at the end of the week!
The challenges are:
Tuesday: Buy loose fruits and vegetables (without plastic containers or wrap)
Wednesday: Wash your clothes when the machine is full to reduce the release of microplastic
Thursday: Bring your own cup or water bottle! Bring your own cup or bottle to class, work, the library, meeting a friend for a coffee/tea, or anywhere else you go
Friday: Bring your own bag/container to a store or to the market. Examples: - bring your own container to buy spices - bring your own bag to grab some breads at the supermarket
Saturday: Pick up trash in your neighborhood

Tip: Join Plastastic Art on Saturday for this challenge or contact the Gemeente to reserve a trash picker
Complete at least 3 challenge, so you can participate to a raffle to win fantastic prizes! Show your achievement on Instagram and tag the Green Office.
If you don't have Instagram you can send your achievements here .
---
Breathing and Producing Microplastics
Monday 17 May at 8 p.m.
By Green Office RUG and Pint of Science Netherlands
During this Plastic-Free week, we will focus on a problem that is often underestimated: Microplastics. Which effect do microplastics have on us? And how do we produce it?
Lecture 1 - Fluffy and Persistent: What May Textile Microfibers Do to Our Lung?
We inhale microplastic fibers originating from our clothes and textiles on a daily basis, but we do not know if this is cause for concern. In this talk, Dr Barbro Melgert will present pioneering studies using lungs-in-a-dish, also known as organoids, investigating effects of textile microfibers on lung tissue. Results suggest that the soft and fluffy synthetic textiles that we massively use these days, may have the potential to damage our lungs. Future studies need to assess and quantify microplastic fibers that we inhale daily to determine the actual risk to human health. Dr Melgert is currently working as an associate professor at the Department of Molecular Pharmacology (RUG) studying innate immunity, including macrophage behavior, in lung diseases and its potential as therapeutic target. In this context she has a special interest in effects of indoor air pollution, such as microplastics exposure, and its effects on the lung.
Lecture 2 - Releasing Microplastics by washing and everyday use
Dr Francesca De Falco is the second speaker of the evening. In her lecture she will explore the release of microfibres from synthetic clothes to water by washing and to air by wearing. During her talk she will highlight factors of influence and possible mitigation actions. Dr Francesca De Falco is a Post-Doctoral Research Fellow at the University of Plymouth, working in the research group led by prof. Richard C. Thompson. She holds a PhD in Materials Engineering from the University of Naples Federico II, with a thesis on microplastic pollution from synthetic textiles. She has worked as researcher at the National Research Council of Italy (CNR-IPCB), and has been an external consultant for the OECD on an upcoming report on microfibres.
---
Creative Solutions for the Plastic Problem
Wednesday 19 May at 4 p.m.
By Green Office Groningen and GO FSE Ambassador Vasileiadis Vasileiou
This event is also part of the Art & Sustainability Month!
Everyone knows there is an issue with plastic waste: face masks littered in the streets, plastic bottles at the beach and micro plastic ending up in our food. What can we do about it? In this lecture, Arno Ratzinger from Precious Plastic Maastricht and ComposTerra will present innovative solutions to one of humanity's biggest challenges. Precious Plastic Maastricht educates people in its community about recycling by providing them with the necessary tools to turn their plastic waste into valuable objects. Hence, the name pointing out the inherent value of our plastic waste. ComposTerra builds upon the fact that plastic recycling alone falls short of solving our plastic crisis. Therefore, the young startup develops sustainable alternatives to single use plastic products made out of organic waste materials. This allows for a circular and compostable replacement for everyday objects like to-go coffee cups, cutlery and take-away packaging.
---
Plastic: what can you do?
Thursday 20 May, 4 p.m.
By Green Office FEB and FSE Embassies
During this lecture - organised by Green Office FEB/FSS Embassy - two speakers will explain what we can do to tackle the plastic problem, both in everyday life and as for future careers.
Madhuri Prabhakar, working at the Plastic Soup Foundation and project leader of Beat the Microbead, will explain to us the problem of plastic and microplastics. What can we do to reduce plastic use? Which products contain microplastic? How can we avoid it?
Do you want a career in sustainability? Rishi Gupta is co-founder of Zero Waste Club & Gomi Design, two companies that focus on reducing waste and creating products out of unrecyclable plastic. He will explain how you can use your skills to create change and be at the forefront of sustainable innovation in business, infrastructure and government. During this lecture you can learn about the variety of roles available to graduates in the sector. And of course, find out how the industry has been impacted by the events of the past 12 months.
---
Plastastic Art: Litterpicking & Art-exchange
Saturday 22 May, noon - 4 p.m.
Noorderplantsoen
By the GO BSS Embassy
Join us to clean up the Noorderplantsoen (and parts of the city center) and create art out of the collected plastic trash! Tools will be provided.
After the pickup you will have a week to make something that is inspired by the trash collected. To be corona safe, the trash that will be used for art should be from your own home. Then we will have an art swap with each other with the pieces created. Everyone who creates a piece of art will get a piece in return!
You can pop by any time between 12 and 4 p.m.! If you can't find us, shoot us a message via the FB event.
| | |
| --- | --- |
| Last modified: | 05 July 2021 11.49 a.m. |