Digital CleanUp Week 2022 | 9-13 May
A thank you, wishing your colleague a nice weekend or a simple "OK": lots of emails are sent at the UG every day. With the press of one button, the email simply flies off! But actually, your message travels through long cables to a server, where it will stay until it gets deleted. All the cloud traffic at the UG combined costs over 11 million kWh of electricity per year: enough to provide for 4500 households. We could probably reduce this! Join us in shrinking this digital footprint during the Digital CleanUp Week.
During the Digital CleanUp Week, we clean our mailbox and Google Drive. No idea where to start? No worries! We have made a handy guide, give you some tips during the workshops and organize nice CleanUp Cafes where you can clean up your digital space together with others.
We'll visit a different location every day, to host both workshops and the clean-up café. On Monday, we'll be be at BSS, Tuesday in the city centre, Wednesday at FEB (and the workshops will be online) and on Thursday at Zernike.
---
Guide
Shrinking your digital footprint starts with becoming aware of your impact. But after that, you'll have to do the hard work and start cleaning. Luckily, you won't have to figure everything out by yourself: we've made a handy guide for a mailbox and Drive without unnecessary ballast. Use the infographic as a roadmap through the forest that's your mailbox and scroll on for practical tips&tricks if you'd like some extra pointers.
You can now view or download the guide via de button below. Would you like to receive a Dutch version of the guide? Let us know. You'll receive the Dutch version within a few days.
---
Digital CleanUp Week programme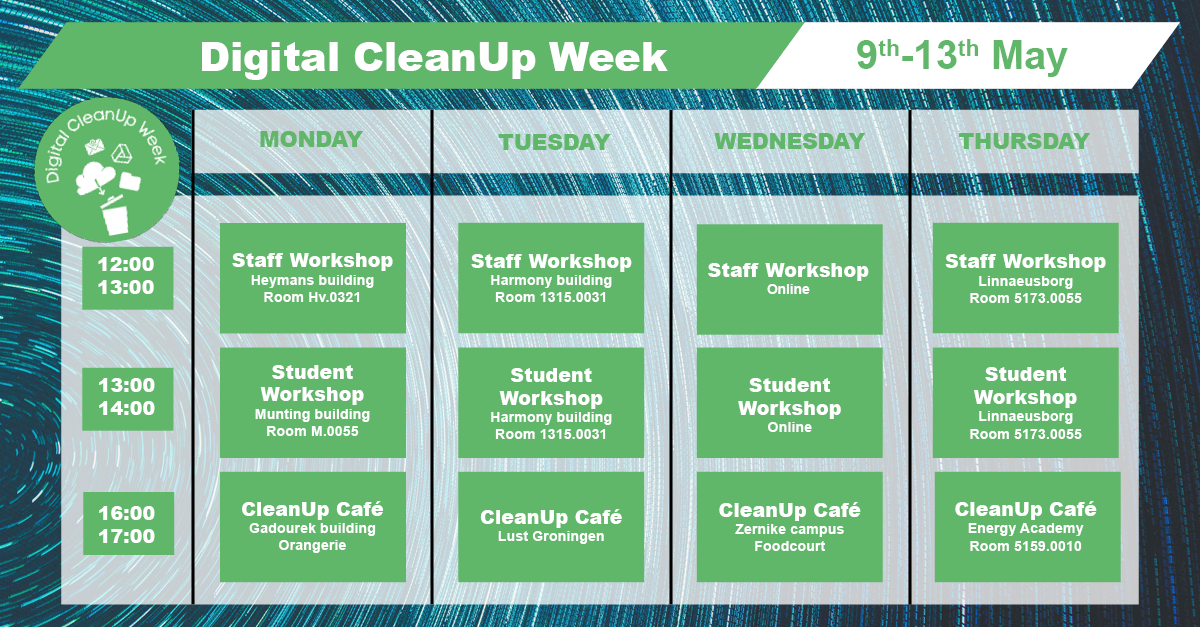 ---
CleanUp Cafes
Of course, you can clean from the comfort of your desk. But it's more fun with others! During the week, we'll organize CleanUp Cafes in several UG buildings, where you can sit down any time between 16:00 and 17:00 to start cleaning. We'll take perfect care of you, with some drinks, snacks and someone to ask your questions to. Join us!
Monday 9 May | Gadourek building, Orangerie
Tuesday 10 May | Lust Groningen (Oude Kijk in Het Jatstraat 58)
Wednesday 11 May | Zernike campus, Foodcourt
Thursday 12 May | Energy Academy, room 5159.0010
---
Workshop students
No idea where to start? No worries! During this workshop, between 13:00 and 14:00, we'll show you the way through the cleaning swamps. We won't just teach you the quickest way to clean your inbox and Drive, but also some hacks to make cleaning in the future a lot easier. You'll only need to bring a laptop or tablet with access to your university mail and Google Drive.
Monday 9 May | Munting building, room M.0055
Tuesday 10 May | Harmony building, room 1315.0031
Wednesday 11 May | Online
Thursday 12 May | Linnaeusborg, room 5173.0055
---
Workshop staff
With your permanently overflowing to do list there's no energy left for organizing your inbox and Drive. So you've got to be smart about it! During this workshop, between 12:00 and 13:00, we'll provide you with practical tips to organize your digital spaces so that you can keep them clean without spending too much of your time. We'll give special attention to storing things that need to be kept around. That's why there will be a privacy officer present, who'll be able to answer all your questions regarding archiving and privacy.
Monday 9 May | Heymans building, room Hv.0321
Tuesday 10 May | Harmony building, room 1315.0031
Wednesday 11 May | Online
Thursday 12 May | Linnaeusborg, room 5173.0055

| | |
| --- | --- |
| Last modified: | 21 June 2022 10.53 a.m. |