GÉANT and its contribution to Data Autonomy
| | |
| --- | --- |
| Date: | 30 October 2023 |
| Author: | Erik Huizer |
Introduction
Data autonomy can only be achieved if the underlying infrastructure and services used to capture, store, transport and handle the data are autonomous as well. Therefore GÉANT and the national research and education networks (NRENs, such as SURF in the Netherlands) aim to contribute to data autonomy by providing an autonomous e-infrastructure for Research and Education.
Pan-European network for scientific excellence, research, education and innovation
GÉANT and the NRENs are a fundamental element of Europe's e-infrastructure, delivering a pan-European network for scientific excellence, research, education and innovation. Through its integrated catalogue of connectivity, collaboration and identity services, GÉANT and the NRENs provide users with highly reliable, unconstrained access to computing, analysis, storage, applications and other resources, to ensure that Europe remains at the forefront of research.
​Through interconnections with its 39 NREN partners, the GÉANT network is the largest and most advanced R&E network in the world, connecting over 50 million users at 10,000 institutions across Europe and supporting all scientific disciplines. The backbone network operates at speeds of up to 500Gbps and reaches over 100 national networks worldwide.
Underlying e-infrastructure: dedicated to the public good
GÉANT is comprised of federated layers of e-infrastructure, dedicated to the public good. Through the continued use of community values rooted in trust and reciprocity for over 20 years, GÉANT allows R&E data to remain autonomous and untouched by large commercial entities – unless collaborating in projects with such actors where interaction has been approved by all parties.
When it comes to data autonomy, GÉANT aims to promote FAIR data practices and Open Science principles. However, data in itself – even if autonomous – cannot be free to move as such without autonomous service provision and transit to support it. An important element to ensure that autonomy is the community-managed trust and identity service eduGAIN that allows an efficient and flexible way for participating identity federations, and their affiliated users and services, to interconnect. This enables a trusted access, authentication and authorization mechanism for autonomous data that is in itself, autonomous.
Looking to the future: a 'Schengen' for data
According to key policy announcements by the European Commission, such as the Common European Data Spaces, or ongoing support to the now-established European Open Science Cloud or EOSC, data in Europe is increasingly perceived as a resource. This is to establish the Digital Single Market, by removing barriers to cross-border e-commerce and access to online content while increasing consumer protection - creating essentially a 'Schengen' for data and moving from 27 national digital markets to a single one.
GÉANT will aim to keep abreast of these developments and hopes to shape them in such a form where the interests of public R&E are best protected and served. This means by no small measure that the continued preservation of data autonomy, and the autonomy of the associated networks and services, will remain paramount in the long-term.
About the author
Erik Huizer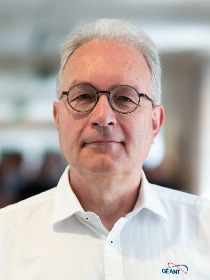 Comments