UG Best Practice in Teaching & Learning Award
All 11 nominated practices were of the highest quality, making it challenging for the Selection Committee to select this year's winner. Congratulations to prof. dr Marc Hertogh from the Faculty of Law on winning the Best Practice in Teaching & Learning Award with his course "Seminar Policy Analysis" and to the runners-up Tamás Görbe of the Faculty of Science and Engineering and Dr Tassos Sarampalis and Laurent Krook of the Faculty of Behavioral and Social Sciences.
Recording of the livestream
You can see the ceremony via the video below!
Winners of the Best Practice in Teaching & Learning Award 2023!
1st prize: Law
Teaching team: Prof. dr. Marc Hertogh
Course title: Seminar Policy Analysis
Best practice: Teaching Policy Analysis in the Real World: Students Give Advice to Dutch House of Representatives
The law in practice and employability are some of the key focus points in educational innovation at the Faculty of Law. These are also the main Best Practices in the seminar Policy Analysis by Marc Hertogh, professor of Socio-Legal Studies. Students participated in a real-life law-making trajectory, for the Dutch House of Representatives. Contrary to previous years, where students invented a fictional policy problem on their own, this year a real-life problem was used.
Students stepped into the ongoing law-making process of the new Whistle-blower Protection Act in the Dutch House of Representatives. Through drafting policy advice addressed to the members of the House of Representatives and attending a round table meeting in The Hague with members of the House, students got a taste of how policymaking works as well as a look into their possible future working field. Together with peer feedback presentations of the students and tight and dynamic deadlines, this made for a very interactive and dynamic learning environment. In the end, some of the recommendations of the students were incorporated into the law-making process and taken into account when the law was dealt with in the House of Representatives. This way the students got to make a real societal impact during their learning experience.
2nd prize: Science and Engineering
Teaching team: Dr. Tamás Görbe
Best practice: Interactive knowledge clips
Why do you create knowledge clips for your courses? How do you make them worth watching? What are the potential benefits and drawbacks of having them? Do these clips really help students? How do you spend your lectures then?
These are just some of the questions colleagues ask when they find out I'm making interactive videos for my students. I will answer these questions as well as some others that may help you transform your courses and boost student engagement.
3rd prize: Behavioural & Social Sciences
Teaching team: Dr. Tassos Sarampalis and Laurent Krook, MSc
Course title: Research Methods: Theory and Ethics
Best practice: Student-centered assessment procedure
The course: ''Research Methods: Theory and Ethics" of the Department of Psychology is followed by 700 students each year. The teachers are aware that a course about research methods can be difficult for students, but treat this as a challenge. They want to motivate and be relevant for every student. The way they do this is complex but rests on a foundation of basic values:
Communication (clear, personal, continuous, relevant)

Freedom (students have the option to choose what they read, what assignments to take, and which grade to aim for)

Respect (discussion is valued and different needs and interests are accommodated)

Engagement and interactivity (weekly communication between students and teachers)

Relevance (material is useful to everyone, regardless of interests)
These values can be found in the didactics used. There are weekly quiz assignments to promote continuous engagement, teachers use various scaffolding strategies, and they organize an optional Journal Club. But the values can also be recognized in the assessment procedure. In a specifications grading scheme, students can select which grade to aim for. This is in accordance with the value of freedom.
The values that this course is based on are crucial for student-centred education and the weekly assignments are in line with evidence-based assessments. Furthermore, the course provides a context in which psychological research methods are (societally) relevant, interesting, useful, and engaging. For these reasons, we see the course as a best practice in teaching and learning.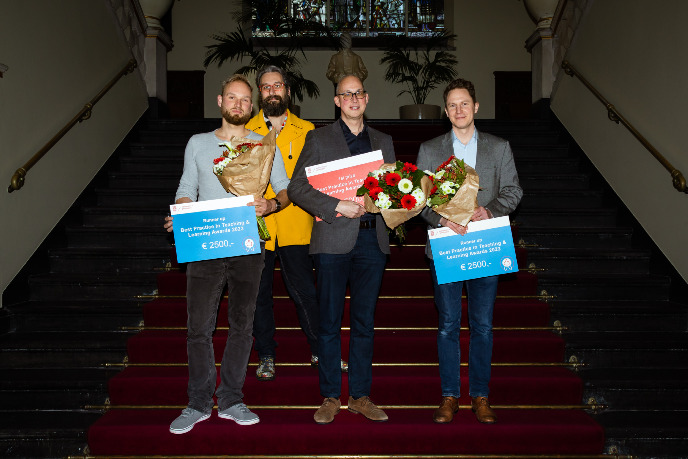 Nominations for Best Practice Award 2023
The array of nominated practices ranges from painting exercises in sound technology to a real-life law-making simulation. Teaching teams present their ideas in short nomination videos available below. It is a chance to meet the winners and nominees, read more about their practice and get inspired.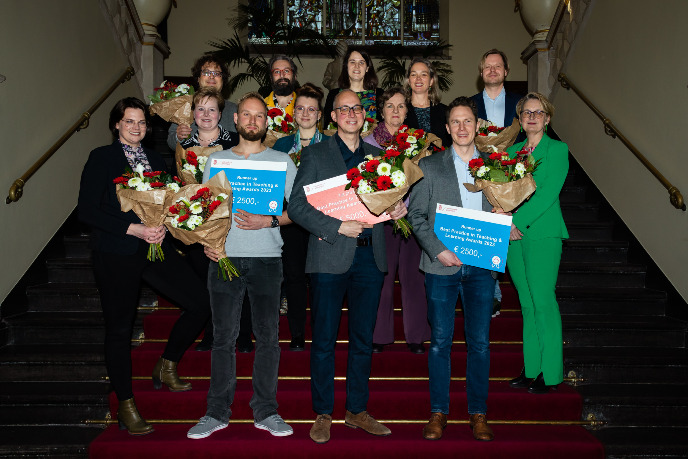 Criteria 2023
Nominations for the Best Practice Award (BPA) can only be made by the faculty boards. The goal of the BPA is rewarding and recognizing the efforts of teaching teams that keep innovating their educational approaches, thus helping to broaden the UG's educational repertoire. The details of what we're looking for can be found in the BPA criteria.
---
Previous edition: Best Practice Awards 2022
The Teaching Academy Groningen (TAG) congratulates the winners and all the other nominees on their inspirational best practices! The selection committee documented their findings in the jury report.
| | |
| --- | --- |
| Last modified: | 28 March 2023 11.14 a.m. |