National Student Survey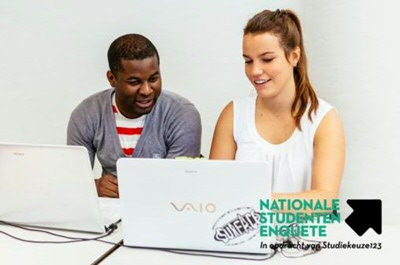 What is the NSE?
Every year, tens of thousands of students use the National Student Survey (NSE: Nationale Studenten Enquête ) to express opinions about their degree programme.
The results of the NSE give current and prospective students an impression of how students view their programmes (on the Studiekeuze123.nl website for example). Moreover the University of Groningen considers your opinion a valuable source of information for educational improvement.
How it works:
Students receive a link to the survey in their student mail. Lost the link to the survey? You can request a new link on the NSE website! The questionnaire will take you about 15 minutes to complete. Did you participate last year? Thank you! Be sure to make your voice heard again, because your opinion matters.
In 2019, participating students were eligible to win one of these prizes:
A €2000 Travel voucher or
1 of the 500 Ticketmaster eGiftcards, value €20
Extra prizes were raffled among the University of Groningen students:
4x Bol.com vouchers, value €250 or
10x I Shop UG hoodie
Results from previous years
The University takes points expressed in the survey seriously. The following points from previous surveys have already been dealt with:
Career

Students are offered help with the transition from university to a career by Career Services.

Tests and assessments

Responses in the survey showed that the majority of students were not entirely satisfied with our testing and assessment procedures. Various initiatives have been launched in the past few years and satisfaction seems to be growing. However, this is still a point that needs special attention. The University will continue investing time and effort to improve the situation even further.

Timetables, information provision and study facilities

Students at our University are more satisfied with the timetables, information provision and study facilities than the average student at any other Dutch university. We will continue to invest in these aspects to safeguard student satisfaction.
The results also show that in general, Master's students in Groningen are very satisfied with their degree programme, the atmosphere and level of the teaching. The expertise of the lecturers was highly praised. In addition, students were positive about the extent to which they acquire academic skills, such as adopting a critical attitude and thinking analytically.
What is the NSE?
The NSE is run by Stichting Studiekeuze123, a foundation that was instigated by the student organizations ISO and LSVb, and the coordinating bodies for higher education, the Vereniging Hogescholen , VSNU and NRTO . The survey itself is carried out by an external market research bureau. For more information, go to www.nse.nl.
Privacy Policy NSE
Your personal information will be processed if you participate in the NSE. The RUG will treat your personal information with care. More information about the use of your details can be found in the privacy policy of the NSE (2019).
| | |
| --- | --- |
| Last modified: | 13 March 2020 12.16 a.m. |